May 5, 2020
20-43
Jessica Pope
Communications and Media Relations Coordinator
IN THE NEWS: VSU Temporarily Moves Campus Tours Online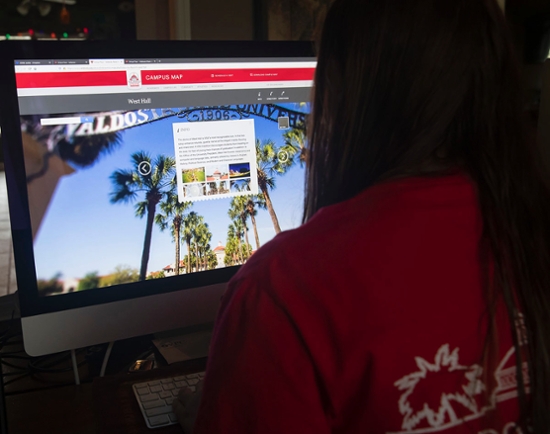 Desiree Carver with The Valdosta Daily Times recently reached out to Valdosta State University to learn more about the temporary shift from physical campus visits to the next best thing during a global health crisis — personalized, virtual tours. She shared her story, "Virtual Campus: VSU Moves Campus Tour Online," on April 28.  
Full Story: https://bit.ly/2W6K9Ut
VSU Expert: Ryan Hogan, director of VSU's Office of Admissions
Additional Coverage: This story also appeared in Daily Citizen-News, Suwannee Democrat, Thomasville Times-Enterprise, The Moultrie Observer, and The Tifton Gazette.
More Admissions Updates: In late March, VSU announced that it is waiving SAT/ACT scores for all first-year undergraduate applicants who meet high school grade point average, high school curriculum, and other established requirements for admissions during the upcoming summer and fall semesters. 
Following guidance from the University System of Georgia, this decision is an effort to adapt admissions processes at VSU due to the COVID-19 global pandemic, which has led to a more personalized, virtual approach for new applicants following the cancellation of testing services by the College Board and ACT. As always, VSU remains committed to the individual success of its students. 
To further remove barriers prospective students may be facing as they apply to college during this challenging time, VSU is also waiving its undergraduate application fee for the time being.
"We understand this is an uncertain time for many people," Hogan says. "At Valdosta State, we are determined to use this time to connect with our prospective students and their families. We look forward to speaking with them on the benefits a degree from VSU has to offer." On the Web: https://www.valdosta.edu/admissions/
The health of our students, faculty, and staff is our highest priority, and VSU continues to monitor this global situation. Updates are posted at https://www.valdosta.edu/health-advisory/.
Newsroom
Office of Communications Powell Hall West, Suite 1120
Mailing Address
1500 N. Patterson St.
Valdosta, GA 31698
General VSU Information
Office of Communications