May 12, 2020
20-51
Jessica Pope
Communications and Media Relations Coordinator
IN THE NEWS: VSU Recognizes Spring 2020 Grads During Virtual Commencement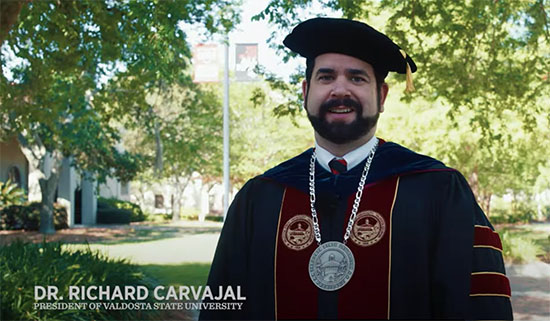 Scenes from Valdosta State University's virtual 229th Commencement.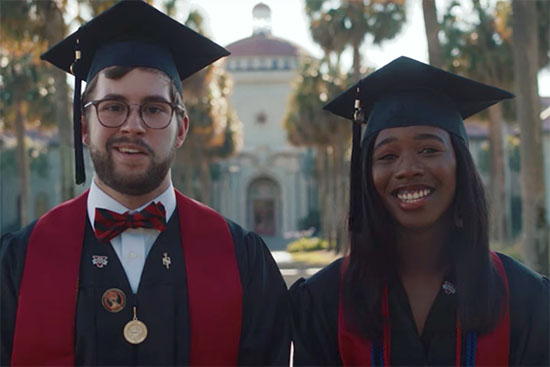 Jacob Bell and Amea Thompson, Undergraduate Ceremony student speakers




Ashlie Prain, Graduate School Ceremony student speaker
Amanda Usher with The Valdosta Daily Times joined Valdosta State University's Class of Spring 2020 during the virtual 229th Commencement, including a 73-minute Graduate School Ceremony and a 120-minute Undergraduate Ceremony, on Saturday, May 9. The evening was an opportunity for the graduates to celebrate their achievements on their actual graduation day. The story, "Virtual Stage: VSU Holds Online Graduation Amidst Pandemic," published on May 12.  
Full Story: https://bit.ly/2Lzzb49
More Information: The Graduate School Ceremony and the Undergraduate Ceremony (https://valdosta.stageclip.com/) offered opportunities for students to hear from Dr. Richard A. Carvajal, president of VSU, and to hear their names called. Both ceremonies featured high-powered student speakers with a record of academic achievement, service, leadership, and campus involvement, as well as a desire to inspire a new class of creative, conscious, and caring Blazers ready to meet the needs of a changing society.
VSU remains committed to providing opportunities to invite the spring graduates back to campus for in-person celebrations when public health officials determine it safe to resume large social gatherings. This plan tentatively includes a special graduate recognition during Homecoming 2020 in the fall and an invitation to walk the stage with the fall graduates in December. 
More than 1,500 candidates for graduation were recognized during the virtual spring commencement ceremonies, including several students who will complete their degree requirements in the summer. VSU hosts commencement ceremonies twice a year, in May and December.
The health of our students, faculty, and staff is our highest priority, and VSU continues to monitor this global situation. Updates are posted at https://www.valdosta.edu/health-advisory/.
Newsroom
Office of Communications Powell Hall West, Suite 1120
Mailing Address
1500 N. Patterson St.
Valdosta, GA 31698
General VSU Information
Office of Communications