February 6, 2020
20-16
Jessica Pope
Communications and Media Relations Coordinator
Courtney Lovely Returns to Alma Mater to Share Tips for Success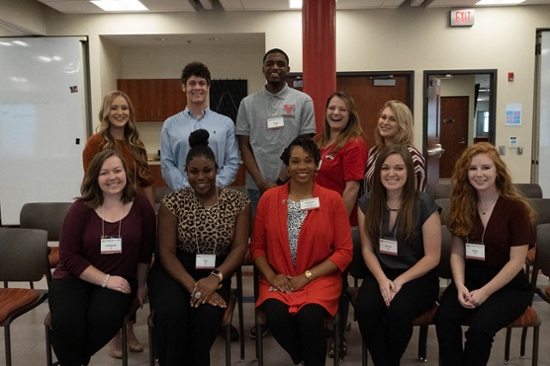 Courtney Lovely (pictured front row, center), who graduated from Valdosta State University in 2004 with a Bachelor of Fine Arts in Speech Communications, recently returned to her alma mater to share career advice with students.
"Be prepared, exceed expectations, and never underestimate the importance of a relationship," she said, and then she illustrated each point with examples from her own career path. She is the first black woman to be named director of athletics at Palm Beach Atlantic University in West Palm Beach, Florida. She serves on the National Collegiate Athletic Association's Management Council and the Collegiate Women's Sports Awards Board of Directors. She received VSU's 2019 College of the Arts Distinguished Alumna Award in recognition of her contributions to the communication/public relations profession and women in college sports.
Senior students (also pictured) in VSU's Public Relations Program were instrumental in welcoming Lovely to campus for this speaking engagement; event planning is one of the many skills these students learn during their four years on campus.
On the Web: https://www.valdosta.edu/colleges/arts/communication-arts/
Newsroom
Office of Communications Powell Hall West, Suite 1120
Mailing Address
1500 N. Patterson St.
Valdosta, GA 31698
General VSU Information
Office of Communications