January 7, 2020
20-3
Jessica Pope
Communications and Media Relations Coordinator
VSU Students Conduct Compensation Study to Aid City of Waycross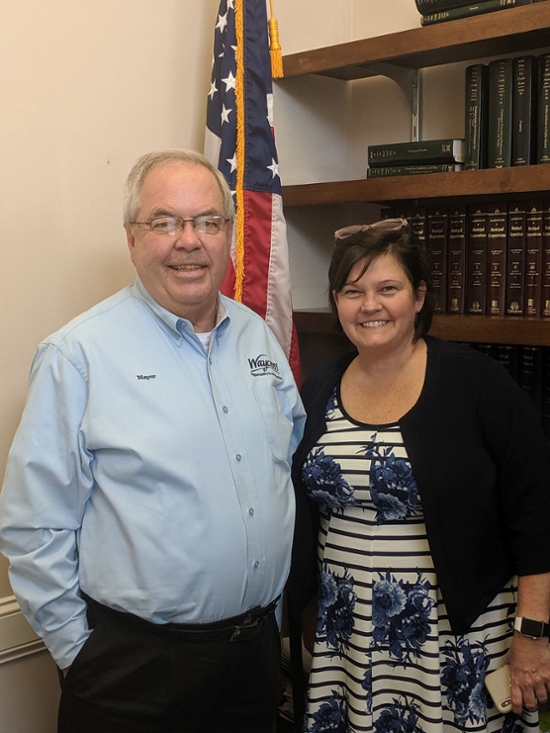 Pictured are Waycross Mayor John Knox and City Manager Tonya Miller. 
VALDOSTA — Students from Valdosta State University's Azalea Consulting Services recently completed a full-scale compensation study for the City of Waycross, Georgia, in an effort to help the city recruit and retain quality employees.
In 2018, city officials knew many Waycross employees were being paid below the market rate, but the city didn't have the resources to launch a compensation study on their own. The connection to VSU came through Darrell Moore, executive director of the university's Center for South Georgia Regional Impact. The center finds faculty, staff, and students who can use their expertise to solve pressing issues in the region.
Moore found the solution to Waycross's dilemma in Azalea Consulting Services, an independent consulting service run by experts who seek to solve critical problems facing companies, governments, and organizations both locally and abroad. Team members are early career professionals who are pursuing a VSU degree in industrial/organizational psychology, a field that takes a scientific approach to workplace matters in an effort to increase productivity and the well-being of employees. Under the guidance of VSU faculty, the students have an opportunity to use their theoretical education to resolve real issues before they graduate.
Led by Jacob Highsmith — a Waycross native who graduated with a Master of Science in industrial/organizational psychology in May 2019 and a Master of Public Administration in July 2019 — Azalea Consulting Services began the extensive compensation study for the City of Waycross. This involved identifying 10 cities with a comparable budget and population and acquiring compensation information from each of those cities, including salary ranges for each pay grade, benefits information, plans for raises, and more. The team also obtained clear descriptions for each position across all the cities to ensure jobs were being compared fairly.
Azalea Consulting Services transformed this mountain of data into an organized report that showed average salary ranges for every position in the City of Waycross, a feat that took months to complete. The team presented its report to city officials, who have already started implementing changes based on the data.
"Azalea Consulting Services delivered an excellent final product that showed us exactly where and by what amounts we were falling short," said Tonya Miller, Waycross city manager. "We now know exactly where our pay ranges need to be to attract and retain quality employees for the City of Waycross.
"Although we have several changes to make, we have already made some changes in our pay scales for the police department and were able to fill all of our vacant spots within three months of making those changes. We will continue to make changes as the budget allows, and it is comforting to know that the hard work — knowing exactly what changes need to be made — is already done for us thanks to Azalea Consulting."
"The next thing we knew we had direction," added Waycross Mayor John Knox about working with Azalea Consulting Services, "and now we have a fully staffed police department, and we had a lot of applicants to choose from."
The project was not only beneficial for the city but also gave VSU students valuable experiential learning opportunities. Highsmith said it was amazing to learn how a consulting organization works, how to work with peers, and how to assume a leadership role while still having expert oversight from professors.
"We were able to take something that isn't directly in our curriculum and apply it in a real-world setting. That pushes our education above and beyond what we would ever have time to learn in the classroom."
Dr. Jeremy Bauer — associate professor of psychology who provided guidance for the project along with Dr. Christopher Downing, assistant professor of psychology, and Dr. Mel Schanke, professor of management — echoed that sentiment.
"The Society for Industrial and Organizational Psychology has identified both job evaluation and compensation as critical competencies for developing graduate students," Bauer said. "Additionally, employers from both public and private institutions are actively searching for graduate students with real-world business experience in the realm of compensation and benefits."
The VSU students who worked on the compensation study with Highsmith were T. Kennedy Drury, Bethannie Jamerson, Natalie Evans, Nicolas Cecchini, Natalie Evans, Kristen Burnett, Sydney Oliver, and Bradley Richmond.
This project reflects VSU's commitment to providing students with expanded transformational and experiential learning opportunities and serving as a resource and innovative leader for South Georgia.
On the Web:
Newsroom
Office of Communications Powell Hall West, Suite 1120
Mailing Address
1500 N. Patterson St.
Valdosta, GA 31698
General VSU Information
Office of Communications