VSU Students Present Advanced Drug Research to Congressman Buddy Carter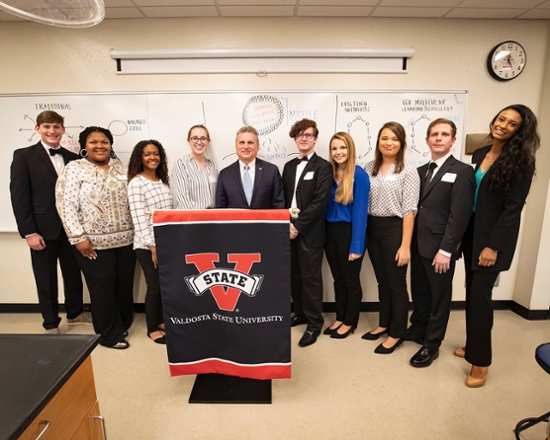 Pictured (l-r) with Congressman Buddy Carter (center) are VSU students Olin Blair, Yalanda Gordon, Courtney Johnson, Olivia Moss, Thomas Falkenhausen, Rachel Davis, Jordan Gravett, Matthew Cowan, and Jenu Thomas-Richardson in a chemistry lab in VSU's Bailey Science Center.
VALDOSTA — United States Rep. Earl "Buddy" Carter of Georgia's 1st Congressional District recently visited Valdosta State University to talk to chemistry students about their groundbreaking efforts to develop new drugs to treat tuberculosis, malaria, cervical cancer, Alzheimer's disease, HPV, and HIV.
"Our lab has focused on humanitarian and cost-effective solutions to some of the biggest diseases facing the planet," said Dr. Thomas Manning, professor of chemistry who oversees the drug research and has been in the drug development field for more than two decades. "We are teaching our students to pursue the same problems governments, large corporations, Wall Street companies and major universities are trying to solve — but we step back and reevaluate how you 'STP,' or 'Solve The Problem.' 
"…Our solutions don't follow old benchmarks on how things are supposed to be done; we are working toward a solution, not just studying the problem."
Throughout their research, students have had many of their drugs successfully tested at the National Institutes of Health. They have also written patent applications and business plans, presented to high-level business executives and politicians, and established national and international collaborations.
During the presentation, students requested help from Carter in establishing ties in India, where 500 million citizens suffer from tuberculosis. India's Prime Minister Narendra Modi has pledged to eradicate the disease from his country by 2025, and VSU student researchers are hoping their drug can be part of the solution.
After the presentation, Carter applauded the students' innovative thinking, the significance of the research, and the humanitarian emphasis of their work. 
"This is so appropriate for the issues being discussed in Congress right now," said Carter, who is currently the only pharmacist serving in the U.S. House of Representatives. "This helps all of us. This helps mankind. If we can attack and eradicate tuberculosis in this world, it's a much better world for all of us." 
The student researchers who presented were Matthew Cowan, Yalanda Gordon, Jordan Gravett, Olin Blair, Jenu Thomas-Richardson, Rachel Davis, Thomas Falkenhausen, Olivia Moss, and Courtney Johnson.
Carter was joined at the presentation by university and community leaders, including Dr. Richard A. Carvajal, president of VSU; John Gayle, mayor of Valdosta; Bill Slaughter, chairman of the Lowndes County Board of Commissioners; Jody Redding from the office of U.S. Senator Johnny Isakson; Andrew Gibbs, Valdosta city councilman; Dr. Keith Walters, dean of the College of Science and Mathematics; Dr. Michael Savoie, dean of the Honors College; Dr. James Baxter, head of the Department of Chemistry; and Jacob Bell, Student Government Association president.
While at VSU, Carter also met and was interviewed by VSU journalism students, who are following the drug research at VSU and developing a story for the Atlanta Journal-Constitution. Carter also met with members of the VSU Sullivan Scholars Program, which awards college scholarships to high school juniors and seniors from the region in an effort to recruit and educate high-quality teachers for rural schools in Georgia.
View photos of Carter's visit at bit.ly/2ASdSFl.
On the Web:
www.valdosta.edu/chemistry
General VSU Information
Office of Communications
Campus Address
Office of Communications Powell Hall West, Suite 1120
Mailing Address
1500 N. Patterson St.
Valdosta, GA 31698