Dr. Zhiguang Xu Honored with Presidential Excellence Award for Teaching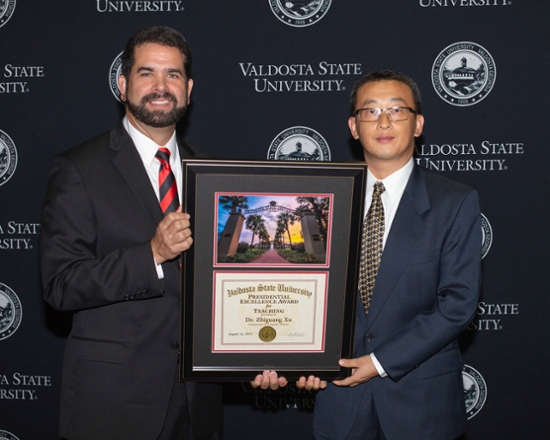 Dr. Zhiguang Xu (right) with VSU President Richard A. Carvajal
VALDOSTA — Dr. Zhiguang Xu is the recipient of Valdosta State University's 2019 Presidential Excellence Award for Teaching.
The Presidential Excellence Award for Teaching recognizes a faculty member who employs innovative teaching strategies and demonstrates a strong commitment to student success. Xu, professor of computer science, was chosen for ensuring his courses remain at the forefront of computer science education and for his extensive efforts to engage students both in and out of the classroom.
"Dr. Xu has an excellent track record as an exemplary teacher and has made a huge impact on the careers of our graduates," said Dr. Krishnendu Roy, head of the Department of Computer Science. "(He) has a passion for computer science and exemplifies what it means to be a lifelong learner."
The foundation of Xu's teaching excellence is his consistent dedication to redesigning his courses to properly reflect the current demands and norms of his field.
"Computer science is an ever-changing field," Roy said. "There are technologies that are in high demand now that didn't exist when faculty members like Dr. Xu and I were in graduate school completing our doctoral studies. The challenge is having to constantly learn new things and update our skillsets.
"Dr. Xu does this better than any faculty member in our department. He constantly researches new and emerging technologies and tries to offer new courses in those areas. Not only does he investigate new technologies, he constantly looks for new tools and resources that he can introduce to his existing courses to enhance student learning. I have seen him redesign existing courses multiple times to include new languages, tools, and best practices."
Xu, who joined VSU in 2002, said he believes a strong computer science program is one that is "capable of constantly updating its curriculum to produce employable graduates with a skillset and mindset to not only comfortably succeed at work for the short run but also confidently adapt to the inevitable technological changes for the long run."
Xu also includes in-depth experiential learning in his courses, especially his Senior Seminar capstone course, where students design real software applications for community stakeholders such as Moody Air Force Base and the Valdosta-Lowndes County Chamber of Commerce. In testimonials, many VSU alumni have said that the reason they obtained a job directly after graduation, and the reason they are successful in that job, is because of the education and experience they gained under Xu.
Xu also mentors students and regularly offers career development workshops, teaching students best practices for resumes, interviews, and more. He serves as the faculty advisor for multiple student research projects, many of which have been presented at VSU's Undergraduate Research Symposium.
Xu has published numerous peer-reviewed papers and presented many of them at international conferences around the world. He has also conducted extensive research in his field and received numerous supporting grants for such work. 
"(Dr. Xu) is the epitome of our teaching mission at a regional comprehensive university like VSU," said Dr. James LaPlant, dean of the College of Humanities and Social Sciences and former interim dean of the College of Science and Mathematics.
Xu holds a Bachelor of Science in computer engineering from Beijing University of Posts and Telecommunications, as well as a Master of Science and Doctor of Philosophy in computer science from the University of Central Florida.
Each year, VSU continues its tradition of honoring faculty excellence with five awards recognizing the diverse talents and contributions of its innovative and active faculty. Awards are given for excellence in teaching, research, service, online teaching, and scholarship of teaching and learning. The 2019-2020 recipients were publicly recognized at the fall convocation and received a monetary prize of $1,000.
On the Web:
https://www.valdosta.edu/academics/academic-affairs/presidential-excellence-awards.php
https://www.valdosta.edu/csm/
https://www.valdosta.edu/cs/
General VSU Information
Office of Communications
Campus Address
Office of Communications Powell Hall West, Suite 1120
Mailing Address
1500 N. Patterson St.
Valdosta, GA 31698