Dr. Anne Greenfield Honored with Presidential Excellence Award for Online Teaching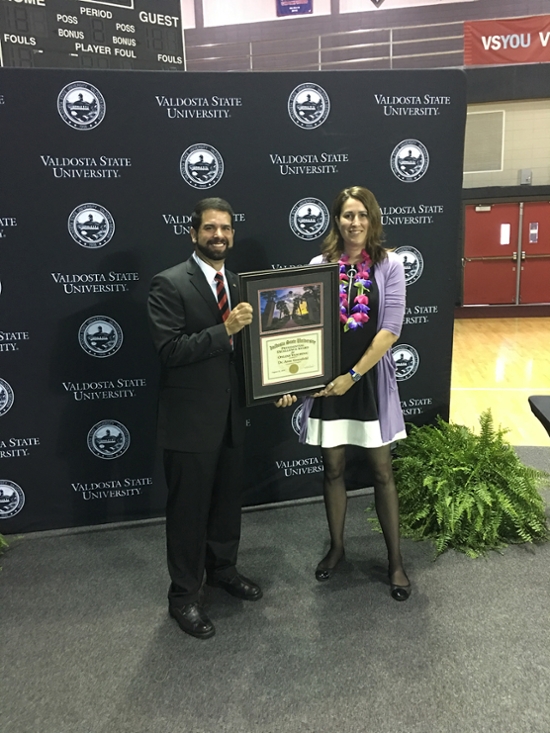 Dr. Anne Greenfield (right) with VSU President Richard A. Carvajal
VALDOSTA — Dr. Anne Greenfield is the recipient of Valdosta State University's 2019 Presidential Excellence Award for Online Teaching.
The Presidential Excellence Award for Online Teaching recognizes a faculty member who demonstrates a strong commitment to quality online teaching and learning; employs innovative online teaching practices; and develops rapport with individual learners in and beyond the virtual classroom.
Greenfield, associate professor of English, was chosen for her captivating and well-organized courses; her consistent, intentional, and effective interactions with students; and her ability to facilitate in-depth discussions and nuanced learning in an online setting.
"Students, colleagues, and administrators agree that Anne Greenfield is an excellent online teacher at the graduate and undergraduate level," said Dr. Donna Sewell, head of the Department of English. "Organization matters even more in online courses, environments in which students can easily fall behind or fail to speak up when they don't understand content or procedures. Students regularly praise Dr. Greenfield's organization, her ability to explain difficult concepts, and her quick response to their questions and concerns.
"Most English professors receive criticism about not grading quickly enough, but Dr. Greenfield's SOIs (Student Opinion of Instruction) praise her speed in responding. All these traits help support student retention and engagement."
Greenfield's colleagues have also commended her for using a variety of effective methods to establish a teacher presence in her online courses, which range from world literature classes to upper-division and graduate courses.
"My primary goal is to pique my students' intellectual curiosity," said Greenfield, who joined VSU in 2011. "I want my students to want to figure out the answers to the questions I pose, to want to grapple with the complexities of our subject matter, and to want to 'think critically' — not because it is a buzzword in academia and concepts students know they are expected to master but — because they realize thinking critically may lead them to figure out something that engrosses and challenges them."
Greenfield added that many of the best practices for in-person courses can be transferred into an online setting, and she does so through the use of Wikis, video lectures, live streaming, group work, presentations, discussion forums, one-on-one video conferences, individual essays, question-and-answer sessions, hyperlinked content, and more.
"The technological tools at our disposal make creating engaging, accessible, and rigorous online courses a more attainable goal than ever before," Greenfield said. "Even though online courses are often stigmatized as detached or isolating, I find that my students are constantly interacting in meaningful ways with each other, and with me.
"As more and more of our students want and need to take courses online, it is more important than ever to create the most fascinating and challenging courses possible. The online medium can enhance a student's learning experience in powerful ways, if only we embrace it with rigor, enthusiasm, and creativity."
In addition to teaching online courses, Greenfield mentors student theses and research projects — many of which have been presented at VSU's Undergraduate Research Symposium and national conferences — and serves as the faculty advisor for "Omnino," VSU's undergraduate research journal. She also serves as editor-in-chief of the academic journal "Restoration and Eighteenth-Century Theatre Research."
Additionally, Greenfield has authored numerous scholarly articles, book chapters, encyclopedia entries, books, book reviews, and pedagogical guides. 
She holds a Bachelor of Arts in philosophy from the University of Wisconsin, Madison, a Master of Arts in English from Western Washington University, and a Doctor of Philosophy in English from the University of Denver.
Each year, VSU continues its tradition of honoring faculty excellence with five awards recognizing the diverse talents and contributions of its innovative and active faculty. Awards are given for excellence in teaching, research, service, online teaching, and scholarship of teaching and learning. The 2019-2020 recipients were publicly recognized at the fall convocation and received a monetary prize of $1,000. 
On the Web:
https://www.valdosta.edu/academics/academic-affairs/presidential-excellence-awards.php
https://www.valdosta.edu/chss
https://www.valdosta.edu/english
General VSU Information
Office of Communications
Campus Address
Office of Communications Powell Hall West, Suite 1120
Mailing Address
1500 N. Patterson St.
Valdosta, GA 31698