Dr. Alicja Rieger Honored with Presidential Excellence Award for Research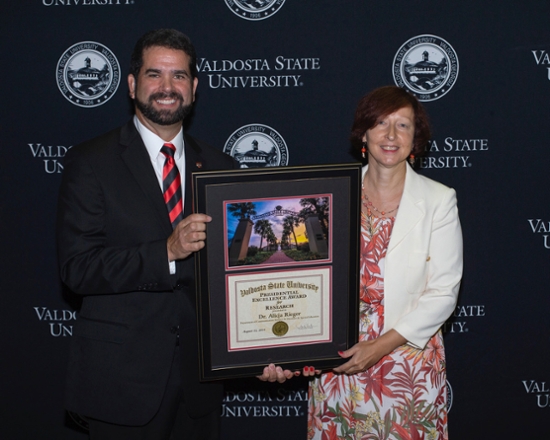 Dr. Alicja Rieger (right) with VSU President Richard A. Carvajal
VALDOSTA — Dr. Alicja Rieger is the recipient of Valdosta State University's 2019 Presidential Excellence Award for Research.
The Presidential Excellence Award for Research recognizes a faculty member with a strong record of creative scholarship. Rieger, professor of special education, was chosen for her extensive research in using humor for various educational purposes and in teacher education preparation; her dedication to sharing her research around the world; and her efforts to encourage graduate and undergraduate research.
"In addition to performing her job at an exemplary level, Dr. Rieger demonstrates an extraordinary commitment to the university community as well as to the general public," said Dr. Corine Myers-Jennings, head of the Department of Communication Sciences and Disorders and Special Education. "She has been involved in a great number of activities that make her an outstanding graduate faculty member, from teaching, supervising students, and research to program committees, publications, and presentations of scholarly work.
"Dr. Rieger has made a difference at our university, exemplified the mission of the university, and has positively impacted teachers in several states."
Much of Rieger's research explores humor among families with children who have disabilities and how humor can be used to support those children and increase disability awareness. Her work also involves the use of children's literature and comic books featuring characters with disabilities as a means for understanding, appreciating, and accepting individuals with disabilities.
"This has provided many scholars in several disciplines a way to measure how they can critique children's literature to be a more effective tool for learning and support parents of children with disabilities with the help of humor," Myers-Jennings said. "Great gains were made from the knowledge obtained from the research on developing reflective thinking skills among teachers that compelled them to think afresh, to reflect on, and to engage with their social environment and the environments of their students." 
Rieger, who joined VSU in 2008, said one of her main goals in her research is overcoming the negative trends in disability humor and replacing them with person-accepting humor and attitudes.
"Despite advances that have been made to promote inclusive education, disability-focused reactions that disparage and invite amusement at the expense of persons with disabilities continue to the present day," Rieger said. "This research addresses the need to respond with a more person-accepting response rather than with humor-disguised, disability-focused reactions to persons with disabilities."
In other groundbreaking research, Rieger has studied how comic books and graphic novels can be used to increase literacy skills and motivation among struggling readers and writers.
Another major area of research for Rieger is advancing teacher education preparation.
"Within this context, my research aims to bridge the research-to-practice gap by identifying the strategies and practices that promote reflection and reflective thinking among pre-service and in-service teachers," Rieger said. "A call to be reflective decision makers is extremely important in the field of teacher education in light of the increased urgency for teachers to become proficient and reflective practitioners in this era of increased expectations for teaching performance."
Rieger's pioneering work is intentionally highly collaborative and interdisciplinary, and she has conducted research with colleagues at VSU and at several universities across the nation. Some of these colleagues include Dr. Jessica Graves and Dr. Barbara Radcliffe (Valdosta State University), Dr. Ewa McGrail (Georgia State University), Dr. J. Patrick McGrail (Jacksonville State University, Alabama), Dr. Gina Doepker (University of Texas at Tyler), Dr. Daniel Rieger (Broward College, Florida), and Dr. Peggy Perkins Auman (Florida Agricultural and Mechanical University).
Rieger has presented her research at 40 regional, state, national, and international conferences and has co-authored numerous peer-reviewed scholarly publications and book chapters. She served as co-editor for the 2015 book "Critical Issues in Preparing Effective Early Childhood Special Education Teachers for the 21st Century Classroom: Interdisciplinary Perspectives" and has co-edited an issue of the academic journal "Excelsior: Leadership in Teaching and Learning." 
She serves as a reviewer for the journal "Action in Teacher Education" and previously served as a reviewer for the journal "Multicultural Teaching and Learning." She was president of the Georgia Association of Teacher Educators from 2016 to 2018.
Rieger holds a Master of Arts in special education from Cracow Pedagogical University in Cracow, Poland, and a Doctor of Philosophy in special education from Syracuse University in Syracuse, New York.
Each year, VSU continues its tradition of honoring faculty excellence with five awards recognizing the diverse talents and contributions of its innovative and active faculty. Awards are given for excellence in teaching, research, service, online teaching, and scholarship of teaching and learning. The 2019-2020 recipients were publicly recognized at the fall convocation and received a monetary prize of $1,000.
On the Web:
https://www.valdosta.edu/academics/academic-affairs/presidential-excellence-awards.php
https://www.valdosta.edu/colleges/education/
https://www.valdosta.edu/colleges/education/communication-sciences-and-disorders/
General VSU Information
Office of Communications
Campus Address
Office of Communications Powell Hall West, Suite 1120
Mailing Address
1500 N. Patterson St.
Valdosta, GA 31698