September 25, 2019
19-119
VSU's Andrew Meier Receives $10,000 Accounting Scholarship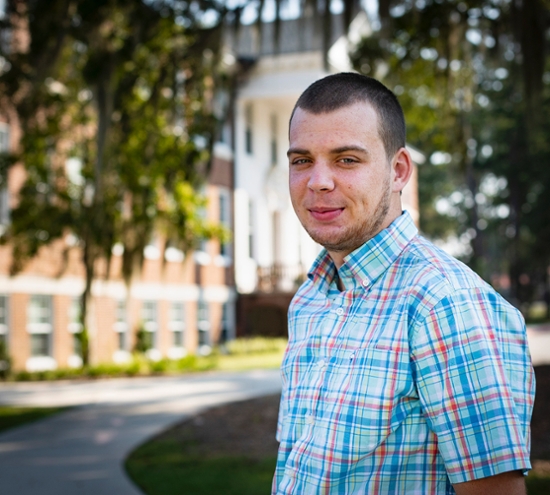 Andrew Meier
VALDOSTA — Valdosta State University's Andrew Meier is the recipient of a $10,000 merit-based scholarship from the Public Company Accounting Oversight Board (PCAOB). 
The PCAOB awards scholarships to students at colleges and universities across the United States who are pursuing careers in audit.
Meier, from Homerville, Georgia, was chosen for demonstrating high ethical standards and an interest and aptitude in accounting and auditing.
"Thanks to the HOPE Scholarship and some thrifty parents, I didn't incur any student loans for my bachelor's degree," said Meier, who graduated in July with a Bachelor of Business Administration in accounting. "It feels good knowing that, thanks to this scholarship, I won't need loans to pay for my master's degree either."
Meier is continuing his education this fall by pursuing a Master of Accountancy at VSU. He plans to become a certified public accountant.
"I feel that being an accountant, specifically a tax accountant, is a virtuous career," he said. "In 'The Wealth of Nations,' Adam Smith likened smugglers to heroes because the smugglers helped the merchants import their goods without having to pay the ridiculous tariffs levied by the government. Tax accountants are modern-day smugglers. While tax accountants are bound to stay within the limits of the law, they do help people 'smuggle' their income past the government by knowing every loophole and tax break possible. In the end, this helps the client keep more of their hard-earned money."
The PCAOB is a nonprofit corporation established by the U.S. Congress to oversee the audits of public companies in order to protect investors and the public interest by promoting informative, accurate, and independent audit reports.
Under the Sarbanes-Oxley Act of 2002, monetary penalties imposed by the PCAOB must be used to fund merit scholarships for students in accredited accounting degree programs. 
Meier is president of VSU's Mu Zeta chapter of Beta Alpha Psi and a member of the university's Accounting Strategic Plan Committee. He was awarded the 2019 Outstanding Harley Langdale Jr. College of Business Administration Senior Award as well as the 2019 Outstanding Accounting Senior Award. He is also the recipient of the 2018 Georgia Society of Certified Public Accountants Collins/Moody and Company PC Scholarship and the 2019 Mauldin and Jenkins Scholarship.
Meier attends and serves at Homerville church of Christ. He is the son of Brian and Lea Meier.
On the Web:
http://www.valdosta.edu/colleges/business/
https://pcaobus.org
General VSU Information
Office of Communications
Campus Address
Office of Communications Powell Hall West, Suite 1120
Mailing Address
1500 N. Patterson St.
Valdosta, GA 31698