September 17, 2019
19-114
VSU Theatre and Dance Presents "The Gorges Motel" Sept. 19-24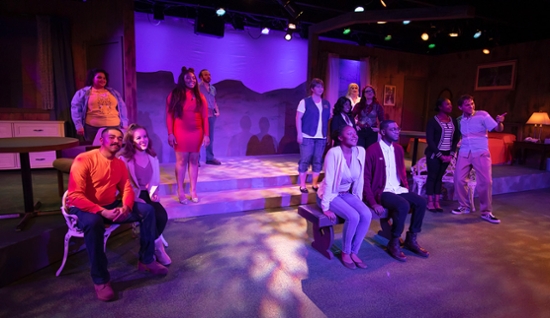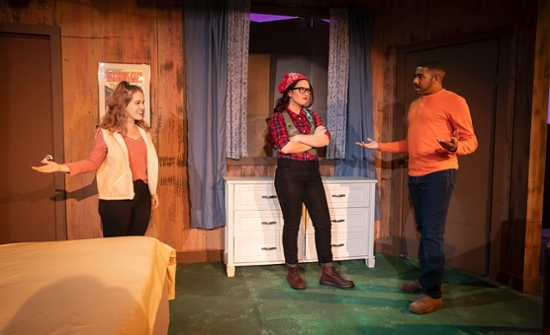 "The Gorges Motel" will premiere at VSU Sept. 19.
VALDOSTA —  Valdosta State University Theatre and Dance will present "The Gorges Motel" Sept. 19-24 in the Lab Theatre. Tickets are on sale now.
The contemporary play is, as The New York Times called it, "a tantalizing, comic daisy chain of (seven) short plays by six playwrights" presented in one extended act.
In "The Gorges Motel,""Lives intersect in comic and dramatic fashion in a motel that has seen better days in Watkins Glen, New York," according to Dramatists.com. "Break-ups and a wedding, a rapping reverend and a drone attack, the ridiculous and the sublime all come together in one unlikely place."
H. Duke Guthrie, professor of theatre and director of "The Gorges Motel," said the colorful array of characters offers something for everyone. 
"The characters are all attempting to move forward (in both comic and serious ways) with their lives, and the wide assortment of personalities and storylines ensures an engaging experience for every audience member," he said.
Performances of "The Gorges Motel" will be held at 7:30 p.m. Thursday, Sept. 19, through Saturday, Sept. 21; at 3 p.m. Sunday, Sept. 22; and at 7:30 p.m. Monday, Sept. 23, and Tuesday, Sept. 24.
Individual tickets are $17 for adults, $16 for senior citizens, $13 for children and non-VSU students, and free for all VSU students with a valid 1Card. Tickets for groups of 10 or more people at a single performance are $12 per person. 
Tickets may be reserved by calling the VSU Theatre and Dance Box Office at (229) 333-5973 between the hours of 2 p.m. and 5 p.m. Monday through Saturday or by visiting www.ticketreturn.com 24 hours a day, seven days a week.
The VSU Theatre and Dance Box Office is located on the first floor of the Fine Arts Building, at the intersection of Oak Street and Brookwood Drive, and may be reached by calling (229) 333-5973. The Lab Theatre is located on the second floor.
VSU Theatre and Dance is committed to fostering excellence within its theatre performance, theatre production, theatre management, musical theatre, and dance programs while also contributing to the lifelong learning and cultural development of the citizens of South Georgia, North Florida, and beyond. Its 2019-2020 performance season continues throughout the fall and spring semesters with "Fall Dances: UNBOUND," Shakespeare's "Othello," "How I Became A Pirate," "Truth and Other Lies," and Andrew Lloyd Webber's Broadway musical "Cats."
Contact VSU Theatre and Dance at (229) 253-2914 to learn more. 
On the Web:
https://www.valdosta.edu/colleges/arts/communication-arts/box-office/season.php
General VSU Information
Office of Communications
Campus Address
Office of Communications Powell Hall West, Suite 1120
Mailing Address
1500 N. Patterson St.
Valdosta, GA 31698