September 24, 2019
19-118
Dr. Emily Cantonwine Honored with Presidential Excellence Award for Service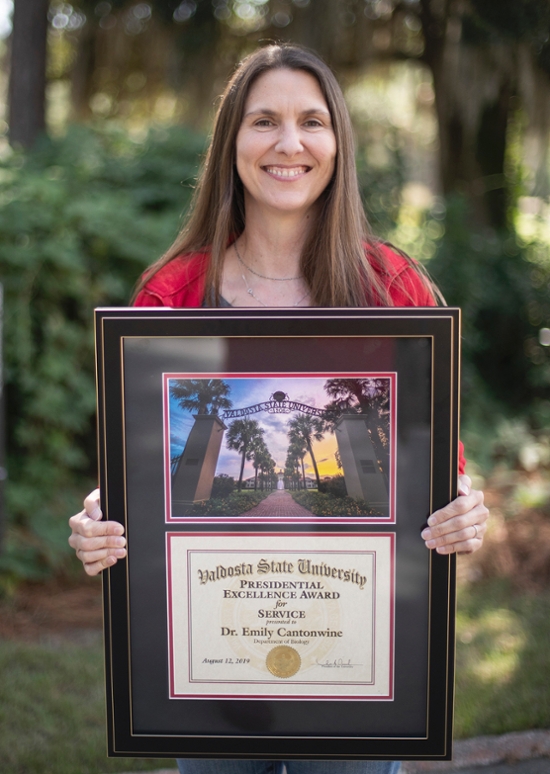 Dr. Emily Cantonwine
VALDOSTA — Dr. Emily Cantonwine is the recipient of Valdosta State University's 2019 Presidential Excellence Award for Service.
The Presidential Excellence Award for Service recognizes a faculty member who has demonstrated a strong and consistent commitment to service at VSU and to the local community. Cantonwine, professor of biology, was chosen for her prolific and pioneering service efforts at the university, community, state, national, and international level.
"As we implement our new university strategic plan, with a focus on experiential learning and high-impact practices, Dr. Cantonwine is exactly the kind of faculty member who we should be celebrating … because of her accomplishments in service learning and community engagement," said Dr. James LaPlant, dean of the College of Humanities and Social Sciences and former interim dean of the College of Science and Mathematics.
Since joining VSU in 2007, Cantonwine's wide range of service has included directing service learning projects for students within the local community, facilitating teacher education opportunities, taking on leadership roles within the scientific community, and directing undergraduate students in research.
One of her most recent accomplishments at the local level is the BioBlitz — a gathering of scientists, naturalists, and public participants who work together to discover and identify as many species as possible over a set period of time — that Cantonwine coordinated in Fall 2018 in Lake Park, Georgia. She brought the event to VSU after serving as the fungi expert at a BioBlitz at the Jimmy Carter National Historic Site in Plains, Georgia, where she found an innovative way to engage middle school students and visitors in the observation of the state's diverse lichen population through the use of a macrolens that attached to smart devices and magnified camera images.
During the VSU BioBlitz, a team of 20 experts from VSU, North Georgia, and North Florida worked with more than 40 VSU biology students and 150 public participants to identify 587 different species of plants, birds, insects, mammals, reptiles, amphibians, fungi, and protozoa over 24 hours. In addition to generating useful data for science, the event gave people an opportunity to explore nature with an expert guide, meet new people, and connect to the environment.
"Emily spent more than a year organizing (this event) …" LaPlant said. "(She) was under no obligation to do this. It was a pure act of selfless service to the local community with the goal of educating and involving the community in biodiversity issues." 
Because feedback from the event was so positive, Cantonwine held another VSU BioBlitz in April 2019.
Cantonwine has a knack for developing valuable experiential learning opportunities for students that also benefit the university or community. In her Biology of Horticulture course, students volunteer with the Valdosta City Schools garden program, local plant clubs, and VSU Landscape and Grounds staff to practice what they learn in class. The VSU Horticulture Club, Campus Plants website, and two video tours about plants on VSU's campus have also been service outcomes of this course.
In Cantonwine's Biodiversity of Macrofungus course, students participate in the North American Mycoflora Project, which seeks to support citizen scientist efforts to identify and map mushroom species across North America. Her Fall 2018 class contributed 45 mushroom species to the Fungus Collection at the VSU Herbarium. Most were the first recorded species for South Georgia, and some were the first for the state. 
As director of the Department of Biology's Greenhouse, which fell into disrepair in 2016, Cantonwine has developed plans for a new greenhouse that would give the Horticulture Club a place to flourish and expand opportunities for collaborations with local schools and community organizations.
"I am most proud of the connections I have fostered between students and community members around the topics of science and nature," Cantonwine said. "Promoting meaningful experiences with science and nature for others is a passion that drives me daily." 
Cantonwine has developed several programs for Continuing Education's Learning in Retirement program at VSU; spoken at numerous garden club events; volunteered with local camellia clubs; and volunteered at VSU's Science Saturday events, providing a variety of interactive activities for kids related to fungi and plants.
She has also participated in several teacher education programs that focused on integrating the study of fungi in the classroom and using school gardens to meet curriculum standards.
Cantonwine also advises and mentors dozens of students at the undergraduate, graduate, and doctoral level each semester, leading many of them in research.
"Mentoring students in research is one of my favorite parts of my job," she said. "When it goes well, students not only excel with the research, but they also become more confident students and true members of the department."
In addition to serving on numerous university, college, and departmental committees, Cantonwine has actively contributed to a number of scientific societies. She was vice president and president for the Georgia Association of Plant Pathologists from 2011-2013 and has been a senior editor for the American Phytopathological Society's "Plant Health Instructor" since 2016. She has been a member of five committees, chairing three, for the American Peanut Research and Education Society, and she currently chairs the education committees for both the North American Mycoflora Project and the Mycological Association of America.
Cantonwine has also served as reviewer for many scientific journals, including "Peanut Science," "Plant Health Progress," "Plant Health Instructor," "Georgia Academy of Sciences," "Plant Disease," "Canadian Journal of Plant Pathology," "Letters in Applied Microbiology," "Journal of Applied Microbiology," and "Phytopathology." 
Cantonwine is currently a member of the American Peanut Research and Education Society; American Phytopathological Society; Gamma Sigma Delta, The Honor Society of Agriculture; Georgia Association of Plant Pathologists; Mycological Society of America; North American Mycological Association; and Sigma Xi, The Scientific Research Society.
"I feel very fortunate to have a career where I get to translate my philosophy of service into actions that help others reach their goals," she said. "It is truly a privilege to have the time and support to do this work. The successes I've had in service are shared with the many VSU, community, and scientist colleagues who have helped me along the way."
Cantonwine holds a Bachelor of Science in botany from Miami University, a Master of Science in biology from Florida International University, and a Doctor of Philosophy in plant pathology from the University of Georgia.
On the Web:
https://www.valdosta.edu/biology
https://www.valdosta.edu/csm
https://www.valdosta.edu/academics/academic-affairs/presidential-excellence-awards.php
General VSU Information
Office of Communications
Campus Address
Office of Communications Powell Hall West, Suite 1120
Mailing Address
1500 N. Patterson St.
Valdosta, GA 31698