VSU Develops Initiative with Miller Electric Company to Offer Higher Education to the Company's 2,000 Employees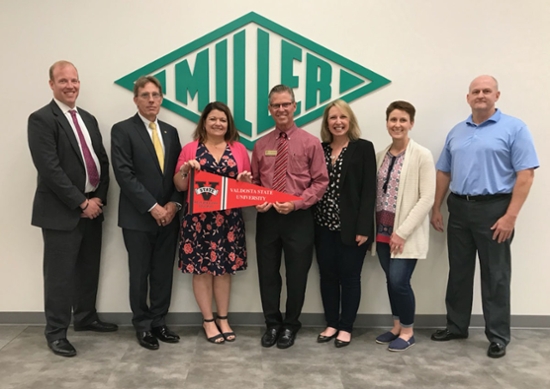 Pictured from left to right are Ryan Hogan, director of admissions at VSU; Leo Melody, director of adult and military programs at VSU; Dr. Rochelle Price, director of shared services at Miller Electric; Dr. Charles Backes, professor of adult and career education at VSU; Patty Keenan, chief learning officer at Miller Electric; Shannon Jones, administrative assistant for the learning department at Miller Electric; and Tim Hinson, director of corporate training at Miller Electric.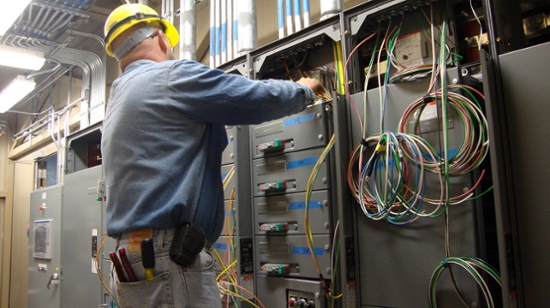 Tim Hinson
Director of Corporate Training at Miller Electric
"I wanted to get my degree from a well-known college, and VSU is a perfect fit for me. Dr. Backes and the VSU staff have been very helpful in setting up a customized learning experience for us.
"The degree track is related to my job, so it is relevant to what I do every day. I think the college courses will enhance my ability to perform in my career and position me to have the latest theories, knowledge, and processes, which will allow me to excel in business and in life. I can't wait to get started."
Ryan Hogan
Director of Admissions at VSU
"It is admirable that no matter their age or experience, the staff at Miller Electric are taking advantage of this opportunity, and Valdosta State will support them every step of the way. We are excited to have them as students because of not only what we can teach them but also, through their life experiences, what they can teach us and their fellow VSU students."
Dr. Rochelle Price
Director of Shared Services at Miller Electric
VSU Alumna: Bachelor of Arts in management (1998) and Master of Business Administration (2005)
"My education was challenging and very hands-on. Our professors pushed us as individuals. If they thought you could do better, they pushed harder. This ever-rising expectation really prepared you for the workplace. 
"I love Miller Electric, and I also know how the values of the company align with my own values. It is no surprise to me that we would work with VSU. Miller Electric invests in their employees, and what better way to do this than by investing in their minds?"
VALDOSTA — Valdosta State University, as part of its unwavering commitment to serving as a resource for industries in the region and beyond, has worked with Miller Electric Company, a national electrical contractor based in Jacksonville, Florida, to offer the company's 2,000 employees the opportunity to obtain a bachelor's degree through the university.
Starting in Fall 2019, any Miller Electric employee can apply for admission to VSU to pursue a Bachelor of Science in Education in workforce education and development or a Bachelor of Science in office administration and technology. Both degree programs are offered fully online, allowing flexibility and convenience for the company's employees, who are also eligible for reimbursement of tuition by Miller Electric.
"We believe strongly in the importance of lifelong learning for all of our employees," said Henry Brown, CEO of Miller Electric. "Many of our employees started their career with our apprenticeship program and have great technical skills. Giving them the opportunity to supplement their core technical education with a well-rounded college education gives them the background they need for success in our fast-moving industry."
VSU faculty and administration from multiple areas — coordinated by Dr. Charles Backes, professor of adult and career education who spearheaded the initiative — have worked closely with Miller Electric for the past two years to develop specialized degree options for the company's employees. Individuals who have already completed an electrical apprenticeship can earn up to 42 credit hours toward their degree. Additionally, VSU added a technical leadership track to its Bachelor of Science in Education in workforce education and development. The new track, which was developed for the Miller Electric initiative but is open to any VSU student, is designed to provide the skills and knowledge necessary for strong leadership and career advancement in the areas of workforce development and training, project management, and technical communication.
"By working closely with Miller Electric to help their employees become students at VSU and pursue their degrees, the university is upholding its commitment to providing opportunities for students in the greater region and to helping meet the educational needs of the area's business community," said Dr. Robert T. Smith, provost and vice president for Academic Affairs and professor of mathematics.
Miller Electric's motivation for the initiative stems from the company's core values.
"We believe that developing a strong culture of lifelong learners benefits individuals and their families, as well as the company," said Patty Keenan, chief learning officer of Miller Electric. "We also believe that to succeed in today's fast-paced, complex, and ever-changing world, we all need to learn to be resilient and adaptable to change. Miller has a core value of stewardship, which we define as our responsibility to take care of the company for future generations. Investing in our people who choose to devote their time and talent here is one of the ways we endeavor to be good stewards while strengthening our company for the long run."
VSU has already held two information sessions on the initiative at Miller Electric headquarters in Jacksonville, allowing employees to understand the opportunity available to them. 
Backes said he is thrilled to see adult learners reconsider higher education after possibly giving up that option years ago because of family or financial reasons.
"There's a million different reasons that our adults will tell us as to why they didn't go to college when they were younger," Backes said. "And now all of a sudden, even though they're 30 years old, 40 years old, 60 years old, it's their chance. It's their turn. We understand the non-traditional learner, and we've got special programs in place that meet their needs." 
On the Web:
www.valdosta.edu/colleges/education/adult-and-career-education/
www.mecojax.com
Newsroom
Office of Communications Powell Hall West, Suite 1120
Mailing Address
1500 N. Patterson St.
Valdosta, GA 31698
General VSU Information
Office of Communications