February 5, 2019
19-20
Jessica Pope
Communications and Media Relations Coordinator
Logan Mallory, Intern
VSU Career Opportunities Hosts Groundhog Shadow Day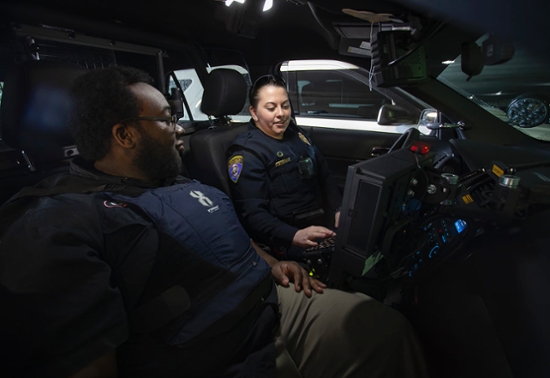 Pictured are Isaac Nesbitt and Rebecca Leatherberry.
VALDOSTA — Valdosta State University's Office of Career Opportunities recently invited anthropology, criminal justice, and sociology majors to participate in a special Groundhog Shadow Day event.
Groundhog Shadow Day was an opportunity for the students to gain real-world experience while shadowing professionals at the VSU Police Department, Valdosta Police Department, Southwest Key Programs, Maceo Horne Learning Center, Southern Circuit Public Defender's Office, Lowndes County District Attorney's Office, Department of Community Supervision, Lowndes County Coroner's Office, Choices for Life Foster Care Inc., and Belk Asset Protection.
Isaac Nesbitt of Valdosta, Georgia, who anticipates graduating in December with a Bachelor of Arts in criminal justice, shadowed Officer Rebecca Leatherberry of the VSU Police Department. His day began with a ride-along. 
What are your career goals after graduation?
Nesbitt: The Valdosta Police Department is offering me $40,000 if I start with them, assuming I can complete everything. I want to be a judge one day. I'm thinking maybe a defense attorney then a judge. I want to do something to give people second chances.
What have you learned today that will benefit you in the future?
Nesbitt: So far, I have learned what it is like to be an officer from the road patrol perspective. I've also learned more about the setup of campus security and the things that go on behind the scenes on campus.
Why did you want to participate in VSU's Groundhog Shadow Day event?
Leatherberry: They told me, "Hey, come up here and let this kid ride with you," and I said okay. I'm all about educating people on what we do because not everybody understands exactly what campus police do on a daily basis. I'm all for letting someone come learn.
What do you hope the student learns from working with you today?
Leatherberry: I just let him ask whatever he wants to ask and answer all of his questions. He has already asked a lot about what made me get into law enforcement and how it changed me as a person. He is asking some really good questions.
Phenix Culbertson, employer relations specialist with VSU's Office of Career Opportunities, said that more than two dozen students participated in Groundhog Shadow Day. He said having the opportunity to network with professionals on the job, observe their daily operations, and ask them questions "assists students in ensuring they are on the appropriate career and education path."
Groundhog Shadow Day reflects VSU's commitment to increasing student participation in expanded transformational and experiential learning opportunities.
VSU's Office of Career Opportunities strives to provide career development and awareness, experiential learning and/or cooperative education, and professional employment opportunities for undergraduate and graduate students and alumni. Its staff collaborates with the university's employer and community partners to develop the employment potential of students and graduates and to utilize their innovative, intellectual talents. It is located in the University Center, Entrance No. 5.
On the Web:
www.valdosta.edu/career
General VSU Information
Office of Communications
Campus Address
Office of Communications Powell Hall West, Suite 1120
Mailing Address
1500 N. Patterson St.
Valdosta, GA 31698