November 20, 2018
18-228
Jessica Pope
Communications and Media Relations Coordinator
VSU Jazz Ensemble, Guest Vocalist Perform Nov. 27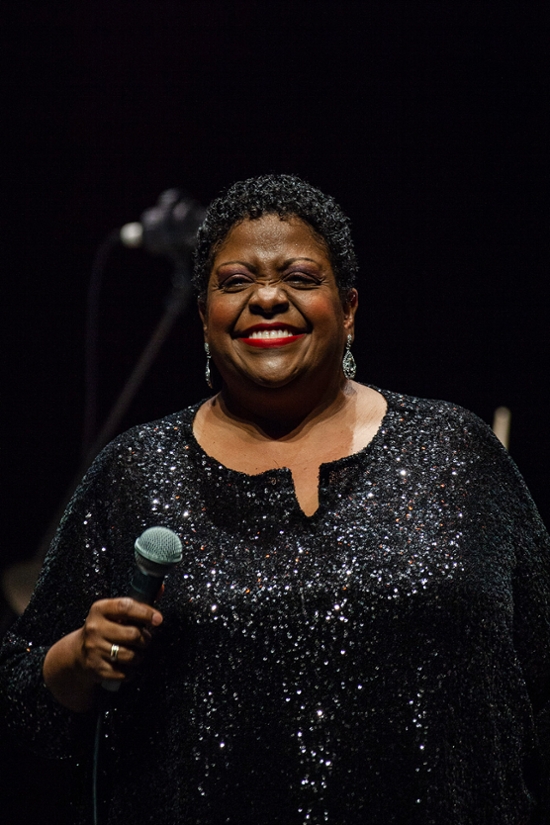 Carmen Bradford
VALDOSTA — The 18-member Valdosta State University Jazz Ensemble, directed by David Springfield, will perform at 7:30 p.m. on Tuesday, Nov. 27, in Whitehead Auditorium. Admission is free of charge and open to the public.
The VSU Jazz Ensemble performance will feature "Honeysuckle Rose" by Fats Waller and Andy Razaf, arranged by Matt Rubin; "Young and Foolish" by Albert Hague, arranged by Frank Foster; "I'm Beginning to See the Light" by Duke Ellington, arranged by Quincy Jones; "Day Dream" by Duke Ellington and Billy Strayhorn; "The Very Thought of You" by Ray Noble, arranged by Nelson Riddle; "We'll Love Again" by Jay Livingston and Ray Evans, arranged by David Springfield; "I Wish You Love" by Charles Trenet, arranged by John Clayton; and "My Shining Hour" by Harold Arlen and Johnny Mercer, arranged by David Springfield.
Guest vocalist Carmen Bradford will join the VSU Jazz Ensemble on stage for what promises to be a memorable musical evening. 
Born in Austin, Texas, and raised in Altadena, California, Atlanta-based Bradford grew up with music in her home and in her heart. She is the daughter of legendary trumpeter/composer Bobby Bradford and world renowned vocalist/composer Melba Joyce. Her grandfather Melvin Moore sang with Lucky Millender and Dizzy Gillespie's Big Band in the 1940s and with the Ink Spots. She is jazz royalty.
Determined to carve out a place in music history for herself, Bradford was discovered and hired by William "Count" Basie and was the featured vocalist in the legendary Count Basie Orchestra for nine years. She has since performed and/or recorded with Wynton Marsalis, Shelly Berg, John Clayton and the Clayton Hamilton Orchestra, Nancy Wilson, Doc Severinsen, Tony Bennett, James Brown, Patti Austin, Byron Stripling, Dori Caymmi, George Benson, Lena Horne, Frank Sinatra, Joe Williams, DIVA Jazz Orchestra, the National Symphony, Rochester Philharmonic, the Lincoln Center Jazz Orchestra, the Clayton-Hamilton Jazz Orchestra, The Dani Felber Big Band, Dallas Symphony, Oklahoma Symphony, Vancouver Philharmonic, and countless artists around the world.
Bradford performed on two Grammy Award-winning albums with the Basie band in the 1980s and later collaborated on a third Grammy Award-winning album, "Big Boss Band," with guitarist George Benson in 1991. She teamed up with singer/composer Kenny Rankin for the Grammy Award-winning Benny Carter Songbook Project, marking her fourth studio collaboration.
In 1992 Bradford began another chapter in her career as a solo artist with her critically acclaimed debut album, "Finally Yours," with Evidence Records. The 1995 release of her second solo album, "With Respect," also with Evidence Records, established her as one of jazz music's most diverse and exciting vocal stylists. She followed these with the 2004 release of "Home With You," the 2008 release of "Sherrie Maricle & The DIVA Jazz Orchestra," and the 2015 release of John Mills "Invisible Design" featuring Carmen Bradford and "A Very Swingin' Basie Christmas with the Count Basie Orchestra.
Bradford has, on occasion, loaned her voice to stage productions and the music of Hollywood films. She sang on the soundtrack for Oprah Winfrey's "Beloved" and recently starred in the title role of Duke Ellington's Folk Opera "Queenie Pie" at the University of Texas Butler School of Music.
Whitehead Auditorium is located on the first floor of the VSU Fine Arts Building, at the intersection of Brookwood Drive and Oak Street.
Contact David Springfield, assistant professor and director of jazz studies, at daspring@valdosta.edu or (229) 333-5805 to learn more.
On the Web:
https://www.valdosta.edu/colleges/arts/music/
Newsroom
Office of Communications Powell Hall West, Suite 1120
Mailing Address
1500 N. Patterson St.
Valdosta, GA 31698
General VSU Information
Office of Communications