VSU Honors Recipients of 2018 Ethics Awards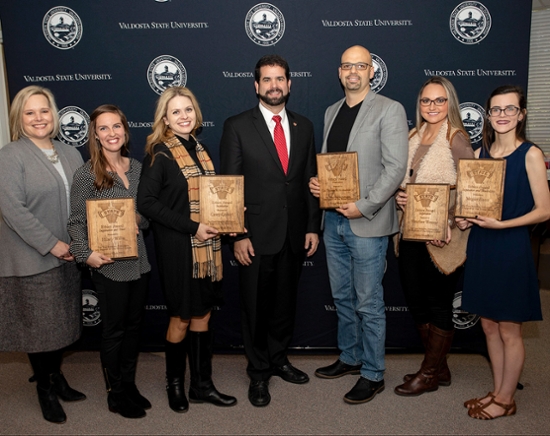 Pictured from left to right is Heidi Cox, director of internal audit; Hilary Willis, assistant director of admissions; Casey Colson, lecturer of accounting; Dr. Richard A. Carvajal, president of VSU; Dr. Thomas Hochschild, assistant professor of sociology; Heather Weaver, VSU student; and Megan Slater, VSU student. (Not pictured: Niki Turley, director of student leadership and volunteer services)
VALDOSTA — Valdosta State University recently recognized the winners of the 2018 Ethics Awards. The recipients were nominated by their peers as part of VSU's Ethics Awareness Week 2018, which took place Nov. 12-16.
The recipients of the 2018 Ethics Awards are Megan Slater, Heather Weaver, Hilary Willis, Niki Turley, Casey Colson, and Dr. Thomas Hochschild.
The theme of Ethics Awareness Week 2018 was "Celebrating VSU's SPIRIT of Ethical Culture," with "SPIRIT" representing the award nomination categories of Stewardship, Prevention, Integrity, Responsibility, Inspiration, and Trust. From a slew of nominations, the Ethics Award Committee selected the six winners — two faculty, two staff, and two currently enrolled students — who consistently display ethical leadership and uphold VSU's commitment to civility, integrity, and citizenship.
"I feel really proud that someone noticed the work I put into being honest and trustworthy," said Megan Slater, a chemistry major from Valdosta who will graduate in December. Slater serves as president of the VSU chapter of Student Members of the American Chemical Society and works in the Academic Support Center as a general chemistry tutor and a supplemental instruction leader. "In my job as a tutor, I've been a mentor to students, which comes with handling confidential information. It really just comes back down to trust and honesty and how important those two things are. You want people to feel like they can come to you and ask you a question and that you're going to be honest and that you're not going to share their information or abuse your power." 
"This award is a big deal to me because I come into work every single day and try to lead by example," said Hilary Willis, assistant director of admissions. "I try to lead my staff and the university ambassadors the way that I would like to be led, and it's important to me to do my best in everything I do. I think being ethical has to be a personal priority. If you're ethical at home and in everything else that you do, then you'll be ethical at work. It's important for people to trust you and for you to be an example to others, especially when you're working with students."
"This award is flattering," said Casey Colson, lecturer of accounting. "As an accountant, our profession has to maintain and uphold standards and ethics, and we teach those and try to pass them on to the students. Without ethics, you have an environment of chaos. You have to have standards and ethical practices in place so that things can operate the way that they should." 
"I'm honored that someone nominated me and that I stood out to someone," said Heather Adams, a legal assistant studies major from Lakeland, Georgia, who will graduate in December. "Within the legal assistant studies program, I'm one of the few that actually holds a legal assisting job. I've been there for six years. Within this field, there are always people coming behind you, and your work is getting shown to judges, lawyers, and lots of people. It's important to always make sure that you're being ethical, that you're doing your work to the best of your ability, to ensure that nobody gets treated unfairly." 
"I feel very honored and thankful to receive this award," said Niki Turley, director of student leadership and volunteer services. "In my life, I seek to be consistent internally and externally with my thoughts, actions, values, and beliefs. It's important to me to be true to the values I hold in all aspects of my life and work."
"One of the reasons I went into sociology is I don't like seeing people being taken advantage of or being treated unfairly in any way, so when I do see that, whether it's on campus or in the local community, I feel it's incumbent upon me and other faculty members to raise awareness and to address the problem," said Dr. Thomas Hochschild, assistant professor of sociology. "I appreciate the fact that VSU is acknowledging people who care about such issues."
The recipients of the 2018 Ethics Awards were honored with a special ceremony and plaque.
Newsroom
Office of Communications Powell Hall West, Suite 1120
Mailing Address
1500 N. Patterson St.
Valdosta, GA 31698
General VSU Information
Office of Communications