November 28, 2018
18-236
Jessica Pope
Communications and Media Relations Coordinator
Tessa Welch Named VSU College of Nursing and Health Sciences Top Graduate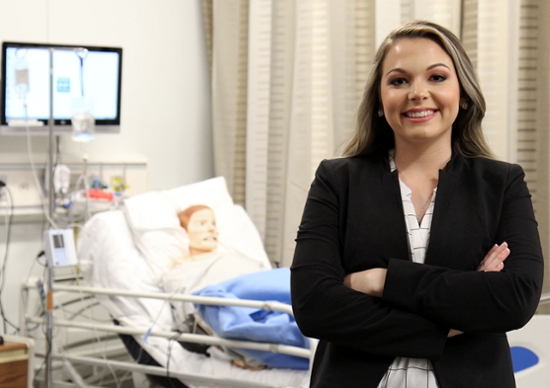 Tessa Ashlyn Welch
VALDOSTA — Tessa Ashlyn Welch of Homerville, Georgia, is the recipient of the Fall 2018 President's Award for Academic Excellence for the College of Nursing and Health Sciences at Valdosta State University.
The President's Award for Academic Excellence is presented to the graduating student with the highest grade point average in each of VSU's six colleges — Harley Langdale Jr. College of Business Administration, College of Nursing and Health Sciences, College of the Arts, James L. and Dorothy H. Dewar College of Education and Human Services, College of Humanities and Social Sciences, and College of Science and Mathematics.
VSU will celebrate its 226th commencement on Friday, Dec. 7, and Saturday, Dec. 8.
Welch will serve as the official banner carrier for the College of Nursing and Health Sciences during the undergraduate commencement ceremony at 4:30 p.m. on Saturday, Dec. 8, on the VSU Front Lawn. She will graduate magna cum laude with a Bachelor of Science in Nursing.
"There are no words to express what an honor it is to be receiving this prestigious recognition," she said. "I have had the chance to get to know and care for each and every person in my nursing cohort. To be able to lead these people into the area where they will receive a degree indicating one of the greatest accomplishments of their life makes me ecstatic. Every person in my cohort has unique characteristics to offer growth in the nursing profession. I am honored to even know these students. I see nothing but present and future success when I look at them. It is with overwhelming joy that I hold the College of Nursing and Health Sciences banner high as I lead my fellow graduates into the commencement area."
As a student at VSU, Welch was a member of the College of Nursing and Health Sciences Student Affairs Committee, the Valdosta Association of Nursing Students, and Sigma, formerly known as Sigma Theta Tau International Honor Society of Nursing. She volunteered her time to support the American Cancer Society, the Alzheimer's Association, Hungry at Home, Hospice of South Georgia, and Ronald McDonald House Charities. She helped the Lowndes County Health Department provide free HIV testing on campus, collaborated with other nursing and health sciences majors to host a health fair for the community, conducted free blood pressure screenings at the South Georgia Pride Festival, and offered free health screenings at the Hahira Community Day.  
Welch conducted research on the impact of the perioperative surgical checklist on morbidity and mortality rates in surgery, the mental health of the homeless, and effective communication and leadership.
Welch's commitment to academic, service, and research excellence resulted in her earning the 2018 Valdosta State University Foundation Scholarship, the 2017 Lettie Pate Whitehead Foundation Scholarship, the 2015 Clinch Foundation Scholarship, and the 2015 Dr. Lewis F. and Audrey H. Chisholm Healthcare Scholarship. She was a Zell Miller Scholar and a regular on the Dean's List. She earned a spot on the School of Nursing Dean's List in 2018.  
Welch plans to find a job in a hospital-based Medical Surgical Intensive Care Unit and work for at least six months before pursuing a Master of Science in Nursing. "I will work towards an online degree part time while obtaining more nursing experience at the bedside. My long-term career goals are to have a family practice serving a rural community as a family nurse practitioner." She is the daughter of Ray and Pam Welch.
On the Web:
https://www.valdosta.edu/colleges/nursing-and-health-sciences/
https://www.valdosta.edu/administration/advancement/event-services/commencement/welcome.php
Newsroom
Office of Communications Powell Hall West, Suite 1120
Mailing Address
1500 N. Patterson St.
Valdosta, GA 31698
General VSU Information
Office of Communications