September 27, 2018
18-190
Jessica Pope
Communications and Media Relations Coordinator
Kimberly Cannon, Graduate Assistant
VSU Alumna Accepted into Japan Exchange and Teaching Program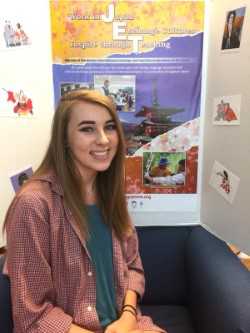 Sarah R. Taylor, who graduated from Valdosta State University in May, is teaching in Japan through the Japan Exchange and Teaching Program.
VALDOSTA — A Valdosta State University alumna who majored in international business is getting to spend a year living and working in Japan.
Sarah R. Taylor, a Valdosta, Georgia, native, graduated from VSU in May with a Bachelor of Business Administration in international business. In late July, she set off for Japan to be an assistant language teacher for a year with the Japan Exchange and Teaching (JET) Program.
"I have met people from all over the world, so the community I have built here is great so far," Taylor said of her ongoing JET experience. "I am placed in Echizen City, Fukui [Prefecture]… I have five schools this year."
The JET Program is an employment opportunity run by the Japanese government. The program hires outgoing young professionals to serve in Japan as either an assistant language teacher or a coordinator for international relations. 
JET teachers are contracted on a yearly basis and can work in the JET program for up to five years.
Of the approximately 4,000 to 5,000 United States citizens who apply to the program each year, only 1,000 to 1,100 are selected to participate in the JET Program, according to jetprogramusa.org.
"The JET Program is a very competitive and prestigious fully-funded program, which has a multi-step selection process," said Irina McClellan, assistant director and study abroad and exchange student coordinator for VSU's Center for International Programs. "It is an honor and hard work to be selected for the JET Program. Only the top candidates are selected, and preference is given to very independent, well-traveled students who are able to prove that they can step out of their comfort zone and adapt to the new environment and culture."
While pursuing her education at VSU, Taylor studied abroad for a year in Japan, after taking Japanese language courses. She said it was following her experience abroad that she knew she wanted to work in Japan.
Taylor said she believed taking part in the Japanese language program at VSU and her resulting Japanese language ability helped get her placed in Echizen City, where she said, at times, it can be crucial to know Japanese.
Taylor is the daughter of Rena and Kevin Taylor of Valdosta.
Potential JET Program participants must have a deep interest in Japanese culture and hold at least a bachelor's degree. Assistant language teachers in the program do not have to speak Japanese but should be committed to learning the language prior to and during their time in the country. Assistant language teachers are preferred to have qualifications as language teachers or be strongly motivated to learn to teach English as a foreign language. 
Coordinators for international relations work in Japanese government offices for internationalization efforts and are required to have a strong, functional command of the Japanese language.
McClellan advised students who are interested in applying to the JET Program in the future to "take every opportunity to meet and form friendships with international students on campus. Do as many things during your college career that can help you become a successful intercultural communicator and a problem solver."
Please contact Irina McClellan with the Center for International Programs at (229) 333-7410 or ibmcclel@valdosta.edu to learn more about study abroad and international activities. Visit www.jetprogramusa.org to learn more about the JET program.
ON THE WEB:
https://www.valdosta.edu/academics/international-programs/
www.jetprogramusa.org
Newsroom
Office of Communications Powell Hall West, Suite 1120
Mailing Address
1500 N. Patterson St.
Valdosta, GA 31698
General VSU Information
Office of Communications