September 13, 2018
18-178
Dr. Theodore Uyeno Honored with Presidential Excellence Award for Research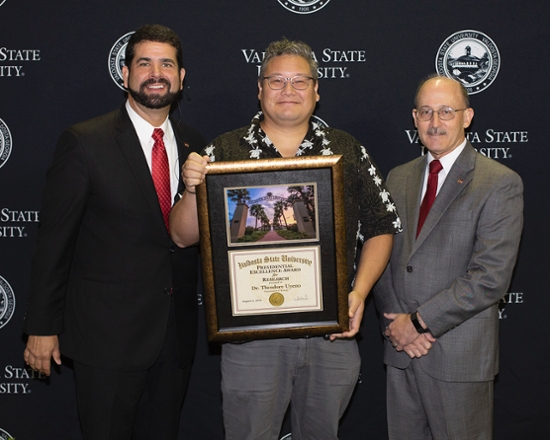 Pictured left to right are President Richard A. Carvajal, Dr. Theodore Uyeno, and Dr. Robert Smith, provost and vice president for Academic Affairs.
VALDOSTA — Dr. Theodore Uyeno is the recipient of Valdosta State University's 2018 Presidential Excellence Award for Research.
The Presidential Excellence Award for Research recognizes a faculty member with a strong record of creative scholarship. Uyeno, associate professor of biology, was chosen for his extensive research in the field of biomechanics; his efforts to encourage graduate and undergraduate research; and his drive to find practical applications for his discoveries.
As a biomechanicist, Uyeno studies the anatomy and functions of creatures in the natural world in order to discover how they do what they do. 
"It's a bit like reverse mechanical engineering," said Uyeno, who joined VSU in 2011. "Mechanical engineers are trying to build something useful, some tool that they need. Biomechanicists find unique organismal structures that we don't understand and take them apart, describe their morphology and anatomy, and then test hypotheses that we make of their function.
"Normal engineers, if they want to make a skyscraper, they know exactly the bending stiffness of beams and the weight and load tolerances of concrete. You can bolt these things together, and you have a pretty good idea of how they'll function. But something as simple as our own tongues — how does that thing work? It can become rigid enough that you can use it to shell sunflower seeds at a baseball game, yet there are no bones inside of it. It's a soft tissue structure that — by the organization of its muscle, connective tissue fibers, and the nerves that control it — can do some pretty amazing things."
Uyeno specializes in studying soft tissue structures in marine invertebrates, and unlocking the mysteries of deep-sea creatures like squids and hagfish — boneless, worm-like animals — has long been a staple of his research. He has obtained more than $1 million in grant funding for his research, including a $640,000 grant from the National Science Foundation.
Uyeno has studied how hagfish are able to tie themselves into knots and manipulate those knots with ease. He has published on how squids are able to bite with great force and move their parrot-like beaks with precision, despite having no jaw joint.
Unraveling the mechanics of the natural world is, in itself, interesting and important to Uyeno, but he said he always strives to go one step farther and explore practical applications for his research.
For example, the biomechanics of the knot-tying hagfish could assist in rescue situations, he said.
"Imagine if somebody's in a well, and you put down what looks like a rope and it ties itself around the trapped and incapacitated person and lifts him out," he said.
Uyeno added that the mechanics of squid beaks could be used to produce robotic manipulators that are capable of varying levels of force. 
He has already obtained two patents for technology that take their inspiration from biological constructions.
The first is a design that increases the efficiency of a motor by using a specific organization of springs. The model is based on Uyeno's designs that he developed with his former post-doctoral advisor that capitalizes on the elasticity that her muscle physiology lab found in muscles that allows them to store up energy. 
The second is an implantable medical device that can be used to restore blood flow in people with diabetes, thereby preventing atherosclerosis — a disease of the arteries —and blood from pooling in parts of the body, which leads to tissue starvation and the need for amputation. The device — a stent-like implant meant to strengthen blood vessels— is the result of Uyeno's research on the squid, which has three hearts to help it increase blood pressure and reach high speeds in the water. His findings caused him to develop the stent that mimics the elasticity of the accessory heart and helps increase blood circulation.
"The need to ask questions and the joy of rigorously pursuing their answers form the core of my identity," he said. "Curiosity is a trait that all children have, and I suppose I never outgrew it. To be honest, it is sometime discouragingly difficult to find resources to perform this level of research, but I do it because I, and most of my research students, have a fire burning in our bellies. When one puts in that much blood, sweat, and tears, it's very validating to win an award like this." 
Uyeno regularly involves graduate and undergraduate students in his research and offers them valuable experiential learning opportunities, training them in a variety of environments and exposing them to advanced technologies and techniques. He travels with students to do fieldwork and helps them to present their findings annually at local and national science conferences. He also encourages them to publish professional, peer-reviewed manuscripts, something he calls the "currency of academia."
Uyeno's students won first and second place for the best student award at VSU's Undergraduate Research Symposium in 2015. Additionally, one of his graduate students was named the VSU Graduate Student of the Year in 2016 and was a runner-up the same year for the best student talk at the Society for Integrative and Comparative Biology annual conference.
"Students bring an energy and a freshness and a drive," he said. "When I'm not feeling it some days, they pick me up, and hopefully vice versa. It's all about opening doors to new knowledge and training to help in their future jobs. And they really pay all that back in the creativity that they bring to the job. I'm not sure I could do it without them."
Uyeno has published 16 manuscripts and two book chapters and has presented at numerous professional conferences. He has peer-reviewed dozens of manuscripts for nine academic journals and has served on annual National Science Foundation peer-review panels for the past three years.
In 2015, he received the Reinhard Rieger Award in Zoomorphology, an international award presented by the Institute of Zoology in Austria.
Within the Department of Biology, Uyeno serves as a mentor to graduate students and participates in outreach projects such as Science Saturday, the Science Bowl, and K-12 STEM (science, technology, engineering, and math) teaching. He also serves as a pre-medical track undergraduate advisor.
He is a current or past member of the Georgia Academy of Science, Society for Integrative and Comparative Biology, American Physiological Society, Society for Experimental Biology, Sigma Xi, American Microscopial Society, and American Malacological Society.
Uyeno holds a Bachelor of Science in biology and a Master of Science in zoology from the University of Calgary in Alberta, Canada, as well as a Doctor of Philosophy in biology from the University of North Carolina at Chapel Hill.
Each year, VSU continues its tradition of honoring faculty excellence with five awards recognizing the diverse talents and contributions of its innovative and active faculty. Awards are given for excellence in teaching, research, service, online teaching, and scholarship of teaching and learning. The 2018-2019 recipients were publicly recognized at the fall convocation and received a monetary prize of $1,000.
On the Web:
https://www.valdosta.edu/academics/academic-affairs/presidential-excellence-awards.php
https://www.valdosta.edu/csm/
https://www.valdosta.edu/biology/
Newsroom
Office of Communications Powell Hall West, Suite 1120
Mailing Address
1500 N. Patterson St.
Valdosta, GA 31698
General VSU Information
Office of Communications