August 7, 2018
18-161
Jessica Pope
Communications and Media Relations Coordinator
VSU Ready for Move-In Day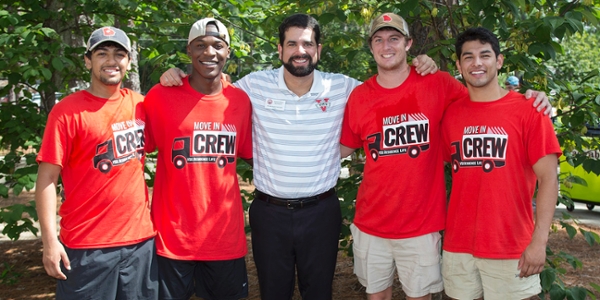 Dr. Richard Carvajal, president of Valdosta State University, is pictured here with members of the 2017 Housing and Residence Life Move-In Crew. 
VALDOSTA — Valdosta State University will celebrate Move-In Day from 8 a.m. to 5 p.m. on Thursday, Aug. 9, when students begin moving into their home away from home in Langdale Hall, Georgia Hall, Reade Hall, Patterson Hall, Lowndes Hall, Brown Hall, Centennial Hall, and Hopper Hall.
Approximately 350 students are scheduled to arrive on campus every hour. More than 700 volunteers have registered to help.
Dr. Zduy Chu, director of the Office of Housing and Residence Life at VSU, said that an estimated 2,800 students are expected to call one of VSU's eight residence halls home during the 2018-2019 academic year.
VSU has planned a series of events — known as Fall Explosion — to engage new and returning students in purposeful extracurricular activities and help them acclimate, or re-acclimate, to college life. These events will run throughout the month of August and include shopping and outdoor adventure trips, movies, a pizza party, doughnuts with the president, snow cones, canoe battleship in the pool, a knocker ball tournament, a treasure hunt, mixers, and, of course, The Happening.
Fall semester classes will start Monday, Aug. 13.
On the Web:
https://www.valdosta.edu/housing/welcome.php
https://www.valdosta.edu/student/student-life/special-events/fall-explosion.php
Newsroom
Office of Communications Powell Hall West, Suite 1120
Mailing Address
1500 N. Patterson St.
Valdosta, GA 31698
General VSU Information
Office of Communications