VSU's Blaze Helps Children Learn About Exotic Animals at South Georgia Library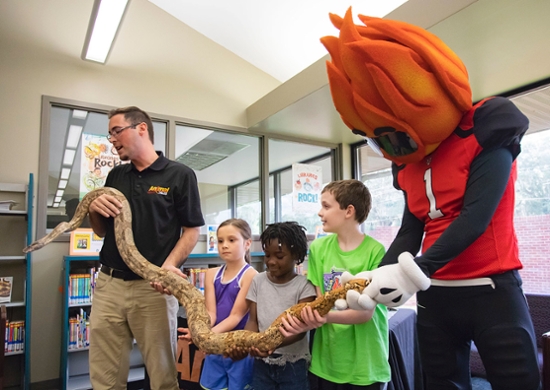 Blaze helps John Ham (left), owner and director of Animal Tales Southeast, introduce children to a boa constrictor at Johnston Lakes Library in Lake Park.
VALDOSTA — Valdosta State University's Blaze recently visited Johnston Lakes Library in Lake Park, Georgia, to greet children and help them discover exotic animals from around the world as part of the kickoff to the South Georgia Regional Library Summer Reading Program.
During a presentation from Animal Tales — a company that offers educational programs with live animals — Blaze assisted in introducing the children and their parents to the Amazon golden-eyed tree frog, Australian laughing kookaburra, South American four-eyed opossum, North American wolfdog, Madagascar hissing cockroach, and South American boa constrictor. John Ham, owner and director of Animal Tales Southeast, talked about the habitat, diet, and unique qualities of each animal and let the audience get an up-close view of the creatures.
"We're getting out to enjoy some summer activities so we're not cooped up in the house all summer long," said Leona Dyal, who brought her two sons, Gabriel, 7, and Landis, 8 months, to the presentation. "It's nice that they can interact with the community and still keep learning."
Blaze's efforts to provide children with a fun and educational experience reflect VSU's commitment to enhancing impact in the region by serving as a resource to South Georgia and beyond in a variety of ways.
The South Georgia Regional Library System coordinates the Summer Reading Program annually at all six of its branches — located in Valdosta, Hahira, Lake Park, Lakeland, and Statenville — as a way to help children, teens, and adults to continue learning throughout June and July. The program offers incentives for reading as well as special events, such as the Animal Tales presentation.
"Reading is essential," said Megan Brown, branch manager of the Johnston Lakes Library. "We want to keep all minds active and engaged, especially children and teens, during the summer months."
Visit www.sgrl.org to learn more.
On the Web:
https://www.valdosta.edu/strategicplan
http://southeast.animaledzoocation.com
Newsroom
Office of Communications Powell Hall West, Suite 1120
Mailing Address
1500 N. Patterson St.
Valdosta, GA 31698
General VSU Information
Office of Communications