Lauren Griner Named Graduate Assistant of the Year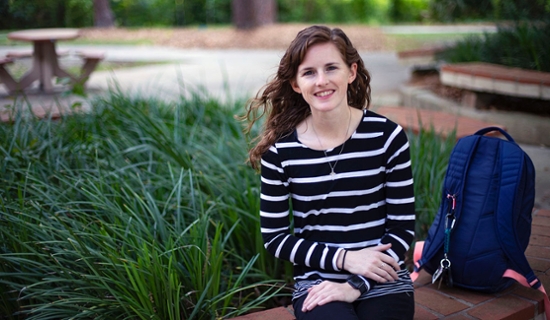 Lauren Griner
VALDOSTA — Lauren Griner of the Department of Kinesiology and Physical Education is Valdosta State University's 2017-2018 Graduate Assistant of the Year.
 
Griner began working as a kinesiology and physical education graduate assistant in May 2016 after graduating from VSU with a Bachelor of Science in Education in health and physical education. She earned a Master of Education in health and physical education in December 2017 and has continued to work as a graduate assistant throughout Spring 2018 while taking courses for a minor in deaf studies, which she expects to complete in Fall 2018.
"I was totally shocked to find out that I had won the award," she said. "I know that the group of individuals who were nominated is the best of the best and that each of us works incredibly hard. It is truly an honor to have been chosen amongst such a phenomenal group of graduate assistants. 
"This award means so much to me and is such an encouragement in knowing that hard work does pay off and that when you care about something it doesn't even feel like work." 
As a graduate assistant in the Department of Kinesiology and Physical Education, Griner built and instructed courses in physical fitness and nutrition, worked on research with faculty, conducted research of her own, and presented at professional conferences.
"During my graduate assistantship, I have definitely experienced many challenges that have made me a better teacher and have grown me as an individual," she said. "I think that one thing I liked most about my position is the office in which I work. Everyone is always so encouraging and supportive of each other, and you will rarely find anyone without a smile on their face."
Dr. Sonya Sanderson, interim head of the Department of Kinesiology and Physical Education, nominated Griner for the honor.
"Lauren is one of the most reliable and professional students I have ever worked with in my 12 years at Valdosta State University," she said. "Her work is top notch, and she strives to be the best at everything she attempts. You can tell she loves her chosen profession."  
Griner will serve as an adjunct professor in the Department of Kinesiology and Physical Education starting in June and hopes to eventually teach physical education in an elementary or middle school.
"However, in the long run, I could definitely see myself working as a physical educator in a residential school for the Deaf," she said. "That is truly where my heart is, and I would love to see my passions for physical education and American Sign Language and the Deaf community merge."
Griner is the daughter of Craig and Sheila Griner of Hahira, Georgia.
On the Web:
http://www.valdosta.edu/academics/graduate-school/welcome.php
https://www.valdosta.edu/colleges/education/kinesiology-and-physical-education/
Newsroom
Office of Communications Powell Hall West, Suite 1120
Mailing Address
1500 N. Patterson St.
Valdosta, GA 31698
General VSU Information
Office of Communications