VSU Students Spend Spring Break Serving People of Jamaica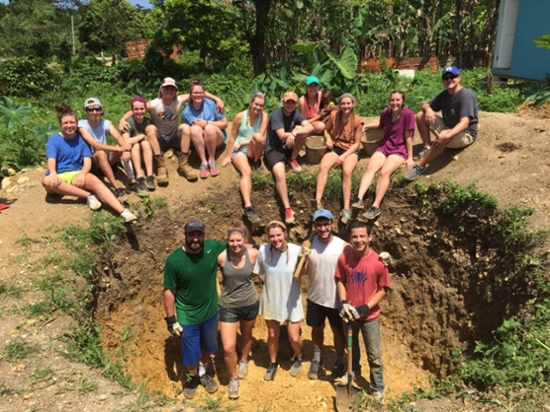 Pictured left to right are (front row) Drew Childers, Amber Kling, Danielle Dunmon, Cole Smith, and Aaron Wood; (back row) Hannah Harris, Luke Abbott, Brooke Wiggins, Thomas Eager, Paige Bost, Ren Caulder, Ryan Ennis, Shianna Corley, Victoria Maxwell, Savannah Buice, and C.J. Harp.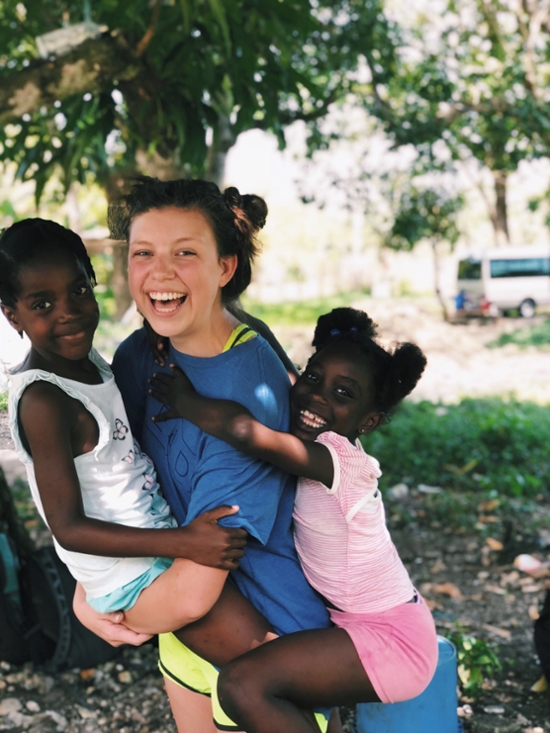 Hannah Harris playing with children in Jamaica.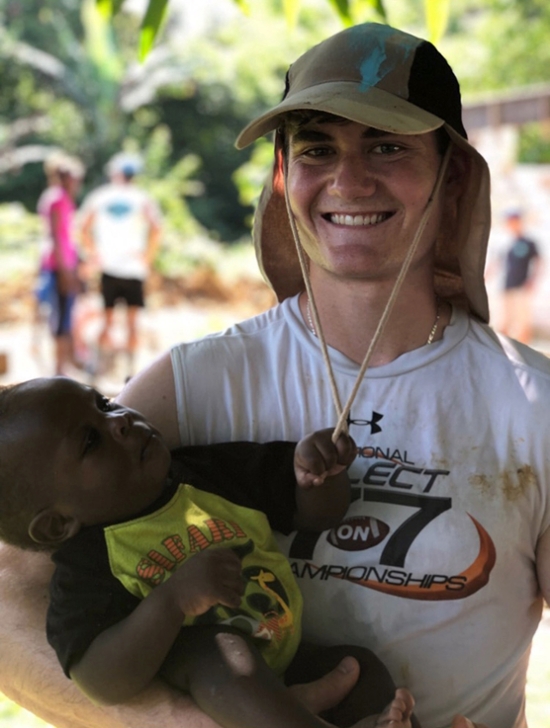 Thomas Eager playing with a child in Jamaica.
VALDOSTA — Valdosta State University students from The Wesley Foundation, a campus ministry, recently spent spring break working to improve the lives of those in need in Jamaica. 
The team of 16 spent six days in Steer Town, Jamaica, painting houses, distributing food baskets, visiting with the sick and disabled, and digging a large sewage pit for a new community center that will offer medical care to the village. The students also played with local children, attended worship services at Steer Town United Methodist Church, and explored the local markets and landscapes.
"When I told people I was going to Jamaica on a mission trip, they said, 'That's a vacation,'" said Hannah Harris, a pre-law philosophy and religious studies major from Woodstock, Georgia, who expects to graduate in Spring 2020. "But when we actually got there, we saw where all the resorts are along the shoreline. A hundred feet inland, it's just poverty everywhere.
"It was a lot different than what I had imagined. It was crazy to see that this is actually a third-world country. It was a beautiful country, but it's not like Sandals resort everywhere you go."
A highlight for Harris was playing games and singing songs with the children. 
"I love kids, and we were able to show them love while we were there," she said. "Even though we weren't preaching to them, we were showing them Jesus and showing them so much love through being selfless and having a servant's heart and digging this huge hole in the ground. Even though that's not sharing the gospel, we were definitely doing God's work."
Thomas Eager, a finance major from Valdosta who expects to graduate in Spring 2021, said one of his favorite parts of the trip was digging the sewage pit, even though it was one of the hardest jobs he has ever tackled.
"There was sewage and glass and stagnant water," he said. "It was just nasty. A lot of what we had to do was just clean out all the junk before we could get going. When we finished it was about eight feet in diameter and six feet deep. It was a pretty big hole, and a lot of what we had to dig through was limestone and rock and all kinds of things. 
"I think it just meant a lot to the people in the village knowing what we were doing for them. I feel like a lot of foreign countries just generalize Americans as obese and lazy and ignorant and arrogant and stuff like that, but I think it showed that we have humility because digging a sewage pit isn't the most esteemed work you can do."
C.J. Harp, director and campus minister of the VSU Wesley Foundation, said the trip benefitted not only the people of Jamaica but also the students.
"Mission trips offer a cross-cultural experience to our students," said Harp, who graduated from VSU in 2003 with a Bachelor of Arts in legal assistant studies. "We had a great experience in Jamaica. I believe the students learned much about themselves and what it means to come alongside others and relationally serve in a way that honors God."
Eager said he gained a new perspective on "how blessed we are as a country."
"We take a lot of things for granted," he said. "I just can't get over how joyful those people were in having nothing. They had very little, pretty much nothing, and they were still so happy. In America, we have everything we need and then some, and a lot of times we're still not content; we're still not happy with what we have. That's a key thing I brought back from the trip." 
The Wesley Foundation at VSU is an extension ministry of the United Methodist Church. Its aim is to raise up leaders who live with the resolve to love both God and people.
On the Web:
http://vsuwesley.com/
Newsroom
Office of Communications Powell Hall West, Suite 1120
Mailing Address
1500 N. Patterson St.
Valdosta, GA 31698
General VSU Information
Office of Communications