VSU Professors Host Storytelling Workshop at Moody Air Force Base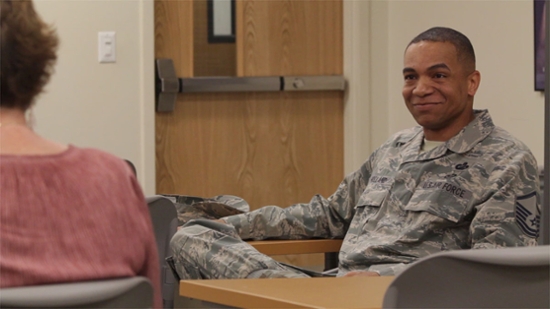 Master Sgt. Greg Holland interacts with VSU professors at the recent storytelling workshop at Moody Air Force Base.
VALDOSTA — Professors from Valdosta State University's Department of Communication Arts recently held a storytelling workshop at Moody Air Force Base in order to help airmen better communicate the story of their military service. 
The workshop, held in three sessions over several weeks, allowed airmen from a variety of backgrounds, ranks, and job positions to not only learn the theory of oral storytelling but also develop and present a personal story of their choosing in a creative and constructive environment.
"Storytelling is a valuable skill for leaders, and our Air Force values leadership," said Col. Jay Vietas, who helped to coordinate the workshop. He serves as commander of the 23d Medical Group at Moody Air Force Base.
"Despite the apparent connection between storytelling and leadership, there is very little formal training provided to Air Force leaders on how to be a better storyteller," he said. "This workshop provided an opportunity for airmen to learn about and practice skills that can make them a better storyteller.
"Ultimately, this will benefit Air Force leaders by giving them the ability to better communicate with our airmen. In particular, it will help with telling our airmen about the Air Force to improve their ability to relate what they do day to day and the impact it has on our national defense."
The workshop was led by Dr. Colin Walker, assistant professor of digital production and veteran affairs liaison for the College of the Arts; Dr. David Nelson, associate professor of communication arts; and Dr. Karen Sodowsky, assistant professor of communication arts.
The sessions helped the airmen to choose a moral or lesson they wanted to convey through their stories and then edit their stories to better highlight that moral or lesson.
"I think it helped the airmen understand that there's a reason to tell stories," Walker said. "It's a powerful tool that can serve many different purposes, such as helping younger airmen understand what it's going to be like to serve." 
Master Sgt. Greg Holland, squadron superintendent, said the workshop gave him a new perspective on telling stories.
"Storytelling is something I never really thought about in a official capacity," he said. "When I think of storytelling, I think about sharing my life or military stories with friends. The class allowed me to break down the various stages and focus on improving in areas where I was lacking at this art we call storytelling. I had fun doing it."
The storytelling workshop reflects VSU's commitment to increasing community and regional impact by serving as a resource to South Georgia and the communities that VSU students will serve.
On the Web:
https://www.valdosta.edu/colleges/arts/communication-arts/
http://www.moody.af.mil/
Newsroom
Office of Communications Powell Hall West, Suite 1120
Mailing Address
1500 N. Patterson St.
Valdosta, GA 31698
General VSU Information
Office of Communications