VSU Establishes Veteran Resource Center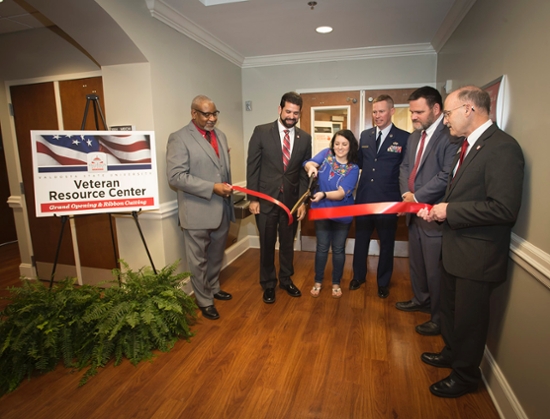 Pictured (left to right) at the recent grand opening of VSU's Veteran Resource Center are retired Air Force Master Sgt. Mark A. Smith, military liaison and coordinator of the Veteran Resource Center; Dr. Richard A. Carvajal, VSU president; Adrienne Hoburn, member of VSU's Student Veterans of America chapter; Tech. Sgt. Timothy Womble from Moody Air Force Base; Dr. David Snow, director of military affairs for the University System of Georgia; and Dr. Robert Smith, VSU provost and vice president of academic affairs.
VALDOSTA — Valdosta State University is continuing to serve and support student veterans through the creation of the Veteran Resource Center. 
The goal of the Veteran Resource Center is to provide student veterans and military-related students with the resources, support, and advocacy needed to succeed in higher education and after graduation.
"It will provide a designated location on campus for student veterans to study and spend time with and support others with like mindsets in a fun and relaxing space," said retired Air Force Master Sgt. Mark A. Smith, military liaison and coordinator of the Veteran Resource Center. "It also serves as a place to obtain on- and off-campus resources. Valdosta State University desires to attract more student veterans, and the Veteran Resource Center provides a way to stay abreast of trends with veterans and military-related students."
The Veteran Resource Center offers a wide range of resources, including federal and state benefit information; peer mentoring and campus support services; information about scholarship and financial aid opportunities; information about local veteran service organizations; career-readiness workshops; a quiet study area; work-study opportunities; veteran networking events and activities; and more. 
The office is open to all student veterans and all current military, military spouses, and their dependents who are affiliated with VSU.
"Today's veterans face numerous obstacles on their path to obtaining a college degree," Smith said. "These challenges range from a missing sense of camaraderie to feeling like an outsider among 18-year-old traditional students to a lack of understanding by university faculty. When coupled with the visible and invisible wounds of war, a college degree can be an elusive goal for men and women returning from military service.
"We at the Veteran Resource Center will support veterans and their families as they transition and complete higher education. They'll be able to connect with other military students, find reintegration support, and take advantage of peer mentoring."
The Veteran Resource Center is located on VSU's Rea and Lillian Steele North Campus in Pound Hall Suite 1200. It includes an office; a breakroom; a lounge complete with comfortable chairs, computers, a printer, and a television; and a large classroom for training, seminars, and meetings. The tentative hours of operation are 8 a.m. to 5:30 p.m. Monday through Thursday and 8 a.m. to 3 p.m. on Friday. 
Contact Mark A. Smith at marksmith@valdosta.edu or (229) 253-2855 to learn more.
Newsroom
Office of Communications Powell Hall West, Suite 1120
Mailing Address
1500 N. Patterson St.
Valdosta, GA 31698
General VSU Information
Office of Communications