April 3, 2018
18-79
Jessica Pope
Communications and Media Relations Coordinator
Christine Zeigler Named VSU College of Arts and Sciences Top Graduate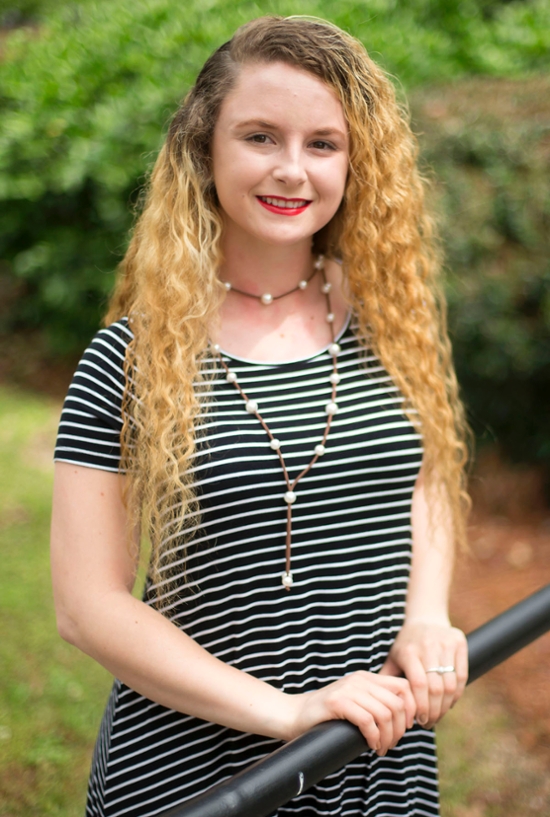 Christine Zeigler
VALDOSTA — Christine E. Zeigler of Hahira, Georgia, is the recipient of the Spring 2018 President's Award for Academic Excellence for the College of Arts and Sciences at Valdosta State University.
The President's Award for Academic Excellence is presented to the graduating student with the highest grade point average in each of VSU's five colleges — College of Arts and Sciences, College of the Arts, College of Nursing and Health Sciences, Harley Langdale Jr. College of Business Administration, and James L. and Dorothy H. Dewar College of Education and Human Services.
VSU will celebrate its 225th commencement on Friday, May 4, and Saturday, May 5.
Zeigler will serve as the official banner carrier for the College of Arts and Sciences during the undergraduate commencement ceremony at 7 p.m. on Saturday, May 5, on the VSU Front Lawn. She will graduate summa cum laude with a Bachelor of Arts in mathematics.
"I am honored and excited to lead my fellow graduates in our spring commencement," she said. "I have looked forward to graduation for so long, and I know my peers have as well. I look forward to what the future holds."
Zeigler said that she is proud to be part of the last graduating class of the College of Arts and Sciences, which will be split into the College of Humanities and Social Sciences and the College of Science and Mathematics on July 1.
As a student at VSU, Zeigler served as vice president of VSU's chapter of the Mathematical Association of America; secretary, treasurer, and president of the Georgia Epsilon chapter of Pi Mu Epsilon; and a member of the Honors Student Association and Alpha Lambda Delta: National Honor Society for First-Year Students. She studied abroad in Spain and also found time to give back to her community as a member of the South Georgia Chrysalis Board of Directors, a member of the Hahira United Methodist Church Administrative Council, a mathematics tutor with VSU's Academic Support Center, a community tutor for the Parker Mathis Learning Center, a puppy raiser with the Guide Dog Foundation for the Blind Inc., and a volunteer with the Alliance of Therapy Dogs.
Zeigler's commitment to academic, research, and service excellence on campus, in the community, and around the world resulted in her being named a Zell Miller Scholar and a member of the Dean's List four years in a row and earning the 2017 Sallie Hutchinson Scholarship, third place in the 2016 VSU Pi Mu Epsilon Mathematics Competition, second place in the 2018 VSU Pi Mu Epsilon Mathematics Competition, and the 2018 Outstanding Student in Mathematics Award. She participated in the 2016 William Lowell Putnam Mathematical Competition and presented research on conic sections and mixed metrics at the Mathematical Association of America Southeastern Section 2018 Spring Meeting March 23-24 in Clemson, South Carolina. She will present that research again during VSU's Undergraduate Research Symposium April 9-12.
Zeigler plans to continue her education at VSU and pursue a Master of Arts in Teaching, with a focus on secondary education mathematics. She hopes to become a high school teacher and maybe transition into higher education later in her career. She is the daughter of Dr. Lois Bellflowers, Dr. Stephen Zeigler, Michael Bellflowers, and Jennifer Zeigler.
On the Web:
https://www.valdosta.edu/colleges/arts-sciences/
https://www.valdosta.edu/administration/advancement/event-services/commencement/welcome.php
Newsroom
Office of Communications Powell Hall West, Suite 1120
Mailing Address
1500 N. Patterson St.
Valdosta, GA 31698
General VSU Information
Office of Communications