Bryce Whitford Named VSU College of the Arts Top Graduate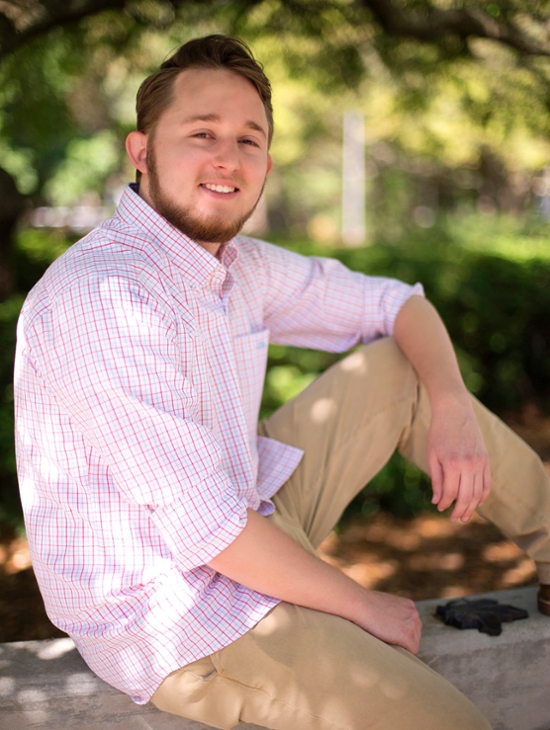 Hamilton Bryce Whitford
VALDOSTA — Hamilton Bryce Whitford of Warner Robins, Georgia, is the recipient of the Spring 2018 President's Award for Academic Excellence for the College of the Arts at Valdosta State University.
The President's Award for Academic Excellence is presented to the graduating student with the highest grade point average in each of VSU's five colleges — College of the Arts, College of Arts and Sciences, College of Nursing and Health Sciences, Harley Langdale Jr. College of Business Administration, and James L. and Dorothy H. Dewar College of Education and Human Services.
VSU will celebrate its 225th commencement on Friday, May 4, and Saturday, May 5.
Whitford will serve as the official banner carrier for the College of the Arts during the undergraduate commencement ceremony at 7 p.m. on Saturday, May 5, on the VSU Front Lawn. He will graduate summa cum laude with a Bachelor of Fine Arts in mass media.
"This is an incredible honor and a very humbling experience to be able to lead my fellow students and classmates to the commencement ceremonies and to begin the next step into the rest of our lives," he said.
As a student at VSU, Whitford was a Georgia HOPE (Helping Outstanding Pupils Educationally) Scholar and a member of the Dean's List for four consecutive years. He won Best College Film at the 2017 South Georgia Film Festival and presented original research on the "Ideologies of Hacksaw Ridge" at the 24th annual Undergraduate Research Symposium.
Whitford completed a three-year summer internship program in technology and media at Southside Baptist Church of Warner Robins. He worked as a freelance graphic designer and in quality assurance and data analytics for Inspection Pro LLC. He won first place in the flora and fauna category at the 2016 Robins Air Force Base Earth Day Photo Contest. He served his community during Hurricane Irma by helping to relocate kennels with the Human Society of Houston County.
After graduation Whitford plans to use his mass media knowledge, skills, and abilities to help Southside Baptist Church of Warner Robins create original media content for its members and online followers. He also plans to continue pursuing freelance graphic design opportunities.
"Whatever the future holds, regardless of any specific position, company, or location that I have to work with, I want to be able to edit content and tell stories that I find to be entertaining and enjoyable," he shared. "It just doesn't seem right to work on something if you can't have a little fun with it."
Whitford is the son of Shane and Michelle Whitford.   
On the Web:
https://www.valdosta.edu/colleges/arts/
https://www.valdosta.edu/administration/advancement/event-services/commencement/welcome.php
Newsroom
Office of Communications Powell Hall West, Suite 1120
Mailing Address
1500 N. Patterson St.
Valdosta, GA 31698
General VSU Information
Office of Communications