VSU's Frederick Downing Nominated for Georgia Author of the Year Award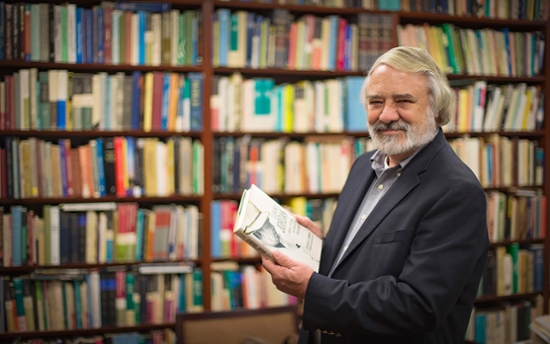 Dr. Frederick Downing
VALDOSTA — Dr. Frederick Downing was recently nominated for the 54th annual Georgia Author of the Year Award in the biography category for his book "Clarence Jordan: A Radical Pilgrimage in Scorn of the Consequences."
Downing, professor and head of the Department of Philosophy and Religious Studies at VSU, was nominated by the book's publisher, Mercer University Press.
"I see the nomination as an affirmation of their estimate of the book's value, and I am honored for them to make the nomination," he said.
Clarence Jordan was a 20th century farmer and New Testament Greek scholar from Georgia who is known for his radical ideologies and lifestyle. He founded Koinonia Farm, an interracial, Christian farming community that Downing refers to as an "experiment 13 years before the beginning of the Civil Rights Movement." The farm became the focus of intense hostility, racial violence, and government scrutiny spurred by opposition to the farm's racial integration.
Jordan also authored the "Cotton Patch Gospels," casual translations of the New Testament written in Southern colloquial speech, and was influential in the founding of Habitat for Humanity. 
"Clarence Jordan: A Radical Pilgrimage in Scorn of the Consequences" explores the nature and dimensions of his radical faith. Walter B. Shurden — minister at large at Mercer University and a major figure in Southern religious history — calls Downing's book a "literary gift" that includes "important documents never used, a methodology never employed, interpretations never risked, comparisons never imagined, and stories never told."
"It is a comprehensive, engrossing, and challenging account of the life, ministry, and thought of Clarence Jordan," Shurden writes. "…Like a good sermon, this book evokes."
"Clarence Jordan: A Radical Pilgrimage in Scorn of the Consequences" is Downing's third religious biography. The first, "To See The Promised Land: The Faith Pilgrimage of Martin Luther King Jr." was published in 1986 and received national attention. The second, "Elie Wiesel: A Religious Biography," was published in 2008 and explores the life of the Holocaust survivor and religious scholar. Downing received the Georgia Author of the Year Award in the biography category for the book in 2009.
The Georgia Author of the Year Award is presented by the Georgia Writers Association and is the oldest literary award in the Southeast. There are more than a dozen award categories, and the 2018 winners will be announced in June.
Downing holds a Bachelor of Arts in history and religion from Samford University, a Master of Theology and Doctor of Theology in Hebrew Bible from New Orleans Baptist Seminary, a Master of Arts in theological studies from Princeton Theological Seminary, and a Doctor of Philosophy in literature and religion from Emory University. He began teaching at VSU in 2006, and his courses include World Religions, Hebrew Bible, New Testament, the Archaeology of Ancient Israel, and the Human Quest for Faith.
On the Web:
http://www.authoroftheyear.org/
https://www.valdosta.edu/colleges/arts-sciences/philosophy/profiles/frederick-downing.php
Newsroom
Office of Communications Powell Hall West, Suite 1120
Mailing Address
1500 N. Patterson St.
Valdosta, GA 31698
General VSU Information
Office of Communications