VSU Hosts Award-Winning Biophysicist March 26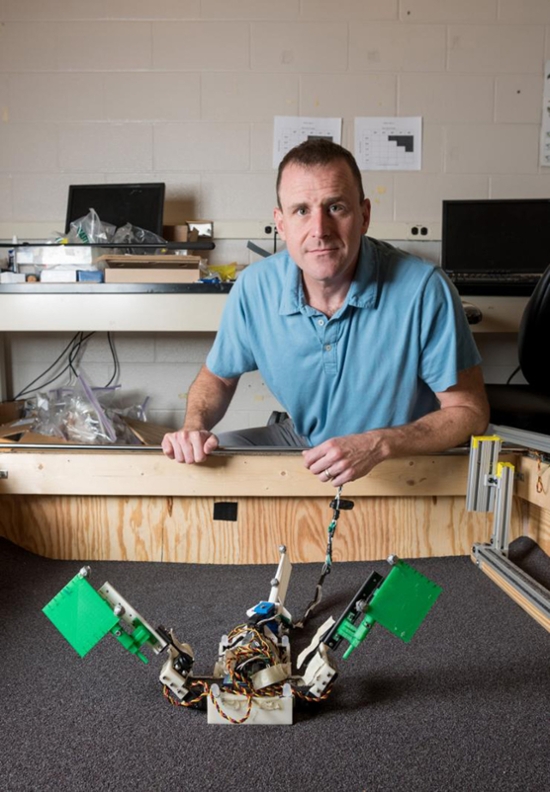 Dr. Daniel Goldman
VALDOSTA — Valdosta State University will present its 36th annual Clyde Eugene Connell Visiting Lecture Series event at 7:30 p.m. on Monday, March 26, in the Student Union Theater. Admission is free of charge to all faculty, staff, students, retirees, alumni, and friends of the university interested in learning more about how engineers use research on the biomechanics of animal movement to design robots that move more effectively, especially in complex and diverse landscapes.
VSU's Clyde Eugene Connell Visiting Lecture Program and Department of Biology have invited Atlanta-based physicist Dr. Daniel I. Goldman to discuss "A Physicist's Look at Locomotion On and In Loose Land."
Goldman is a faculty member in the School of Physics and School of Biology at the Georgia Institute of Technology College of Science, the author of more than 100 peer-reviewed journal publications, and head of the CRAB (Complex Rheology and Biomechanics) Lab at Georgia Tech. He won the Burroughs Wellcome Fund Career Award in 2006, Sigma Xi Young Faculty Award in 2010, National Science Foundation CAREER Award in 2012, Defense Advanced Research Projects Agency Young Investigator Award in 2012, and Presidential Early Career Award for Scientists and Engineers in 2014. He was conferred the Georgia Tech Dunn Family Professorship in 2017.
Goldman holds a Bachelor of Science in physics from the Massachusetts Institute of Technology and a Doctor of Philosophy in physics from the University of Texas at Austin. He completed postdoctoral work in locomotion biomechanics at the University of California at Berkeley.
Goldman's research addresses problems in non-equilibrium systems that involve interaction of physical and biological matter with complex materials, like sand, that can flow when stressed. Many animals live in environments like desert sand that can behave like solids or flow and deform in response during movement. His talk will demonstrate how the study of locomotion in these seemingly complex and peculiar environments enables discovery of general principles by which living systems move and allows engineers to design nonliving locomotors (robots) to move more effectively in complex landscapes.
In particular, Goldman will discuss recent discoveries made on the mechanics and control strategies used by a diversity of animals and their robotic counterparts. This includes studies of sandfish lizards, sidewinder rattlesnakes, hatchling sea turtles, and mudskipper fish. He will also discuss how a concept first used in elementary particle physics — gauge invariance — helps explain aspects of the movement patterns that he observes. 
The Clyde Eugene Connell Visiting Lecture Series honors the legacy of Clyde Eugene Connell, who served the faculty, staff, and students of VSU's Department of Biology for more than two decades. He earned a Bachelor of Science in biology from Valdosta State College in 1954, returning in 1958, after earning a Master of Science in zoology from the University of Georgia, as a member of the faculty. He went on to earn a Doctor of Philosophy in biology from UGA, and in 1962 he was named department head, a position he held until his retirement in 1981. His contributions to the university, the community, higher education, and the field of biology have not been forgotten.
Contact VSU's Department of Biology at (229) 333-5759 to learn more.
On the Web:

http://www.valdosta.edu/colleges/arts-sciences/biology/welcome.php
https://www.valdosta.edu/colleges/arts-sciences/biology/our-department-history.php#connell
General VSU Information
Office of Communications
Campus Address
Office of Communications Powell Hall West, Suite 1120
Mailing Address
1500 N. Patterson St.
Valdosta, GA 31698