VSU Debate Places Third in National Competition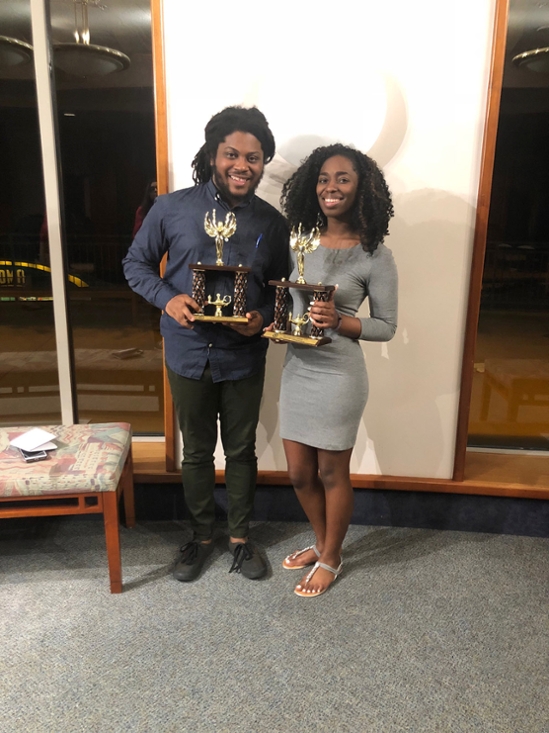 Travis Edwards and Shanta Johnson
VALDOSTA — Valdosta State University's Forensics (Speech and Debate) Team earned one of the top spots at the 2018 Sunset Cliffs Classic tournament hosted by Point Loma Nazarene University in February in Point Loma, California, a suburb of San Diego.
VSU's Shanta Johnson and Travis Edwards placed third in the junior varsity division of 36 teams. The pair defeated several top-ranked colleges, including Point Loma Nazarene University, the No. 1 team in the nation. 
"It was nerve-racking because we weren't expected to do as well as we did," said Johnson, a nursing major from Ludowici, Georgia, who expects to graduate in Fall 2020. "We weren't expecting to come in and win anything. It was really just going to be a learning experience. I couldn't believe it when we started winning round after round. It was really amazing, and to actually bring home the trophy for VSU was quite something."
Johnson and Edwards debated for a total of nine hours over two days in six preliminary rounds and three elimination rounds. Each round presented a different topic that the teams did not learn until moments before the debate. All topics were derived from President Donald Trump's State of the Union Address and featured issues such as immigration, healthcare, education, experimental drugs, and the military.
"Competing in San Diego was completely different than competing in Georgia; the competitors were much more critical and fast-paced," said Edwards, a sociology and anthropology major from Ellenwood, Georgia, who expects to graduate in May. "It was such a pleasant and welcome change and one that my partner, Shanta, and I learned a lot from. It was a weird feeling being placed so high.
"Debate is such a fun realm to be in. For me, it's a chance to learn as much as I can and experience new frameworks of knowledge that can be explicitly utilized in the real world."
Also representing the VSU Forensics (Speech and Debate) Team at the Sunset Cliffs Classic were Kelsey Townsend of Stockbridge, Georgia, and Nathalie Jaimes-Arias of Jasper, Georgia. The VSU debaters were led by Dr. Michael Eaves, director, and Hannah Tabrizi, assistant coach.
The Sunset Cliffs Classic featured parliamentary debates sanctioned by the National Parliamentary Debate Association, which sponsors two-on-two debate. Seventy-six teams competed at the event, which featured varsity/open, junior varsity, and novice debaters.
The VSU Forensics (Speech and Debate) Team is open to all majors on campus and does not require previous experience. The team competes in regional and national level competitions and participates in parliamentary debate as well as individual events, including impromptu speaking, extemporaneous speaking, informative speaking, persuasion, dramatic interpretation, dramatic duo, poetry interpretation, and more.
Contact Dr. Michael Eaves, director of the VSU Forensics (Speech and Debate) Team, at meaves@valdosta.edu or 229-259-5116 to learn more. 
On the Web:
https://valdosta.campuslabs.com/engage/organization/forensics-team-debate-and-individual-events
Newsroom
Office of Communications Powell Hall West, Suite 1120
Mailing Address
1500 N. Patterson St.
Valdosta, GA 31698
General VSU Information
Office of Communications