VSU Connects STEM Students to Potential Employers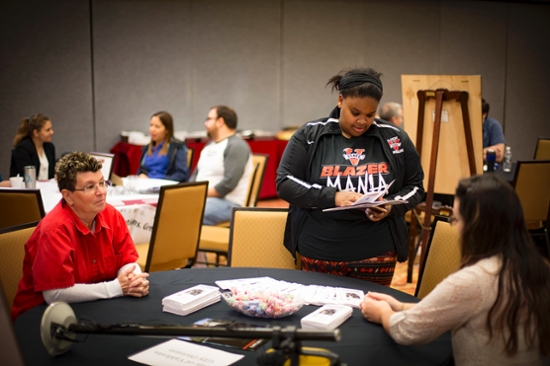 VSU student Amirah Williams, center, speaks to employers at the Groundhog Shadow Day event on Friday, Feb. 2
VALDOSTA — Valdosta State University's Office of Career Opportunities hosted its annual Groundhog Shadow Day event on Friday, Feb. 2. It was an opportunity for science, technology, engineering, and math students, as well as students from other majors, to network with employers and discuss job opportunities.
"It is our hope that through events like Groundhog Shadow Day students will broaden their professional network and development," said Darius Anthony, cooperative education and internship coordinator for the Office of Career Opportunities. "There is also the added benefit for employers of identifying up-and-coming innovators on the cutting edge of their respective fields."
The employers present were Archer Daniels Midland, a food processing company; Wild Adventures Theme Park; Baden Aniline and Soda Factory (BASF), the world's largest chemical producer; the United States Department of Agriculture's Animal and Plant Health Inspection Service; VSU's Solutions Center; the Biotest Plasma Center; CJB Industries, a chemical manufacturing company; and the City of Valdosta's Utilities Department, Water Treatment Plant, and Wastewater Treatment Plant. 
"[This event] informs students about opportunities they didn't know were there," said Phillip Walker, assistant superintendent of the Valdosta Water Treatment Plant. "For example, a lot of people don't know that we have a lab at the water plant that not only tests the quality of our water every day but also allows citizens of the county and city to bring in samples to test their private wells for microbiology."
VSU student Amirah Williams attended the event to discover opportunities for herself as well as for her friends.
"We all need internships; we all need jobs after we graduate," said Williams, a political science major from Atlanta, Georgia, who expects to graduate in Fall 2018. "[This event] is a really good way to get your foot in the door somewhere and meet some people." 
VSU's Office of Career Opportunities provides career development, experiential learning, and professional employment opportunities to undergraduate and graduate students and alumni. Its mission is to develop the employment potential of students and graduates as well as utilize their innovative, intellectual talents.
Contact Darius Anthony at (229) 333-5942 or dlanthony@valdosta.edu to learn more.
On the Web:
https://www.valdosta.edu/student/student-services/career-services/
Newsroom
Office of Communications Powell Hall West, Suite 1120
Mailing Address
1500 N. Patterson St.
Valdosta, GA 31698
General VSU Information
Office of Communications