VSU Forms Chess Club for Middle School and High School Students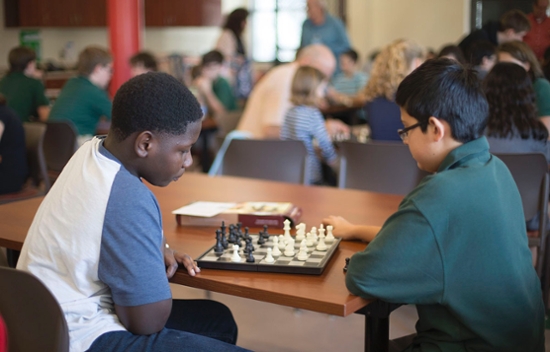 The VSU Chess Club is designed for students in grades fifth through 12th.
VALDOSTA — Valdosta State University recently created a Chess Club for middle school and high school students in the South Georgia and North Florida region. It is designed for public, private, and homeschooled students in grades fifth through 12th.
"This Chess Club is for all types of students," said Dr. Thomas Manning, director of the VSU Chess Club and professor of chemistry at VSU. "You don't even have to know how to play chess to participate."
The VSU Chess Club is also led by Ken Stanley, professor emeritus of finance at VSU and former dean of the Harley Langdale Jr. College of Business Administration; Hanna Wilson-Moss, VSU chemistry student and National Science Foundation Noyce Scholar; and Arlene Manning, teacher at St. John Catholic School in Valdosta. 
Manning said that playing Chess teaches students important life skills, such as patience, concentration, and the ability to plan and strategize.
"Chess isn't just a game," he said. "You're learning to think. It makes you smarter. Studies show that kids who play Chess perform better in STEM — science, technology, engineering, and math — subjects. It builds you intellectually while you're having fun.
"Chess also gives students a chance for face-to-face competition instead of looking at a screen. It allows them to be social and meet new people."
The VSU Chess Club held an inaugural meeting Jan. 23. The next meeting is scheduled for 4 p.m. to 6 p.m. on Thursday, Feb. 8, at the VSU STEAM (Science, Technology, Engineering, Art, and Mathematics) Center, located at the intersection of Patterson Street and Jane Street. The club will meet every two weeks.
There is no fee to participate, and snacks are provided. Each student must be accompanied by a parent or chaperone. The Feb. 8 meeting will feature a chess tournament, and prizes will be awarded.
"[My son] loves Chess, and he's always bugging relatives to play with him," said Candace Girdwood, who brought her 12-year-old son, Lyam, to the Jan. 23 meeting. "My husband is in the Air Force, and we just came from Guam. … We're really excited that [Lyam] can not only meet people but also sharpen his skills."
VSU Chess Club members will possibly have the opportunity to participate in local, regional, or state competitions.
Contact Dr. Thomas Manning at (229) 333-7178 or VSUChess@gmail.com to learn more.
Newsroom
Office of Communications Powell Hall West, Suite 1120
Mailing Address
1500 N. Patterson St.
Valdosta, GA 31698
General VSU Information
Office of Communications