Shawn Bennett Named VSU's Fall 2017 Employee of the Semester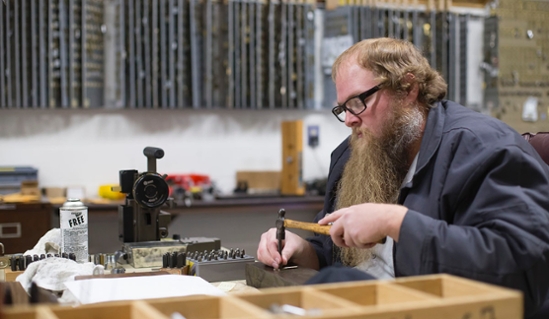 Shawn Bennett
VALDOSTA — Shawn Bennett is Valdosta State University's Fall 2017 Employee of the Semester. 
Bennett has worked at VSU since 2006, starting in the Carpentry Shop as a trades helper. He became a maintenance worker in the Carpentry Shop in 2010, then transitioned to the Key Shop in Summer 2017. There, he cuts keys, builds and repairs locks, and assists VSU faculty, staff, and students with their locksmith needs.
"Winning the award is amazing," he said. "I'm thankful for everybody who put in a good word for me. My primary goal at work is to make sure that I take care of the people I'm serving and solve their problem. That's really important to me."
Michael Knight, associate director of maintenance, described Bennett as an "extremely talented maintenance worker who has fulfilled many roles … over the years."
"He has done plumbing and welding, assisted with generator repairs, and performed menial tasks in the dorms to ensure our students are kept comfortable," Knight said.
Bennett volunteered to move to the Key Shop when a fellow employee retired in May 2017.
"He has quickly filled the void left by that sudden retirement and has adapted well in fulfilling and learning new tasks associated with the campus key and locking systems," Knight said. "Since he has taken on duties in the Key Shop, I have received nothing but positive comments from his co-workers and customers alike. 
"His customer service has been excellent as evidenced by him receiving two I Caught You Caring awards [during the Fall 2017] semester. He is a great asset to my department."
Craig Williams, electronic controls manager in the Key Shop, said Bennett "often goes above and beyond without question."
"Shawn always has a smile on his face, and he is always willing to go out of his way to make sure customers are happy," he said. "He constantly shows initiative to learn. He volunteers for work outside normal hours when duty calls and still helps in the other shops when needed. Shawn is a team player with compassion and drive. He is an asset to VSU and deserves to be commended."
Ashley Braswell, the director of development for the Harley Langdale Jr. College of Business Administration, and Albert Miller, a maintenance worker from the Electrical Shop, were runners-up for VSU's Fall 2017 Employee of the Semester. The other nominees were Marty Spells, Chelsea Wells Holcombe, and Elaine Darity from Campus Recreation; Alan Sanderson and Albert Miller from Physical Plant and Facilities Planning; Jenny White from Budget Services; Madison Beaumarchais from Student Life; and Ashley Cooper from Employee and Organizational Development.
VSU's Council on Staff Affairs presents the Employee of the Semester Award at the end of every fall and spring semester. All full-time classified staff employees are eligible for the award.  
On the Web:
http://www.valdosta.edu/administration/council-on-staff-affairs/employee-of-semester.php
Newsroom
Office of Communications Powell Hall West, Suite 1120
Mailing Address
1500 N. Patterson St.
Valdosta, GA 31698
General VSU Information
Office of Communications