Matt Connell Honored with Distinguished Alumnus Award at VSU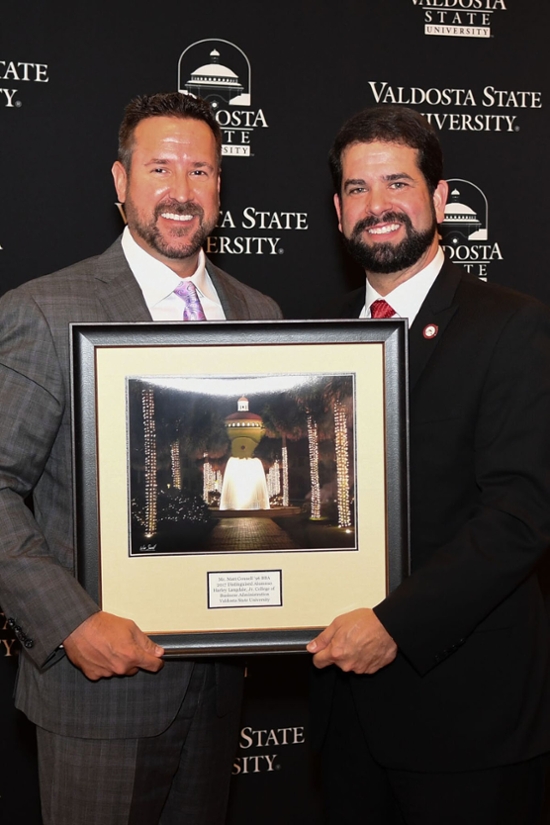 Matt Connell and President Richard A. Carvajal
Matt Connell is the recipient of Valdosta State University's 2017 Distinguished Alumnus Award for the Harley Langdale Jr. College of Business Administration.
Connell, a native of Nashville, Georgia, earned a Bachelor of Business Administration in management from VSU in 1996. He is the founder and chief executive officer of Total Military Management (TMM), the largest provider of household relocations for the United States Department of Defense.
Shortly following graduation, Connell moved to Albany, Georgia, to work for Cameron & Barkley. In Summer 1998, after 25 years in Georgia, he moved to Jacksonville, Florida, for a job with The Suddath Companies. He helped to build Suddath's government division to one of the most respected in the transportation and logistics industry. He was named director of the division in Spring 2003.
In Summer 2003, Connell had the idea to create a consolidated company that would join hundreds of small businesses under one umbrella to facilitate permanent change of station moves for the U.S. Department of Defense. Starting out in his bedroom office, he began building his new company, Total Military Management. By Spring 2004, he had hired his first four employees and moved into a small office near his home.
In that first year, Total Military Management relocated just over 700 military families and their household goods. Today, 14 years later, the company oversees 60,000 moves annually and employs 260 people in Jacksonville.
Connell expanded into the asset-based side of the transportation and logistics industry in Fall 2012 by forming Conser Moving and Storage, an agent of Mayflower Van Lines, with a longtime friend. His first location started with a single tractor-trailer and fewer than 10 employees. During the 2016-2017 year, Conser Moving and Storage was the largest revenue producer for Mayflower Van Lines.
Connell met his wife Shannon while they were both students at VSU. They have been married since 1999 and have two daughters, Caroline, 12, and Evelyn, 11. They are involved with several charities in Jacksonville, serving on boards for Ronald McDonald House, Dreams Come True, and San Jose Episcopal Day School. They both enjoy traveling, giving, spending time with their daughters, and gathering with friends and family.
The Distinguished Alumnus Award for the Harley Langdale Jr. College of Business Administration, presented each year by the VSU Alumni Association, recognizes an exceptional VSU graduate who has made significant contributions to his or her community. Connell was recognized during Homecoming Week, Oct. 30-Nov. 5. 
Newsroom
Office of Communications Powell Hall West, Suite 1120
Mailing Address
1500 N. Patterson St.
Valdosta, GA 31698
General VSU Information
Office of Communications