VSU's Beta Alpha Psi Recognized as a Superior Chapter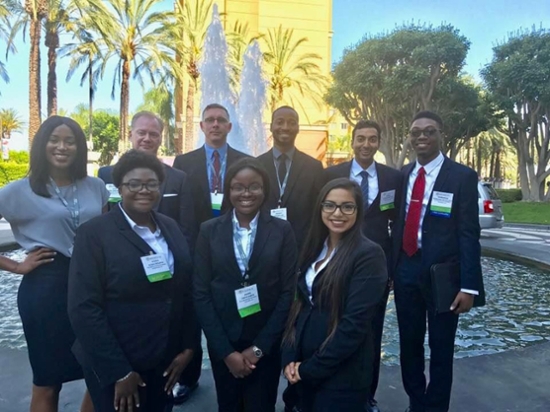 VSU's Mu Zeta chapter of Beta Alpha Psi attend the 2017 Beta Alpha Psi Annual Meeting in Anaheim, California. Pictured, from left to right, are (back row) Patrice Ingram (candidate), Eric Osborne (member), James Stogin (member), Vienday Lee (president), James Rasalam (member), and Terrence McNichols (candidate); (front row) Kiara Wilson (past president), Diane Isibor (member), and Victoria Stewart (candidate).
VALDOSTA — Valdosta State University's Mu Zeta chapter of Beta Alpha Psi was recently recognized as a Superior Chapter by the Beta Alpha Psi Board of Directors.
The Mu Zeta chapter was granted the designation as a result of its work and achievements during the 2016-2017 academic year. Chapter members achieved an average of 32 professional and service hours and completed specific activities outlined by Beta Alpha Psi, an international honor organization for financial information professionals and students. 
"It means a lot to me and the chapter to be recognized as superior because it shows how hardworking and impactful we are to the community," said Vienday Lee, president of VSU's Mu Zeta chapter of Beta Alpha Psi. Lee, from Jasper, Florida, expects to graduate in Spring 2018 with a Master of Accountancy.
During the 2016-2017 academic year, chapter members presented on financial literacy and the accounting profession to Lowndes High School students. They participated in VSU's The Happening and Relay for Life events. They completed a service project as part of the International Day of Literacy, and they continue to "adopt a road." Chapter members also worked with external partners to create a new student organization focusing on ethics. The organization, the Student Center for Public Trust, is open to all majors.
VSU's Mu Zeta chapter of Beta Alpha Psi earned top honors at the 2017 Beta Alpha Psi Southeast Regional Meeting Best Practice Competition in Raleigh, North Carolina, in February. The chapter also represented the region at the 2017 Beta Alpha Psi Annual Meeting in Anaheim, California, in August. A chapter member was selected as one of 72 individuals from around the country to participate in the Project Run With It (PRWI) Competition during the annual meeting. PRWI participants serve as consultants to a specific nonprofit organization and must develop and present a solution to the organization within 36 hours.
"I am proud of the members for their dedication and willingness to participate in the events that allowed the Mu Zeta chapter to earn this level of achievement," said Dr. Raymond Elson, professor of accounting and chapter faculty advisor.
VSU's Mu Zeta chapter of Beta Alpha Psi is committed to promoting the study and practice of accounting and finance; providing opportunities for self-development, service, and association among members and practicing professionals; and encouraging a sense of ethical, social, and public responsibility. The chapter was founded in 2007.
"Recognition as a Superior Chapter is a significant accomplishment," said Dr. Sandra B. Richtermeyer, Beta Alpha Psi national president. "Under the leadership of Dr. Elson, the Mu Zeta chapter has far exceeded the baseline requirements of Beta Alpha Psi and has excelled in the areas of academic, professionalism, and leadership."
Beta Alpha Psi is comprised of more than 300,000 members and 300 collegiate chapters that seek to encourage and recognize scholastic and professional excellence in the business information field. Membership is only available to universities accredited by the Association to Advance Collegiate Schools of Business or the European Quality Improvement System.
Accounting and finance majors at VSU may join the Mu Zeta chapter of Beta Alpha Psi as candidates as early as their freshman year. Candidates are eligible for membership after completing an upper level major course, attaining a major and overall GPA of 3.0 or higher, and completing the chapter's professional and service hour requirements.
 
The VSU chapter meets at 5 p.m. every Thursday in Health Sciences and Business Administration Building.
Please contact Dr. Raymond Elson at (229) 219-1214 or relson@valdosta.edu to learn more.
General VSU Information
Office of Communications
Campus Address
Office of Communications Powell Hall West, Suite 1120
Mailing Address
1500 N. Patterson St.
Valdosta, GA 31698