VSU Honors Recipients of 2017 Ethics Awards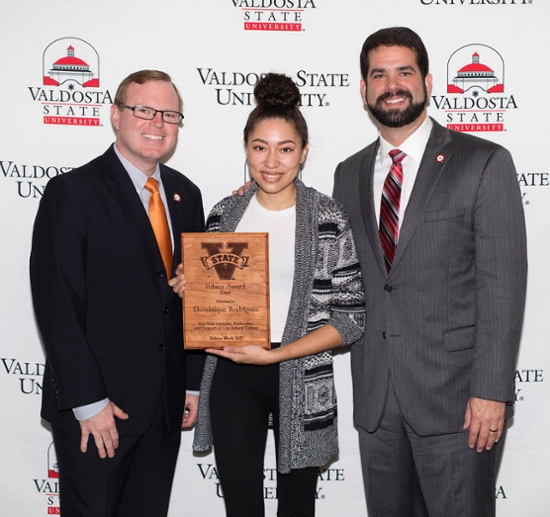 Dr. Vince Miller, vice president of student affairs, Dominique Rodriguez, communications student, and President Richard Carvajal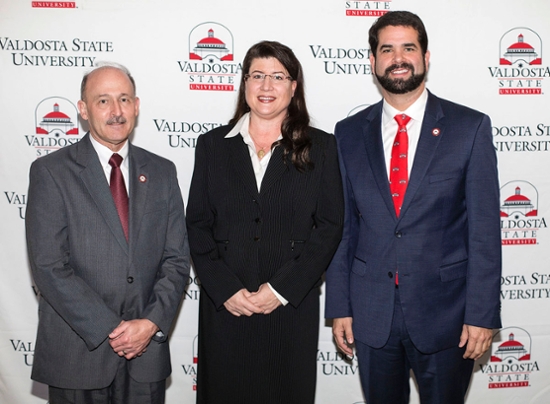 Dr. Robert Smith, provost and vice president of academic affairs, Dr. Candace Witherspoon, professor of accounting, and President Richard Carvajal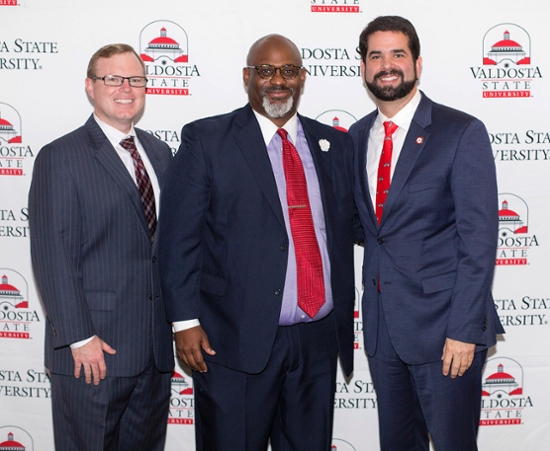 Dr. Vince Miller, vice president of student affairs, Dr. Gerald Williams, interim director of the Department of Student Diversity and Inclusion, and President Richard Carvajal
Dr. James Martinez, associate professor of education, and President Richard Carvajal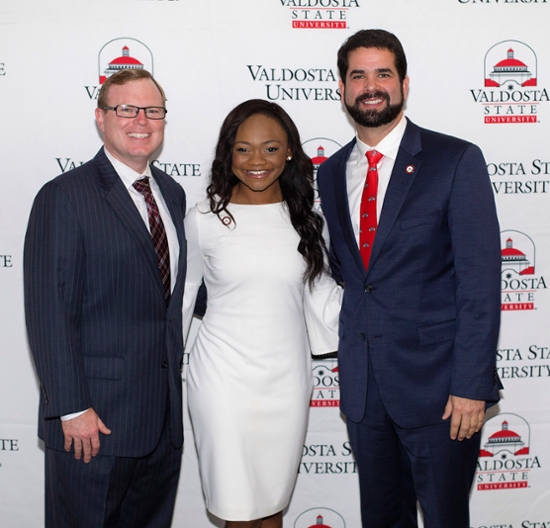 Dr. Vince Miller, vice president of student affairs, Sylandi Brown, speech communications major, and President Richard Carvajal
VALDOSTA — Valdosta State University recently recognized the winners of the 2017 Ethics Awards. The recipients were nominated by their peers as part of VSU's Ethics and Fraud Awareness Week 2017, which took place Nov. 12-18.
The recipients of the 2017 Ethics Awards are Dr. Candace Witherspoon, Dr. James Martinez, Selenseia Holmes, Dr. Gerald Williams, Sylandi Brown, and Dominique Rodriguez.
The theme of Ethics and Fraud Awareness Week 2017 was "Celebrating VSU's SPIRIT of Ethical Culture," with "SPIRIT" representing the award nomination categories of Stewardship, Prevention, Integrity, Responsibility, Inspiration, and Trust. From 65 nominations, the Ethics Award Committee selected the six winners — two faculty, two staff, and two currently enrolled students — who consistently display ethical leadership and uphold VSU's commitment to civility, integrity, and citizenship.
"In my current role, I've set out to ensure that every student that's here gets the dignity that they deserve," said Gerald Williams, interim director of the Department of Student Diversity and Inclusion. "I work every day to make sure that VSU is an inclusive campus that's celebrating everyone and where everyone can find their place. You want to always have a standard of doing what is right, whether it's following correct procedure in purchasing something or a simple thing of making sure you're treating people as they ought to be treated when they come in the door. At VSU, ethics is something that is expected."
"I am just so humbled and so honored to have been selected for this award," said Sylandi Brown, a speech communications major from Hawkinsville, Georgia, who expects to graduate in Spring 2020. Brown serves as Student Government Association secretary and co-leader of the Baptist Collegiate Ministry freshman leadership team. "Ever since I was young, my parents instilled in me the importance of knowing what is right, doing what is right, and standing up for what is right. That's the mentality that I've always adopted."
"My job is to teach how to prevent and detect fraud," said Dr. Candace Witherspoon, professor of accounting. "Everyone knows me as the fraud person. I tell my students that their chances are very good of someone asking them to do something unethical or witnessing someone doing something unethical. They need to be aware when that happens. It's more important now with the business climate and the number of frauds we have."
"One of my philosophies is to make an excellent and memorable impact on every person I meet and produce quality work with efficiency while reflecting my personal and spiritual values," said Dominique Rodriguez, a communications major from Atlanta, Georgia, who expects to graduate in Spring 2019. "I try to incorporate my morals and beliefs in everything I do."
"It's great to be recognized by my peers," said Dr. James Martinez, associate professor of education. "In working with students and faculty, it's all about caring for the people you work with. It's very important in regards to ethics to put students and others first."
"Thanks to my parents, I was raised with a strong sense of moral principles that I have always tried to live up to in every aspect of my life," said Selenseia Holmes, coordinator of multicultural affairs for VSU's Office of Social Equity. "I take my duties and responsibilities here on campus very seriously, and I do my job to the best of my ability. I am always trying to find ways to be both effective and efficient. I try hard to lead by positive example, and if ever I fall short, I am not afraid to admit it.
"VSU is a large part of the Valdosta  community, and we need to build trust and positive relationships with those in and around the area.  I don't think we can do those things effectively without fostering a culture of proper ethics here at VSU."
The recipients of the 2017 Ethics Awards were honored with a special ceremony and plaque.
General VSU Information
Office of Communications
Campus Address
Office of Communications Powell Hall West, Suite 1120
Mailing Address
1500 N. Patterson St.
Valdosta, GA 31698