VSU Alumna Amelia Inman Becomes Youngest Female Ever Elected to City Council of Lithonia, Georgia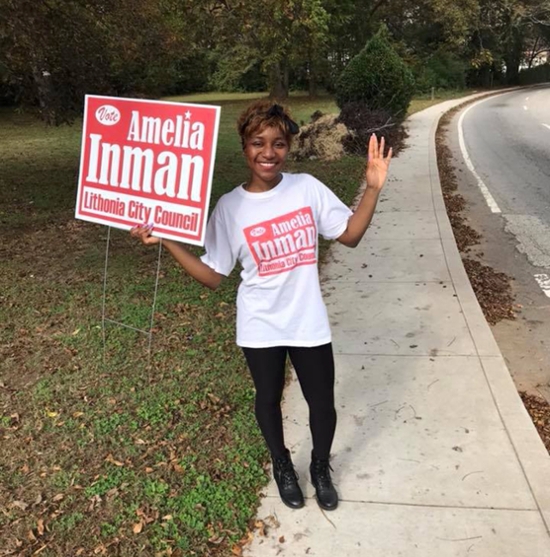 Amelia Inman
VALDOSTA — Valdosta State University alumna Amelia Inman was recently elected to the city council of Lithonia, Georgia. She is the youngest female ever elected to the city council and is believed to be the youngest person elected to office in the city's history.
Inman, 26, and three other candidates competed for three open city council seats. 
"I received the most votes, which was shocking because the other candidates were incumbents and I had never run for office," said Inman, who graduated from VSU in 2014 with a Bachelor of Business Administration in business marketing and a dual minor in advertising/promotions and mass media. She is now a realtor for Keller Williams Chattahoochee North.
"The degree I earned from VSU further reinforces to the voting population that I am educated, ambitious, and I finish what I begin," she said. "My professors consistently inspired me and opened my mind to a limitless world of career possibilities. I learned how to be a leader as director of promotions for the Campus Activities Board. I learned how to negotiate contracts for vendor services. I mastered event planning and implemented strategies for the best participation among our student board. All the skills I gained as a student at VSU will play as a transferrable skill set."
While at VSU, Inman created and served as president of the IT Club: Intelligent and Talented, a community service and talent organization. She was also a member of the American Marketing Association and the National Society of Leadership and Success.
Inman said she decided to run for city council to effect change.
"The City of Lithonia was tired of the status quo," she said. "I hope to create policies and update ordinances to address issues such as affordable housing, economic development, and community pride."
Inman wants to increase the City of Lithonia's communication methods and improve safety. She also plans to start a program that gives high school students city government internships and the opportunity to earn a college scholarship.
"All my success belongs to God," she said. "To current VSU students, I would say keep God first, dare to be different, and always pursue progress. We have to rise to the occasion and become more involved on all levels. We are now role models for the generation behind us."
Inman will be sworn in as a member of the Lithonia City Council in January.
General VSU Information
Office of Communications
Campus Address
Office of Communications Powell Hall West, Suite 1120
Mailing Address
1500 N. Patterson St.
Valdosta, GA 31698