Angel Boev Honored with Distinguished Alumnus Award at VSU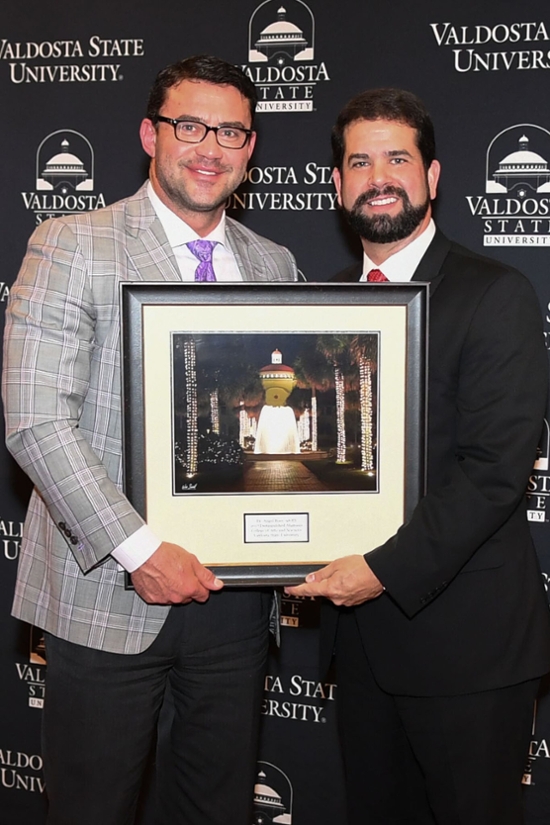 Dr. Angel Boev and President Richard A. Carvajal
VALDOSTA — Dr. Angel Boev is the recipient of Valdosta State University's 2017 Distinguished Alumnus Award for the College of Arts and Sciences. 
"It's a tremendous honor, and I'm greatly humbled that I was chosen," he said.
Boev graduated with honors from VSU in 1996 with a Bachelor of Science in biology. He earned his Medical Degree from Mercer University School of Medicine and completed his training in neurosurgery at the University of Rochester Medical Center.
As a neurosurgeon practicing in Rochester, New York, Boev provides comprehensive neurosurgical care at Rochester Regional Health, Rochester General, F.F. Thompson, Highland, and Unity Hospitals. He has a special focus in complex and minimally invasive spinal surgery as well as management of the brain and spinal tumors.
He is the founder and managing partner of the Boev Clinic, a multi-disciplinary neuromedicine clinic offering patients comprehensive spine care through a network of medical professionals including neurosurgeons, neurologists, pain management practitioners, chiropractors and physical therapists. The Boev Clinic operates at multiple offices throughout the metropolitan Rochester area and the Finger Lakes region.
"In my field there are a lot of Ivy league graduates, but I've always said that college is what you make of it," Boev said. "Frankly, VSU gave me a chance when most other places didn't because I came here from overseas and didn't have a green card or anything like that.
"VSU was the best thing that ever happened to me. It's an incredible school. It prepared me very well for the steps that came next. The connections I made and the business experience I got at VSU serve me to this day." 
During his academic career, Boev was the recipient of numerous awards.  While at VSU, he was named a President's Scholar and was elected to four honor societies. He was awarded several academic scholarships at Mercer University School of Medicine. During his residency training at the University of Rochester Department of Neurosurgery, Boev was named a Congress of Neurological Surgeons Fellow. He also received the New York State Society of Neurological Surgeons Research Award along with a National Institutes of Health grant to study vascular vasospasm following intracranial aneurysm ruptures.
Boev holds memberships in a variety of national and international professional organizations, including the American Association of Neurological Surgeons, Congress of Neurological Surgeons, American College of Surgeons, and European Association of Neurological Surgeons. He has authored numerous publications in the United States on the treatment of spine disorders, brain tumors, and intracranial hemorrhage.
Boev and his wife Christine are parents to Nicholas, 12, and Athena, 10.
The Distinguished Alumnus Award for the College of Arts and Sciences, presented each year by the VSU Alumni Association, recognizes an exceptional VSU graduate who has made significant contributions to his or her community. Boev was recognized during Homecoming Week, Oct. 30-Nov. 5.
General VSU Information
Office of Communications
Campus Address
Office of Communications Powell Hall West, Suite 1120
Mailing Address
1500 N. Patterson St.
Valdosta, GA 31698