William Massey Honored with Graduate of the Last Decade Award at VSU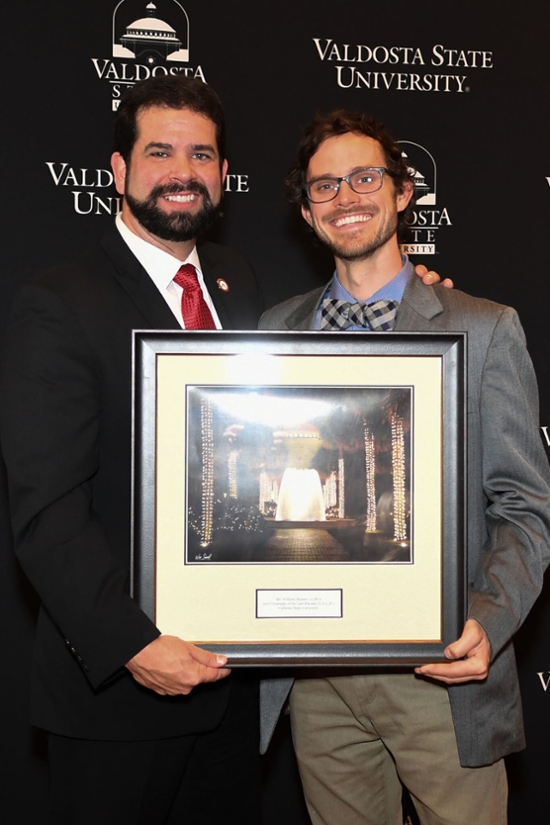 President Richard A. Carvajal and William Massey
VALDOSTA — William Massey is the recipient of Valdosta State University's 2017 Graduate of the Last Decade (GOLD) Award.
Massey graduated from VSU in 2012 with a Bachelor of Fine Arts in art. He is a freelance artist, public sculptor, and creative entrepreneur. He leads art programs within health and social impact organizations throughout Atlanta, Georgia. 
Massey moved to Atlanta in 2013 to begin his art career, which includes glassblowing, teaching art to homeless youth, and creating temporary public art installations. He has gradually evolved into a force of creative connection in Atlanta, utilizing the power of art to unify communities, uplift public spaces, pursue social and racial reconciliation, and creatively comfort those in hardship.
"I feel [this award] is a reflection that I have seized, valued, and put to good use the tools and encouragement that the professors shared with me during my tenure in the VSU Department of Art and Design," he said. "This award is a testament to the value and legacy that the art professors and art program offer to the students."
While at VSU, Massey helped to organize art shows and art walks in downtown Valdosta, volunteered with the Arts in Health program to comfort cancer patients at South Georgia Medical Center, and served as vice president of the Kappa Pi art club. He recently partnered with VSU to create Color VSU, an artist coloring book designed by VSU students, faculty, and alumni. 
"The professors in the Department of Art and Design spoke into my purpose," he said. "They taught me how to trust myself, my ideas, and to work toward manifesting them with thoughtfulness and integrity. More practically, I learned a vast range of skills on how to bring thoughts and ideas to life.
"I felt at home on campus and in the art classrooms and studios. … It was one of the most beautiful seasons of my life — to have so many individuals I was privileged to work alongside, who poured fuel on the passions and motivation of my heart and welcomed me to do the same. I have so much reverence and gratitude for the time spent attending VSU."
William has traveled the globe with his artwork and has installed numerous public sculptures throughout Atlanta. He founded ColorATL, which serves over 85 Atlanta-based artists and two dozen local nonprofits. He established the Arts in Health Program at Winship Cancer Institute and RemergeATL. He is a resident artist of the Creatives Project and serves on the boards of Renew the Arts and Twin Radius.
The Graduate of the Last Decade Award, presented each year by the VSU Alumni Association, recognizes an exceptional VSU graduate from the last 10 years who has made significant contributions to his or her community. Massey was recognized during Homecoming Week, Oct. 30-Nov. 5.
General VSU Information
Office of Communications
Campus Address
Office of Communications Powell Hall West, Suite 1120
Mailing Address
1500 N. Patterson St.
Valdosta, GA 31698