VSU Brings International Culture to Local Schools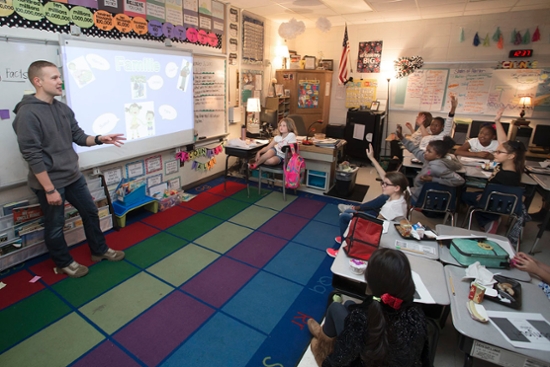 VSU international student Thibault Deneve speaks to fourth-grade students at S.L. Mason Elementary School about the culture and traditions of Belgium, his home country.
VALDOSTA — International students at Valdosta State University are bringing global culture to South Georgia by introducing the traditions, language, food, and interests of their homeland to area children and teens.
This is a partnership between VSU's Center for International Programs and public and private schools throughout Valdosta and Lowndes County.
"I want to give back to the community and at the same time bring the world to Valdosta," said Danielle Bacud, VSU's international student advisor. She has coordinated the school visits since Fall 2016. 
"Culture is a positive experience and helps us to understand another person's perspective. These visits allow the kids to see a piece of the world even if they never travel to that place."
The multicultural presentations and discussions have exposed children to the customs of nations such as Colombia, Puerto Rico, Vietnam, Malawi, Paraguay, Curacao, United Kingdom, France, and Belgium.
Fariela Sambo, an international business major from Curacao, a small Caribbean island off the coast of Venezuela, brought coloring sheets with images of the island and danced with the children to traditional music from her country.
"We are living in a global society, but most people never leave the United States," she said. "That's why I think it's important for international students to go to schools so children can get a broad perspective of other cultures and lifestyles."
S.L. Mason Elementary School recently recognized the Center for International Programs as its Community Partners in Education (CPIE) Partner-at-Large Award recipient for its work to educate children on other countries.
VSU's mission is to promote academic outreach and collaboration in the region and provide a safe and sustainable learning environment for all ages.
"This partnership of learning provides experiences to our students that they may never receive [otherwise]," said JoAnn Stone, CPIE coordinator for S.L. Mason.
CPIE is a combined effort of the Lowndes County School System, the Valdosta City School System, and the Valdosta-Lowndes County Chamber of Commerce. Its purpose is to encourage greater student achievement by developing partnerships between individual schools and area businesses and organizations. The CPIE Awards recognize community partners who demonstrate a strong dedication to improving the lives of students.
The Center for International Programs plans to expand its visits to more schools in the coming year. 
Please contact Danielle Bacud at (229) 333-7410 or cdbacud@valdosta.edu to learn more.
On the Web:
https://www.valdosta.edu/academics/international-programs/
General VSU Information
Office of Communications
Campus Address
Office of Communications Powell Hall West, Suite 1120
Mailing Address
1500 N. Patterson St.
Valdosta, GA 31698