Robin Hines Honored with Distinguished Alumnus Award at VSU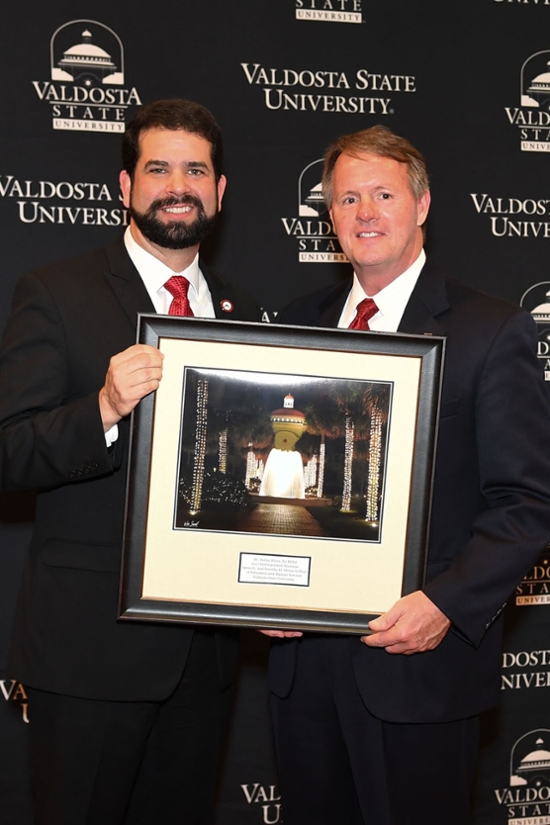 President Richard A. Carvajal and Dr. Robin Hines
VALDOSTA — Dr. Robin Hines is the recipient of Valdosta State University's 2017 Distinguished Alumnus Award for the James L. and Dorothy H. Dewar College of Education and Human Services.
"I am both humbled and honored to be recognized by my school," Hines said. "I have always held VSU in high regards, and to be honored as a distinguished alumnus means as much to me as any recognition I have received in my career." 
Hines, a native of Thomasville, Georgia, earned a Bachelor of Science in health and physical education in 1982 and a Master of Science in health and physical education in 1985 from Valdosta State University. While at VSU, he was a member of the Delta Chi fraternity and the university's first football team. He later earned a master's degree in educational leadership from Albany State University, and a specialist degree and doctorate in educational leadership from Nova Southeastern University. He also earned certification from the Georgia Superintendents Professional Development Program.
Hines began his career in education as a physical education teacher and coach at his alma mater, Thomasville High School. He then taught and coached at three other high schools before being named head coach and athletic director at Westover High School in 1990. He served as an assistant principal and then principal of three different high schools before becoming the assistant superintendent for school operations and then superintendent of Houston County Schools. Hines retired from Houston County School System in 2014 after 32 years in education. After three years of retirement, he recently became the executive director of the Georgia High School Association.
"VSU provided me with the specific knowledge I needed as I started my career," he said. "The faculty were more than just teachers; I knew that I was important to them and felt that they were personally involved and interested in me as a person. I can recall every instructor I had at VSU to this day.
"I would also say that my experience there gave me the confidence that I could achieve at a high level in my chosen field. The instructors were well-versed in current trends in education, which prepared me for teaching beyond the content. I could not have had a better time and knew immediately that I had made the right choice in VSU."
Throughout his career, Hines has been known for his enthusiasm and passion for education and his positive support for the students and teachers. He has received many awards and recognitions throughout his career to include Teacher of the Year in Colquitt County, Region Athletic Director of the Year at Westover, and the Georgia School Superintendents Association President's Award, just to name a few. In addition, Hines has served on various community and state boards, including the Georgia Educators Foundation Board of Trustees. He currently serves as Georgia's commissioner for the Military Interstate Children's Compact Commission.
Hines has been married to Kim Dilling Hines, a native of Warner Robins, Georgia, and a VSU graduate, for 34 years. They live in Warner Robins. They have three children and four grandchildren and enjoy riding their Harley Davidson motorcycles in the North Georgia mountains. He is also an accomplished musician and plays in a band.
The Distinguished Alumnus Award for the Dewar College of Education and Human Services, presented each year by the VSU Alumni Association, recognizes an exceptional VSU graduate who has made significant contributions to his or her community. Hines was recognized during Homecoming Week, Oct. 30-Nov. 5.
General VSU Information
Office of Communications
Campus Address
Office of Communications Powell Hall West, Suite 1120
Mailing Address
1500 N. Patterson St.
Valdosta, GA 31698