November 27, 2017
17-280
Jessica Pope
Communications and Media Relations Coordinator
Amelia Thomas Named VSU College of Nursing and Health Sciences Top Graduate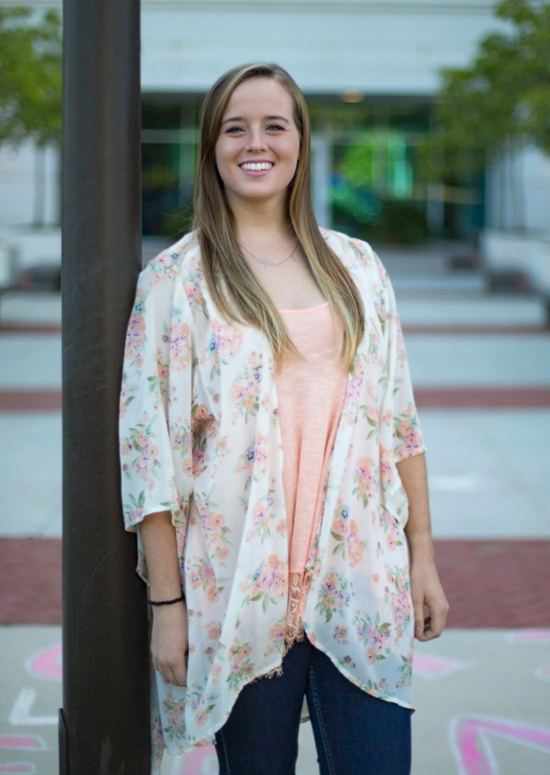 Amelia Thomas
VALDOSTA — Amelia Thomas of Loganville, Georgia, is the recipient of the Fall 2017 President's Award for Academic Excellence for the College of Nursing and Health Sciences at Valdosta State University.
The President's Award for Academic Excellence is presented to the graduating student with the highest grade point average in each of VSU's five colleges — College of Nursing and Health Sciences, College of the Arts, College of Arts and Sciences, Harley Langdale Jr. College of Business Administration, and James L. and Dorothy H. Dewar College of Education and Human Services.
VSU will celebrate its 224th commencement on Friday, Dec. 8, and Saturday, Dec. 9.
Thomas will serve as the official banner carrier for the College of Nursing and Health Sciences during the undergraduate commencement ceremony at 5 p.m. on Saturday, Dec. 9, on the VSU Front Lawn. She will graduate magna cum laude with a Bachelor of Science in Nursing and an Honors College Certificate.
"I am extremely honored to have received this honor from the university," she said. "I could not be more excited and proud to be able to carry the banner to represent the College of Nursing and Health Sciences at the commencement ceremony."
As a student at VSU, Thomas was a member of Sigma Tau Delta International Honor Society of Nursing; the VSU Club Swim Team, where she also served as president; the Valdosta Association of Nursing Students, which supports community-wide health initiatives through service learning; and CrossPointe Church College Ministry, where she volunteered in the nursery. She served among a distinguished group of student leaders known as university ambassadors and represented VSU at events focused on future and current students, as well as alumni and donors.  
Thomas's commitment to academic, research, and service excellence on campus, in the community, and around the world resulted in her being named a Zell Miller Scholar four years in a row and earning the Lettie Pate Whitehead Scholarship and the Dorothy Cobb Levy Scholarship.
Thomas has already secured a job through the nurse residency program in the oncology unit at Northside Hospital in Atlanta. After gaining hands-on experience in the healthcare field, she hopes to eventually work as a travel nurse and in a neonatal intensive care unit. She is the daughter of Julie Daniels and Ken Thomas.
On the Web:
https://www.valdosta.edu/colleges/nursing-and-health-sciences/welcome.php
https://www.valdosta.edu/administration/advancement/event-services/commencement/welcome.php
General VSU Information
Office of Communications
Campus Address
Office of Communications Powell Hall West, Suite 1120
Mailing Address
1500 N. Patterson St.
Valdosta, GA 31698