October 13, 2017
17-244
Jessica Pope
Communications and Media Relations Coordinator
VSU Fine Arts Gallery Exhibit Combines Humor, Horror, and Beauty
Carrie Ann Baade, "St. Rage"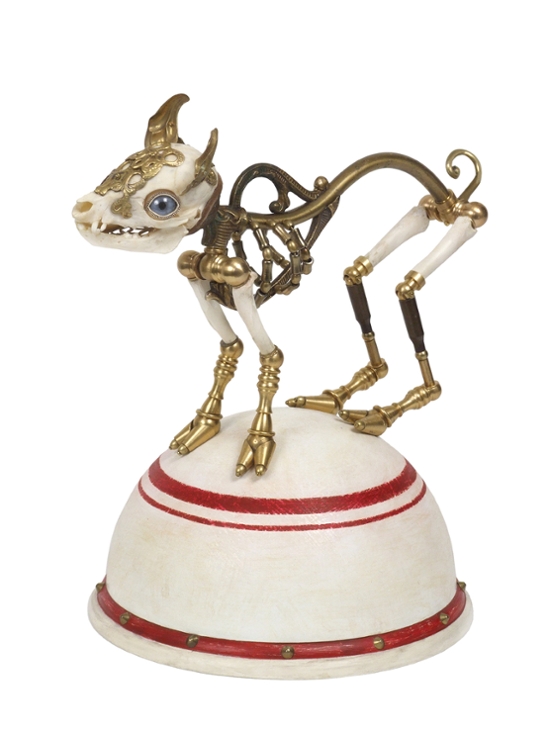 Jessica Joslin, "Max"

Kelly Boehmer, "Puppy"
VALDOSTA — Valdosta State University's Dedo Maranville Fine Arts Gallery will celebrate the grotesque, the macabre, and the monstrous when it presents "Cute and Creepy" Oct. 16 through Nov. 3.
"Cute and Creepy" features fantastical and visionary works by contemporary artists Carrie Ann Baade of Tallahassee, Florida; Kelly Boehmer of Pooler, Georgia; Lori Field of Montclair, New Jersey; Laurie Hogin of Mahomet, Illinois; Jessica Joslin of Chicago, Illinois; Chris Mars of Minneapolis, Minnesota; and Chet Zar of Monrovia, California. The exhibition is representative of the Pop Surreal and New Contemporary art movements. 
Julie Bowland, director of the Dedo Maranville Fine Arts Gallery and a professor in VSU's Department of Art, said "Cute and Creepy" offers viewers "a dark and sometimes humorous sense of the absurd."
An opening reception for "Cute and Creepy" will be held from 6 p.m. to 7:30 p.m. on Monday, Oct. 16. Baade will present a gallery talk at 5 p.m. Both of these events are open to all students, faculty, staff, alumni, retirees, and friends of the university. Guests are encouraged to attend in costume.   
Baade, an associate professor in the Department of Art at Florida State University, originally curated "Cute and Creepy" in 2011. At that time, it featured 24 artists and become one of the most popular exhibitions held at Florida State's Museum of Fine Arts. The VSU exhibition features seven of the original artists.  
The Dedo Maranville Fine Arts Gallery is located on the first floor of VSU's Fine Arts Building, at the intersection of Brookwood Drive and Oak Street. It is open from 8:30 a.m. to 5:30 p.m. Monday through Thursday and 8:30 a.m. to 3 p.m. on Fridays. Admission is free of charge.
Contact Julie Bowland at (229) 333-5835 or jabowlan@valdosta.edu to learn more or to schedule a guided tour of the exhibition.
On the Web:
http://www.valdosta.edu/art/gallery
https://www.facebook.com/VSU-Fine-Arts-Gallery-133203592765/timeline/
General VSU Information
Office of Communications
Campus Address
Office of Communications Powell Hall West, Suite 1120
Mailing Address
1500 N. Patterson St.
Valdosta, GA 31698