October 30, 2017
17-253
Jessica Pope
Communications and Media Relations Coordinator
VSU Celebrates Formal Investiture of its 10th President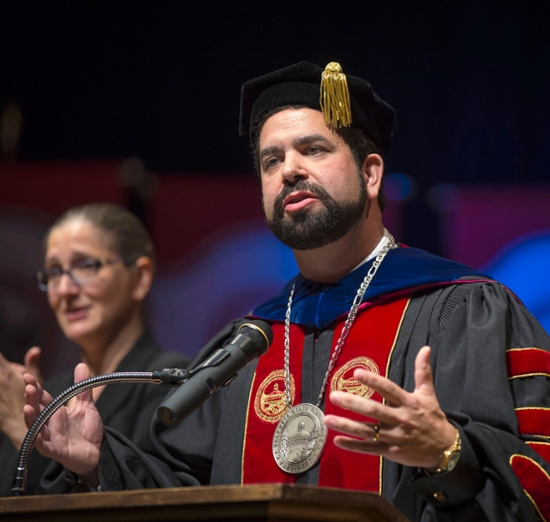 Dr. Richard A. Carvajal shares the story of his journey from poverty to the Blazer Nation presidency during his formal investiture as Valdosta State University's 10th president.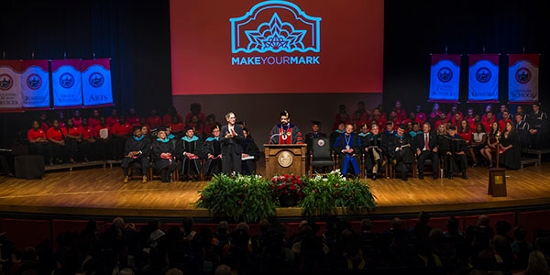 VALDOSTA — Valdosta State University celebrated a significant moment in its history Friday with the formal investiture of its 10th president, Dr. Richard A. Carvajal.
"… thank you for the trust you have shown in me today," Carvajal told those gathered in VSU's Whitehead Auditorium. "I humbly accept the challenge of serving as the 10th president of this outstanding institution of higher learning. Fully appreciating the charge that comes with my office, I pledge to work with each of you every day to advance the principles upon which Valdosta State has been built and to live up to the mission with which our Blazer family has been tasked."
Carvajal shared stories of his past — growing up poor in Oklahoma, learning to love the taste of commodity cheese, and helping his dad pick up trash, strip and wax floors, and clean toilets at an elementary school at night in the hope of keeping the lights on at home.
"Later, when our finances hit rock bottom, I called the back seat of a 1973 Ford Thunderbird my home," he said. "That's right, I am the university president who was once homeless. But, you see, as tough as things were, I was always an optimist about the future. Clearly, sleeping in a car was scary, and most who knew me then never would have even suggested that better was coming. After all, too many who grow up in such poverty never find their way out."
With the help of a friend — who was among those in attendance at Friday's investiture ceremony — Carvajal was able to finish high school. Financial aid and a strong work ethic afforded him the opportunity to attend college at East Central University in Ada, Oklahoma.
Carvajal knew that higher education "was my best, and maybe only, shot at earning the kind of life I dreamed of." He graduated in 1993 with a Bachelor of Science in mass communication/sociology, marking a time of great personal growth.
"… the people there saw something in me that so many would have overlooked, and they reminded me again and again that, if I never stopped trying to live up to my fullest potential, there would come a time when it all could be possible."
Carvajal went on to earn a Master of Science in college student personnel administration in 1995 from Southern Illinois University at Carbondale and a Doctor of Philosophy in educational administration, with emphasis in higher education, in 2005 from The University of South Carolina in Columbia.
Carvajal's greatest period of professional growth came at the age of 32, when he joined a leadership team charged with turning around an institution of higher education plagued with declining enrollment, shrinking budgets that resulted in a loss of jobs,  and various other issues.
"… in literally the first six weeks on the job, we dealt with everything from active methamphetamine labs on campus to — and I'm not exaggerating here — a prostitution ring in our residence halls … understandably harsh media attention after our football coach asked a judge to excuse a registered sex offender from a court date so that student of ours could play in a football game … four car loads of our students driving to a rival college, where they got in a fight with well over 100 of their students, and ultimately, one of our students shot one of theirs," he said.
"… those first six weeks on the job were just the beginning, and the real challenge came when we tried to turn things around," he added.
Carvajal thought about quitting when he and his family became the victims of criminal threats and acts. Someone did not like that he was removing what he referred to as the "poison" that was hindering the institution's ability to thrive. A log was thrown through the window of his home. A bodyguard was assigned to him on campus. His family was forced into hiding on at least one occasion.
"… other members of my team had their own responsibilities to fulfill," he continued, "and theirs weren't much easier, and since they weren't quitting, how could I quit? They believed that there would come a time when the vision they had for all that our institution could be would become a reality … I, in turn, learned that when you have a group of people who love place and they channel all of their collective talents and energies in a common direction, there is almost nothing that cannot be accomplished.
"It definitely took a lot of work, but just three years later, we had completely changed the culture on campus, and we had become the seventh fastest growing institution of our kind in the country."     
Carvajal explained that the lessons learned from his childhood, his learning years in college, and his most challenging professional experiences will serve as a foundation for a Valdosta State University future created by every member of Blazer Nation — students, faculty, staff, alumni, retirees, and friends.
"VSU has so much going for it …," he said, referring to the university's word-class record of academic, service, research, athletic, and creative excellence.
"But if we're honest, we have our challenges, too," he said. "… South Georgia continues to see demographic trends that rightfully scare us all, and the jobs lost in the Great Recession have returned at a rate that is far behind other parts of the state. All that has led a well-regarded economic think-tank to label all but two of the counties in our assigned 41-county region as 'distressed.'
"Here on campus, many of you have told me that an instability of both leadership and purpose created challenges, too. A significant drop in enrollment in the first half of this decade led to budget shortfalls and painful cuts. Retention, progression, and graduation rates continue to lag behind peer institutions. Perhaps worst of all, many of you have told me that VSU has failed to fully embrace its role as South Georgia's flagship institution. Quite frankly, many of you have wondered — aloud to me — if we're capable of all that. Maybe, you hinted, that's just a pipe dream. Maybe, it will never be our time.
"But I believe that my story provides an example of what can be. … with the help of many, I climbed out of the car that was my home and climbed onto a college commencement stage to receive my degree, and stories like that should show us all that even the most trying of obstacles can be overcome. You know it's true."
Referring to those gathered in Whitehead Auditorium, Carvajal said he suspected many of those listening to him talk had overcome their own obstacles, proving to others that anything is possible with help, perseverance, optimism, and a strong work ethic. Resilience can be built over time. 
"… if we channel our collective energies behind a common vision, there is nothing that we cannot accomplish," he said. "… no matter the challenge, there comes a time when all things become possible."
"There is … a buzz in our collective air," he continued. "There is an energy that is so thick it can be held — and it is time to make the most of that momentum and become all that we can be together. That's right. Now is our time." 
How should every member of VSU's Blazer Nation family respond to those who say that its research efforts do not matter, that the questions being studied by the faculty and students on campus make little difference in people's lives?
"… you tell them what it means to be an applied research university," he said. "Tell them of a place where some of the best minds in their respective disciplines will willingly tackle the biggest questions facing our region, thus paving the way for life-changing improvements. You tell them that, at VSU, what we do has the potential to cure disease, transform K-12 education, and make South Georgia's businesses fully competitive on the world stage. That's right. You tell them that now is our time." 
How should every member of VSU's Blazer Nation family respond to those who say that higher education is slow to change, that VSU may never move beyond talk and truly improve student success?
"… you tell them that the drive to raise retention and graduate rates now permeates everything the university is doing," he said. "You tell them that we are using national best practices to build a model advising program. You tell them that 15 to Finish is becoming the norm, and streamlined pathways mean that more students are staying on track to completion. And you tell them that the students who are with us … will join me on a commencement stage to receive their degrees in four years, on time."
How should every member of VSU's Blazer Nation family respond to those who say that the university's athletic teams' best days are behind them?
"… VSU is a place that has never minded being judged by the number of championships we will win in any era," he said. "Why? Because using that standard, we fully expect to be judged well, knowing that there are plenty more banners to be hung and plenty more championships to be won. That's right. You tell all who will listen … now is our time."
How should every member of VSU's Blazer Nation family respond to those who say that the university only cares about what happens within its own walls?
"… you assure them that … VSU has a new vision … one in which our success is fully linked to the success of the region we serve," he said. "Go ahead and announce that no longer do they have to wonder when we will stand up as one and plant our flag as South Georgia's preeminent university. Yes, when we say that VSU will be a catalyst for regional comprehensive progress, we mean it. So, let our voices rise, each and every one of us, rise as one united Blazer Nation family, and declare to the world that now is our time."
Following a burst of applause from those in attendance, Carvajal went on to note that VSU has no choice but to put everything it has into this effort, to shout from its red, terra cotta-tiled rooftops and share its commitment to growth and excellence with the world.
"By now, many of you know that, in the summer of 2014, I got a stomachache," he shared. "It got worse and worse, ultimately forcing me to crawl into an emergency room, where I almost died. Weeks of tests followed …."
Doctors eventually discovered that Carvajal had pancreatic cancer.
"No matter how many obstacles I had overcome before, my chances of getting through this one were the poorest of all," he said. "… there is no good cancer to get, but mine is one of the worst, with survival rates of even a few years in the single digits. But … I'm still here. That's right. In this latest chapter of my crazy story, I beat the odds yet again. One of the most invasive surgeries ever conceived, six months of hell called chemotherapy, and more support than anyone could ever deserve — all of that has allowed me to stand here before you today, fully knowing that I am the luckiest, most blessed man the vast majority of you will ever know."
Reflecting on his journey from cancer diagnosis to cure, Carvajal talked about how his early "why me" days became "why did I survive" days.
"I think I survived so that I could be here with you for this time," he said. "I think I survived so that I could share this story, a story that provides me with all the motivation I ever need to make the most of every opportunity — and maybe it will have the same effect on you."
"If you come into my office, you will see a wood carving that sits front and center on my desk," he continued. "It was given to me by a dear friend during my recovery, and it says simply, 'Make it Matter.' That saying now serves as motivation for everything I do every day, and it's most certainly why I'm here, and it's why I think all of you who work here — or support us with your time or treasure — are here, too. We are here for these students. We are here because what happens to them matters.
"I will do this work because it matters, and you will, too, and … (the people whose lives we change) will be the reason all of us will know every day that it was worth it."
---
The Board of Regents of the University System of Georgia named Carvajal president of VSU on Dec. 9, 2016. From his first day as a member of the Blazer Nation family — Jan. 1, 2017 — he has worked to solidify institutional leadership, strengthen relationships with students and other university constituents, and create a common vision for VSU's future.
Before coming to Valdosta State University, Carvajal led Darton State College through its historic consolidation with Albany State University, after being asked by then-USG Chancellor Hank Huckaby to assume the interim presidency.
Carvajal also served as president of Bainbridge State College, where he led the institution of higher education through a significant facility upgrade, its first-ever successful capital campaign, and a move to state college status.
Before joining the University System of Georgia, Carvajal served as vice president for student success services at Cascadia College in Bothell, Washington; dean of student services at Independence Community College in Independence, Kansas; associate dean of student services at Coker College in Hartsville, South Carolina; and an executive officer of the Washington State Student Services Commission.
Carvajal served as a Lyndon B. Johnson Congressional Fellow, completed fellowships with the Washington Center and World Affairs Council, and graduated from both Leadership Kansas and Leadership Georgia. He has been active in the communities in which he has lived, having served on the board of numerous public foundations. He currently serves as chairman of the Georgia Chamber of Commerce's Rural Prosperity Council's Talent and Leadership Development Subcommittee.
Traditionally held during a new president's first year in office, VSU's presidential investiture ceremonies are an opportunity for every member of Blazer Nation — student, faculty, staff, alumni, retiree, and friend — to celebrate the beginning of a new chapter for the university and the continued pursuit of knowledge.
Contact Jessica R. Pope, communications and media relations coordinator at VSU, at 229-333-2163 or jrpope@valdosta.edu to learn more.
On the Web:
www.valdosta.edu
https://www.flickr.com/photos/valdostastate/albums/with/72157686621667202
https://www.valdosta.edu/about/news/releases/2017/10/community-invited-to-join-vsus-presidential-investiture-celebration.php
http://investiture.valdosta.edu/
General VSU Information
Office of Communications
Campus Address
Office of Communications Powell Hall West, Suite 1120
Mailing Address
1500 N. Patterson St.
Valdosta, GA 31698