September 14, 2017
17-217
VSU Theatre and Dance Presents "I and You" Sept. 14-20
Valdosta State University Theatre and Dance will present I and You on the Lab Theatre stage Sept. 14-20. Tickets are on sale now.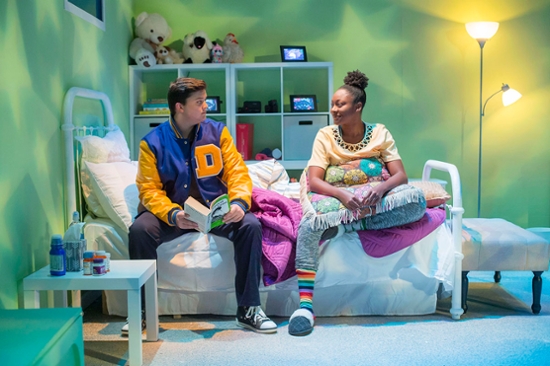 I and You stars Daniel Lennox Jr. as Anthony and Mahogany Wesley as Caroline.
VALDOSTA — Valdosta State University Theatre and Dance will present I and You on the Lab Theatre stage. Tickets are on sale now.
Written by Lauren Gunderson, I and You is a sharp, funny, intimate, and surprising drama about two high school seniors who meet and try to make a connection. The two characters, a male and a female, are the entire cast. Critics say the contemporary play is "unforgettable" and will "leave you gasping."
"One afternoon, Anthony arrives unexpectedly at classmate Caroline's door bearing a beat-up copy of Walt Whitman's Leaves of Grass, an urgent assignment from their English teacher," according to a synopsis at Playscripts.com. "Homebound due to illness, Caroline hasn't been to school in months, but she is as sardonic as Anthony is popular. As these two let down their guards and share their secrets, this seemingly mundane poetry project unlocks a much deeper mystery that has brought them together. I and You is an ode to youth, life, and the strange beauty of human connectedness.
Anthony and Caroline are played by first-year freshmen Daniel Lennox Jr. and Mahogany Wesley.
"The special thing about this play is the connection and bond between Anthony and Caroline," said Wesley, an 18-year-old theatre performance major from Atlanta. "They are polar opposites, yet they still find something that connects them in a strong, deep, and meaningful way. That's why people should come see it, to witness a very beautiful connection."
I and You was first produced several years ago in a rolling world premiere by Marin Theatre Company in California, Olney Theatre in Maryland, and Phoenix Theatre in Indiana. The play premiered as part of the National New Play Network's Continued Life program.
VSU's production of I and You is directed by H. Duke Guthrie, a professor of theatre and the managing director of VSU's Peach State Summer Theatre. The play is presented in three parts with no intermission. Performances will be held at 7:30 p.m. Thursday, Sept. 14 through Saturday, Sept. 16; 3 p.m. Sunday, Sept. 17; and 7:30 p.m. Monday, Sept. 26, through Wednesday, Sept. 28.
Please note that I and You contains adult language and mature themes.
Individual tickets for I and You are $17 for adults, $14 for senior citizens, $11 for children and non-VSU students, and free for all VSU students with a valid 1Card. Tickets for groups of 10 or more people at a single performance are $10 per person.
Tickets may be reserved by calling the VSU Theatre and Dance Box Office at (229) 333-5973 between the hours of 2 p.m. and 5 p.m. Monday through Saturday or by visiting www.ticketreturn.com 24 hours a day, seven days a week.
The VSU Theatre and Dance Box Office is located on the first floor of the Fine Arts Building, at the intersection of Oak Street and Brookwood Drive, and may be reached by calling (229) 333-5973. The Lab Theatre is located on the second floor.
VSU Theatre and Dance is committed to fostering excellence within its theatre performance, theatre production, theatre management, musical theatre, and dance programs while also contributing to the lifelong learning and cultural development of the citizens of South Georgia, North Florida, and beyond. Its 2017-2018 performance season continues throughout the fall and spring semesters with Connect/Kinect: The Annual Dance Concert, The Imaginary Invalid, Planets View From The Hubble Space Telescope, Book of Days, and All Shook Up.
Please contact H. Duke Guthrie at (229) 333-5307 or dguthrie@valdosta.edu to learn more.
On the Web:
http://www.valdosta.edu/colleges/arts/communication-arts/box-office/season.php
https://www.playscripts.com/play/2698
General VSU Information
Office of Communications
Campus Address
Office of Communications Powell Hall West, Suite 1120
Mailing Address
1500 N. Patterson St.
Valdosta, GA 31698