September 29, 2017
17-231
Dr. Kenneth Rumstay Honored with Presidential Excellence Award for Teaching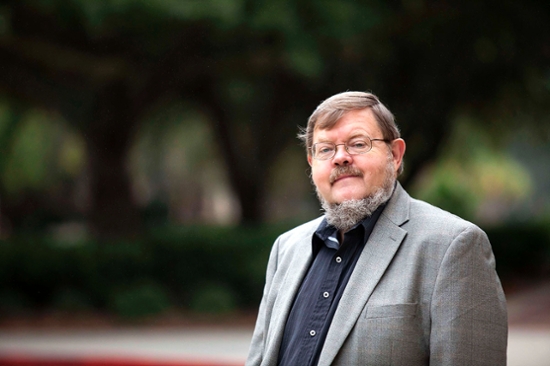 Dr. Kenneth Rumstay
VALDOSTA — Dr. Kenneth Rumstay is the recipient of Valdosta State University's 2017 Presidential Excellence Award for Teaching.
The Presidential Excellence Award for Teaching recognizes a faculty member who employs innovative teaching strategies and demonstrates a strong commitment to student success. Rumstay, a professor of astronomy and director of VSU's Planetarium and Observatory, was chosen for consistently creating an active learning environment and conveying to students his passion for the subject matter. He has been teaching at the university level for 42 years.
"Dr. Rumstay embodies the ideal example of an exceptional professor at Valdosta State University — a tireless student of the discipline; an enthusiastic ambassador of his trade; a patient, willing educator; and a dedicated public servant to the community and its curious patrons of all ages," said Edward Chatelain, head of the Department of Physics, Astronomy, and Geosciences. 
"Where Dr. Rumstay is at his finest is in the classroom, planetarium, or at the observation site under the starry sky. He is not just a showman; he wants students of all ages to understand and appreciate what they are witnessing and the magnificence of the physics involved. His approach in all cases makes you think that you are standing in the hallowed presence of Aristotle or Socrates, yet his humility brings him back to Earth as just another student with a deep thirst for knowledge."
Rumstay began teaching in 1975 as a graduate student at Wesleyan University in Connecticut. He taught the evening laboratory component of an introductory astronomy course at nearby Central Connecticut State College.
"I devoted a lot of time and effort toward the preparation of course materials, but I loved every minute of it," Rumstay said.
In 1978, when Rumstay was in the doctoral program at Ohio State University (OSU), he served as a teaching assistant and gave lectures when the professor was not available.
He credits Dr. George Collins, an OSU professor, with molding him as a teacher during that time by critiquing his presentations and offering suggestions for improvement.
Near the end of his time at OSU, Rumstay was offered the opportunity to teach an introductory astronomy course at several of the university's branch campuses throughout the state.
"I like teaching," he said. "I like getting people excited about astronomy. It's quite a privilege to make a living by teaching the subject matter that I love."
He started teaching at VSU — Valdosta State College at the time — in Fall 1984. During his 33 years at the university, Rumstay has taught a wide range of courses in astronomy, physics, and physical science.
He became director of the Planetarium and Observatory in 1996. In that capacity, he gives astronomy presentations to thousands of school children and community members each year.
"After decades of teaching, Dr. Rumstay is not tired of the classes he teaches, and his inviting humor makes the subject matter appealing to all ages," said Connie Richards, dean of the College of Arts and Sciences. "He is as much a fascinated learner at heart as he is a teacher — a quality not lost on all he instructs."
During his time at VSU, Rumstay said two colleagues in particular have provided substantial teaching help through mentoring and advising: Dr. Martha Leake, a professor of physics and astronomy, and Dr. Dennis Marks, former head of the Department of Physics, Astronomy, and Geosciences.
"As my teaching style has evolved through the years, I have come to appreciate that the most important thing I can do to help students succeed is to treat them with respect and to impress upon them that I am there to be of service to them," Rumstay said.
Rumstay is a member of the American Astronomical Society (AAS), the Council on Undergraduate Research, the Southeastern Association for Research in Astronomy, the Georgia Academy of Science, The Planetary Society, the International Dark Sky Association, the International Planetarium Society, the American Association of University Professors, the Sigma Pi Sigma Honor Society, the Society of Physics Students, and the Southeastern Planetarium Association. He has published eight peer-reviewed articles in scholarly journals.
Since 2016, he has served as secretary-treasurer of the AAS Historical Astronomy Division.
Rumstay holds a Bachelor of Science in earth and planetary sciences from the Massachusetts Institute of Technology, a Master of Arts in astronomy from Wesleyan University, and a Doctor of Philosophy in astronomy from Ohio State University.
Each year, VSU continues its tradition of honoring faculty excellence with five awards recognizing the diverse talents and contributions of its innovative and active faculty. Awards are given for excellence in teaching, research, service, online teaching, and scholarship of teaching and learning. The 2017-2018 recipients were publicly recognized at the fall convocation and received a monetary prize of $1,000.
On the Web:
https://www.valdosta.edu/academics/academic-affairs/presidential-excellence-awards.php 
https://www.valdosta.edu/colleges/arts-sciences/physics-astronomy-geosciences/
General VSU Information
Office of Communications
Campus Address
Office of Communications Powell Hall West, Suite 1120
Mailing Address
1500 N. Patterson St.
Valdosta, GA 31698