VSU's David Hanna Receives $10,000 Accounting Scholarship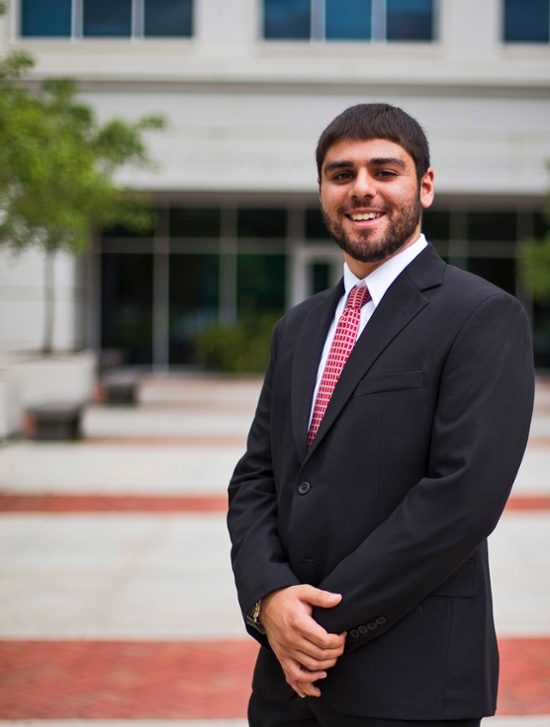 David Hanna
VALDOSTA — Valdosta State University's David Hanna is the recipient of a $10,000 merit-based scholarship from the Public Company Accounting Oversight Board (PCAOB).
The PCAOB awards scholarships to students pursuing careers in audit at colleges and universities across the United States.
Hanna was chosen for demonstrating high ethical standards and an interest and aptitude in accounting and auditing.
"When I read the email, it was like I had won the lottery," he said.
Hanna expects to graduate in December 2017 with a Bachelor of Business Administration in accounting. He plans to continue his education in Spring 2018 and earn a Master of Accountancy at VSU and become a certified public accountant.
"It is a blessing to know that my master's degree will not cost me anything," he said. "All of my hard work and dedication to school has truly paid off."
The PCAOB is a nonprofit corporation established by the U.S. Congress to oversee the audits of public companies in order to protect investors and the public interest by promoting informative, accurate, and independent audit reports.
Under the Sarbanes-Oxley Act of 2002, monetary penalties imposed by the PCAOB must be used to fund merit scholarships for students in accredited accounting degree programs.
Hanna is president of VSU's chapter of the Institute of Management Accountants (IMA). He is a member of Alpha Lambda Delta: National Honor Society for First-Year Students; the Beta Tau chapter of Phi Kappa Phi; Beta Gamma Sigma; the Valdosta chapter of the Georgia Society of Certified Public Accountants; and Sigma Alpha Pi: The National Society of Leadership and Success, where he earned the National Engaged Leader Award in 2017.
A regular on the Dean's List, Hanna is also the recipient of the 2017 Harley Langdale Jr. College of Business Administration Accounting Student of the Year Award; 2017 IMA Memorial Education Foundation Scholarship; 2017 Georgia Society of Certified Public Accountants Coastal Chapter Scholarship; 2017 Clare Philips Martin Scholarship; 2016 Georgia Society of Certified Public Accountants Valdosta Chapter Scholarship; and 2016-2017 Georgia Gulf Sulfur Scholarship.
Hanna currently works at Henderson and Godbee LLP, a Valdosta-based accounting firm, and as a student assistant in VSU's Department of Political Science. 
Hanna volunteers with Valdosta-Lowndes County Habitat for Humanity, Second Harvest of South Georgia Inc., Lowndes County Animal Shelter, and the Valdosta chapter of Knights of Columbus. He attends St. John the Evangelist Catholic Church, where he serves as a lector. He is the son of Joseph and Gezel Hanna of Valdosta.
On the Web:
http://www.valdosta.edu/colleges/business/
https://pcaobus.org
General VSU Information
Office of Communications
Campus Address
Office of Communications Powell Hall West, Suite 1120
Mailing Address
1500 N. Patterson St.
Valdosta, GA 31698