June 27, 2017
17-179
Jessica Pope
Communications and Media Relations Coordinator
PSST! Presents "My Fair Lady" Through July 16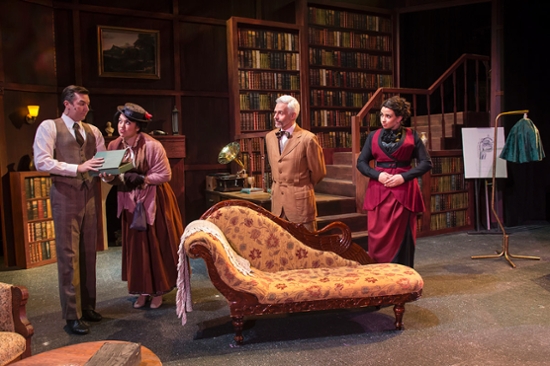 Peach State Summer Theatre presents "My Fair Lady" on Valdosta State University's Sawyer Theatre stage through July 16. Pictured are Henry Higgins (Olin Davidson), Eliza Doolittle (Megan Wheeler), Colonel Pickering (Neal Mayer), and Mrs. Pearce (Amanda Lopez).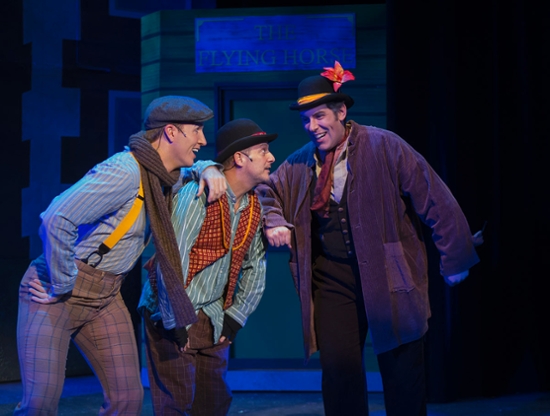 Pictured are Harry (Aaron Moore), Jamie (Steven Bidwell), and Alfred P. Doolittle (Joe Mason).
VALDOSTA — Beginning with the next performance at 7:30 p.m. on Thursday, June 29, Eliza Doolittle fans of all ages have seven more opportunities to enjoy Peach State Summer Theatre's production of "My Fair Lady" at Valdosta State University's Sawyer Theatre. Tickets are on sale now.
Featuring book and lyrics by Alan Jay Lerner and music by Frederick Loewe, "My Fair Lady" is based on George Bernard Shaw's 1912 play "Pygmalion," which is based on Greek mythology's tale of a sculptor who falls in love with a statue he carves. It opened on Broadway in New York City on March 15, 1956, and closed on Sept. 29, 1962, after 2,717 performances and nearly a dozen Theatre World Award and Tony Award nominations and wins. It went on to enjoy a London production, a number of international tours, and a film adaptation starring Audrey Hepburn as Eliza Doolittle and to earn eight Oscars and many more Theatre World Award, Drama Desk Award, Laurence Olivier Award, and Tony Award wins and nominations.
"Eliza Doolittle is a young flower seller with an unmistakable Cockney accent, which keeps her in the lower rungs of Edwardian society," according to a brief synopsis provided by Music Theatre International. "When Professor Henry Higgins tries to teach her how to speak like a proper lady, an unlikely friendship begins to flourish."
Directed by Randy Wheeler, a former professor of theatre at VSU, Peach State Summer Theatre's production of "My Fair Lady" is rated G. It is sponsored in part by VSU's Harley Langdale Jr. College of Business Administration's Master of Business Administration in Healthcare Administration Program.  
Individual admission is $32 for adults, $26 for students and senior citizens, and $24 for Peach State Summer Theatre fans in groups of 10 or more, including taxes and fees.
The Peach State Summer Theatre Box Office is open from 10 a.m. to 5 p.m. Tuesday through Saturday and 10 a.m. to 1 p.m. Sundays. It is located on the first floor of the VSU Fine Arts Building, at the corner of Brookwood Drive and Oak Street, and can be reached by calling (229) 259-7770. The online box office at www.valdosta.edu/psst is open 24 hours a day, seven days a week.
Peach State Summer Theatre, or PSST!, is Valdosta's premiere professional summer stock theatre. Each summer, dozens of singers, dancers, technicians, managers, and creators gather on the campus of Valdosta State University for 10 weeks, and during that time, they rehearse, build, and present three musicals — "Shrek the Musical," "Forever Plaid," and "My Fair Lady" — in rotating repertory.
The 2017 Peach State Summer Theatre season marks the 28th year of VSU producing professional theatre for the city of Valdosta, the state of Georgia, and beyond. From 1990 to 2004, VSU produced the Jekyll Island Musical Theatre Festival. In 2005, the summer theatre program was relocated to the university and renamed PSST!
The Georgia Legislature designated Valdosta State's summer stock theatre program the Official Musical Theatre of the State of Georgia.
VSU's Jacque Wheeler serves as the artistic director of Peach State Summer Theatre. H. Duke Guthrie is the managing director.
Sawyer Theatre and the PSST! Box Office are located on the first floor of VSU's Fine Arts Building, at the intersection of Oak Street and Brookwood Drive.
Visit www.valdosta.edu/psst for more information.
Visit www.facebook.com/vstatenews to view photos and learn more about the cast and crew.
"My Fair Lady" Performance Schedule
• 7:30 p.m. Friday, June 23
• 2 p.m. Saturday, June 24, Pay What You Can Performance, Interpreted for the Deaf in American Sign Language
• 7:30 p.m. Thursday, June 29
• 2 p.m. Saturday, July 1
• 7:30 p.m. Friday, July 7
• 7:30 p.m. Saturday, July 8
• 2 p.m. Wednesday, July 12
• 7:30 p.m. Friday, July 14
• 3 p.m. Sunday, July 16
General VSU Information
Office of Communications
Campus Address
Office of Communications Powell Hall West, Suite 1120
Mailing Address
1500 N. Patterson St.
Valdosta, GA 31698