Andrea Krispin Named A Governor's Teaching Fellow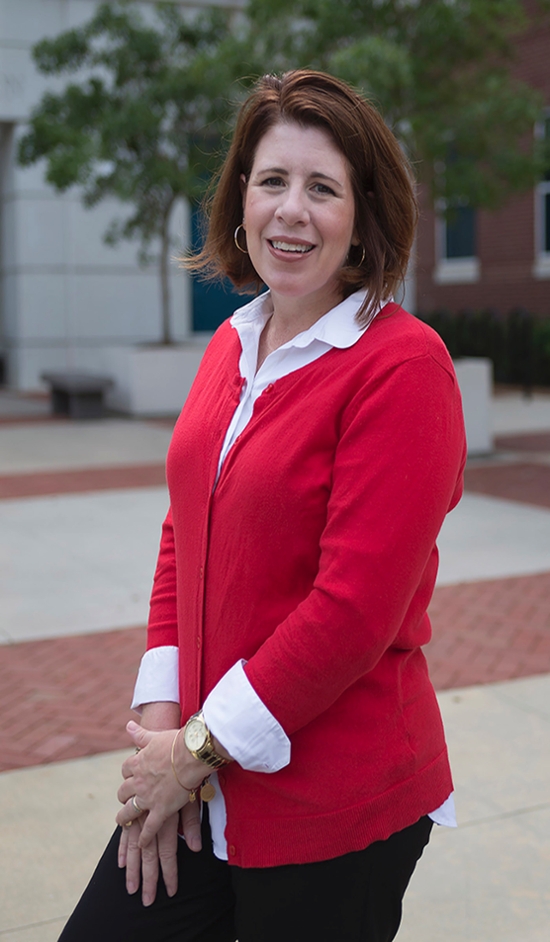 Andrea "Paige" Krispin 
VALDOSTA — Andrea "Paige" Krispin is representing Valdosta State University at the 2017-2018 Governor's Teaching Fellows Program offered through the Institute of Higher Education at the University of Georgia. 
Established by former Gov. Zell Miller, the Governor's Teaching Fellows Program provides higher education faculty members from accredited public and private colleges and universities across Georgia with expanded opportunities for developing important teaching skills. Throughout the academic year, Krispin will attend six three-day symposia that include a combination of structured instructional and faculty development activities as well as self-directed activities designed to meet her individual needs. 
"The Governor's Teaching Fellow Program offered several things that piqued my interest — a class of fellows from various institutions and backgrounds, a program that is tailored to the needs and interests of the participants, expert instruction, and a respected history of the program," said Krispin, an instructor in the College of Nursing and Health Sciences. 
Professors selected to participate in this year's Governor's Teaching Fellows Program's Academic Year Symposia Program represent Albany State University, Andrew College, Armstrong State University, Augusta University, Chattahoochee Technical College, East Georgia State College, Georgia Southern University, Mercer University, Paine College, South Georgia State College, University of North Georgia, Valdosta State University, and Wesleyan College. 
Participants are selected on the basis of their teaching experience, their interest in continuing instructional and professional development, their ability to make a positive impact on their own campus, and a strong commitment by their home institution for release time and other forms of support for the duration of their participation in the program. 
"I would like this program to increase my knowledge of ... pedagogy," Krispin said. "As part of the nursing program, we have begun to incorporate technology into our program in both the classroom and clinical experiences. I would like to be exposed to new ways of utilizing that technology and [learn] the best practices for student involvement and engagement. As I learn and develop in my own teaching, I can also pass that knowledge on to my co-faculty here at VSU. Our students will continue to be the beneficiaries of my own development as a faculty member as I translate my learning into classroom practices." 
Krispin earned a Bachelor of Science in biology from Geneva College in Beaver Falls, Pennsylvania; a Bachelor of Science in Nursing from Thomas Jefferson University in Philadelphia; and a Master of Science in Nursing from VSU. She is certified by the American Association of Nurse Practitioners as an adult nurse practitioner. She works as a nurse practitioner at Valdosta Family Medicine Associates P.C. and serves as the infirmary supervisor for Camp Merri-Mac and Camp Timberlake in Black Mountain, North Carolina, during the summer. 
Krispin's husband, Jon, is a professor in the Harley Langdale Jr. College of Business Administration. They have been married for 25 years and have four children. 
On the Web: 
https://www.valdosta.edu/colleges/nursing-and-health-sciences/welcome.php
General VSU Information
Office of Communications
Campus Address
Office of Communications Powell Hall West, Suite 1120
Mailing Address
1500 N. Patterson St.
Valdosta, GA 31698