May 16, 2017
17-147
Jessica Pope
Communications and Media Relations Coordinator
Victoria Sandefur Wins Second Place Honors at Georgia Speech-Language-Hearing Association Annual Convention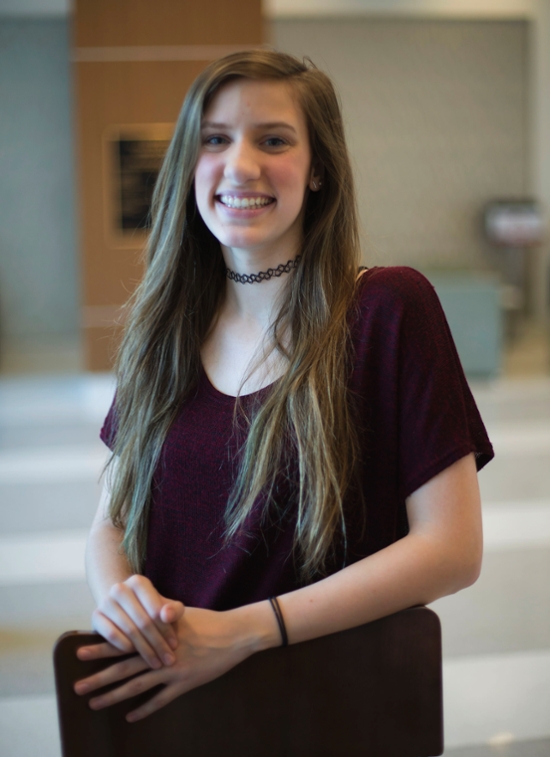 Victoria Sandefur
VALDOSTA — Victoria R. Sandefur's "The Effect of Taste on Lingual Swallowing Pressure" won second place in the undergraduate research category at the 2017 Georgia Speech-Language-Hearing Association Convention Student Poster Competition.
Sandefur is a student in Valdosta State University's Department of Communication Sciences and Disorders and graduated summa cum laude with a Bachelor of Science in Education, with a major in communication disorders, in May. She plans to begin pursuing a Master of Education in communication sciences and disorders at VSU this fall.
"My research was about the effect that different tasting liquids have on your tongue pressure when you swallow," she explained. "There have not been too many studies done on tongue pressure when swallowing, so there is definitely a need to explore the topic further.
"In swallowing evaluations, speech pathologists often use plain water to assess a patient's swallowing. While there are many benefits to this, our research did show that different tasting liquids, like Kool-Aid and lemonade, have a significant effect on tongue pressure. It is possible that this increased tongue pressure can make a big difference in a patient's swallow. I am very excited to continue my research and explore this topic further in hopes of finding ways to improve current swallowing therapy."
Two American Speech-Language-Hearing Association Certificate of Clinical Competence-holding speech-language pathologists — Dr. Matthew Carter, an assistant professor in VSU's Department of Communication Sciences and Disorders, and Melissa Carter, Speech and Hearing Clinic supervisor — guided Sandefur's research.
"I can never thank them enough for all of their support and encouragement throughout my time here at Valdosta State," she added. "Without (their) help … my research would not have been a possibility." 
During the three-day Georgia Speech-Language-Hearing Association Convention, Sandefur was able to expand her knowledge base by listening to nationally, state, and locally recognized experts from the speech-language pathology, audiology, occupational therapy, and assistive technology fields. She was also able to network with educators and professionals in her chosen career field and learn about the latest research being conducted by students at colleges and universities around the state.
The Georgia Speech-Language-Hearing Association is a professional association of individuals specializing in the prevention, diagnosis, and treatment of communication, swallowing, and hearing disorders. It advocates for the professional interests of its members and the individuals they serve and provides a forum for the exchange of professional information and ideas.
As an undergraduate student at VSU, Sandefur, 22, was an active member of the National Student Speech-Language-Hearing Association and a regular on the Dean's List. When not working two jobs, conducting research, or studying, she enjoyed volunteering at the Valdosta-Lowndes County Human Society, which she described as "a great way to de-stress" by "going and loving on all the sweet kitties." 
Sandefur is the daughter of Carla Robbins and Wes and Diana Sandefur of Kennesaw. 
On the Web:
https://www.valdosta.edu/colleges/education/communication-sciences-and-disorders/welcome.php
https://gsa.memberclicks.net
General VSU Information
Office of Communications
Campus Address
Office of Communications Powell Hall West, Suite 1120
Mailing Address
1500 N. Patterson St.
Valdosta, GA 31698