May 12, 2017
17-144
Jessica Pope
Communications and Media Relations Coordinator
Rebekah Foster Wins First Place Honors at Georgia Speech-Language-Hearing Association Annual Convention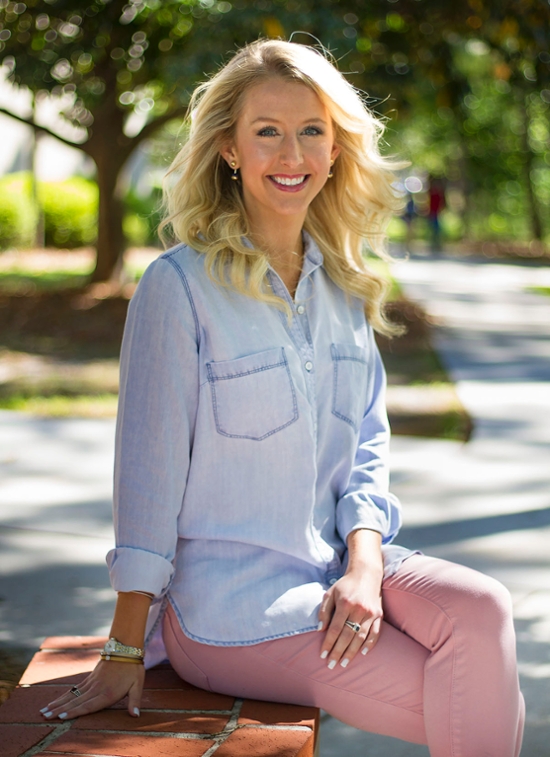 Rebekah Foster
VALDOSTA — Rebekah A. Foster's "The Effects of Rapid Auditory Discrimination Treatment on Articulation Improvement" won first place overall and first place in the graduate research category at the 2017 Georgia Speech-Language-Hearing Association Convention Student Poster Competition.
Foster is a student in Valdosta State University's Department of Communication Sciences and Disorders and expects to graduate with a Master of Education in communication sciences and disorders in May 2018. As part of her curriculum, she serves as a graduate student-clinician in the on-campus Speech and Hearing Clinic, which offers hearing evaluations, communication and cognitive evaluations, and therapeutic services to men, women, and children from the South Georgia area.  
"My research was inspired by my very first client … with an articulation disorder," she explained. "During my first semester, I was learning about auditory discrimination in one of my classes. The topic sparked my interest and led me to wonder if the use of rapid auditory discrimination training could improve my client's articulation accuracy.
"I hypothesized that when discriminating between two sounds becomes more automatic, the client's ability to accurately produce sounds in speech should improve as well. When a task becomes automatic, it is done with little conscious thought. The added automaticity of both perceptive and expressive articulatory abilities could open cognitive resources devoted to linguistic and supralinguistic aspects of communication. Results revealed that articulation improved when auditory discrimination treatment was used as a therapeutic approach." 
Two American Speech-Language-Hearing Association Certificate of Clinical Competence-holding speech-language pathologists — Dr. Matthew Carter, an assistant professor in VSU's Department of Communication Sciences and Disorders, and Melissa Carter, Speech and Hearing Clinic supervisor — guided Foster's research.
During the three-day Georgia Speech-Language-Hearing Association Convention, Foster was able to expand her knowledge base by listening to nationally, state, and locally recognized experts from the speech-language pathology, audiology, occupational therapy, and assistive technology fields. She was also able to network with educators and professionals in her chosen career field and learn about the latest research being conducted by students at colleges and universities around the state.
The Georgia Speech-Language-Hearing Association is a professional association of individuals specializing in the prevention, diagnosis, and treatment of communication, swallowing, and hearing disorders. It advocates for the professional interests of its members and the individuals they serve and provides a forum for the exchange of professional information and ideas.
Foster, 23, is an active member of the Georgia Speech-Language-Hearing Association, the National Student Speech-Language-Hearing Association, Kappa Delta Pi: International Honor Society in Education, and Alpha Lambda Delta: National Honor Society for First-Year Students. She is an alumni member of the Delta Theta chapter of Alpha Delta Pi. She serves as a student representative on the Department of Communication Sciences and Disorders Advisory Council. 
Foster works as a graduate assistant in the James L. and Dorothy H. Dewar College of Education and Human Services dean's office. She earned a Bachelor of Science in Education, with a major in communication disorders, from VSU in May 2016, graduating magna cum laude. She is the daughter of Danny and Melanie Foster of Fitzgerald.  
On the Web:
https://www.valdosta.edu/colleges/education/communication-sciences-and-disorders/welcome.php
https://gsa.memberclicks.net
General VSU Information
Office of Communications
Campus Address
Office of Communications Powell Hall West, Suite 1120
Mailing Address
1500 N. Patterson St.
Valdosta, GA 31698